PERCY CYRIL COX 1895–1917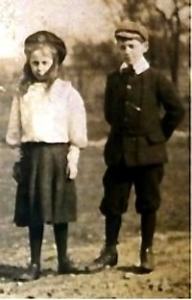 Percy and Gladys Cox 1902. Photo from Radcliffe on Trent Local History Society
Born 8th November 1895 in Radcliffe on Trent
Killed in action 28 April, 1917 Arras area, France, age 21
Commemorated on Radcliffe on Trent War Memorial and the Arras Memorial, Faubourg D'Amiens, Arras. Bay 2 and 3. Index No. M.R.20 part V
1901 Census
Age  five living with his father Henry, 44, hosiery manufacturer, mother Eliza, 36, sister Gladys, also five years old and a domestic servant Ada Vaughan, 18.
1911 Census
Age fifteen living with father Henry Edwin Cox a hosiery manufacturer, mother Eliza (née Metcalf) and sister Gladys also fifteen (it is assumed Percy and Gladys were twins) on Chestnut Grove, Radcliffe on Trent in a house with nine rooms. They had a domestic servant, Mary Elizabeth Ashcroft Webster.
Military Service
Rank: 2nd Lieutenant, formerly Lance Corporal
Service Number: 17500
Military Unit: 25th (Service) Battalion (Tyneside Irish), Northumberland Fusiliers, 103rd Brigade, 34th Division. Formerly The Sherwood Foresters
Theatre of War: France and Flanders
24.9.14: Attested at Nottingham, age 19 yrs, 220 days; height 5 ft 5¾ ins; weight 119 lbs; chest 36½ ins; range of expansion 3½ ins; complexion fresh; eyes grey; hair light brown; religion: Church of England; trade: hosier
30.9.14: Joined at Derby. Private 17500, Notts & Derbyshire Regiment (Sherwood Foresters)
8.10.14: Posted 3rd Battalion
26.1.15: Posted Expeditionary Force, 2nd Battalion Sherwood Foresters, left for France
26.7.15: Appointed Lance Corporal, unpaid
Wounded
9.8.15: Wounded in action
11.8.15: Admitted to 2 Canadian General Hospital, Le Treport. Gunshot wound left leg
13.8.15: Posted Home (Depot). In hospital for two months
14.10.15: Applied for a commission. References provided by Charles Davis, Vicar of St Thomas, Park Row, Nottingham and J.W. McCraith, Chairman, Parliamentary Recruiting Committee, The Park, Nottingham. Mr James A. Jones, headmaster of Nottingham Mundella Secondary School certified that he had received a good standard of education.
29.10.15: Posted 3rd Battalion
17.12.15: Temporary commission as 2nd Lieutenant, 30th Local Reserve Battalion, Northumberland Fusiliers
31.12.15: Discharged from 'L' Company, 3rd Battalion Sherwood Foresters to take up his commission as Temporary 2nd Lieutenant, 30th Reserve Battalion, Northumberland Fusiliers. Place of discharge: Sunderland. Military character: 'This man has held a very good character throughout his service'.
July 1916: Returned to France with the Northumberland Fusiliers. His battalion were in action at the Battle of the Somme in July 1916, then in September at the Battle of Flers-Courcelette. The Battalion's next major engagement was the Battle of Arras in April 1917.
18.4.17: Promoted Temporary Lieutenant
28.4.17: Reported missing
8.1.18: Letter from Army Council to his father, reference C. 2. 120955/3: 'Death assumed on 28.4.17'
Death of Percy Cox
Percy Cox was killed during the Battle of Arras (Capture of Vimy Ridge), which took place from April 9-May 16 1917. He was reported missing 28.4.1917. The Battle of Arras involved a number of distinctively named battles. The 25th Battalion were involved in the fierce Battle of Arleux from 28th-29th April which involved repeated counter-attacks by the Germans and great losses.
The National Archives military service records for Percy Cox contain an unofficial report dated April 28th 1917 from a corporal, W.A.P. Rogers describing how Percy Cox met his death:
He was my M/G officer. You never met a finer man. He was of medium height but well built. On April 28th during the fighting I had one L/G team in a shell hole and on my left we had another gun. The Lieut. had given some instructions to the team on my left and as I saw him running towards me I stopped firing. About half way between he was hit in the neck and killed on the spot. There were snipers, fixed rifles and M/G everywhere. It could not have been hotter, as the attack was not a success, Mr. Cox would be left. This was on the left of the chemical works, Arras. Corporal Rogers 47048, Northumberland Fusiliers, 25.C., L. Gun school, 3.8.1917, Etaples.
The War Office investigated Corporal Rogers' statement and dismissed it as follows:
Death not confirmed. The O.C. Unit reports under date 23/9/17 that Cpl. W. A. P. Rogers (the informant) now states that the statement made by him was only hearsay and that it was made by a man who has since become a casualty. The O.C. unit considers this informant unreliable and also reports that no corroboration of Cpl. Rogers' statement is obtainable with regard to the death of S/Lt. P.C. Cox. No further information is available at this base.
Corporal Wilfred Rogers had been promoted to sergeant by the end of the war. He was awarded the Military Medal in 1918.
Medals Awarded: 1914-1915 Star, British War and Victory
Go to WWI Timeline to see how this man's death is part of the wider story of the war.
Reasons for inclusion on the Radcliffe on Trent Roll of Honour
Born and lived in Radcliffe on Trent.
The copy of the Gospel of St John, above, is in Percy Cox's military service file held at the National Archives, Kew.
Arras Memorial