FRANK COSTALL 1893–1915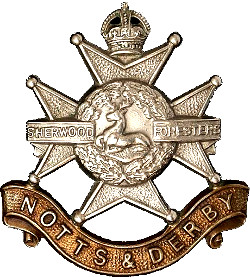 Born March 1893 in Radcliffe on Trent
Baptised 1st April 1894 St Peter's Church, Tollerton
Brother of William
Died of wounds, Boulogne, on 13th May 1915, age 22. Buried in Boulogne Eastern Cemetery, VIII. C. 30.
Commemorated on St Mary the Virgin Church War Memorial, Plumtree and Normanton on the Wolds – New Memorial (unveiled 2014).
Not Commemorated on Radcliffe on Trent War Memorial. 
1901 Census
Age 8, living on Main Street, Edwalton with father William, a farm labourer, mother Ellen (Whittaker, born in Shelford), brothers John 21, William 19, Robert 15 and sisters Lucy 13, Ellen 10 and Mary 4.
1911 Census
Age 18 living at The Green, Plumtree with father William 60, a farm labourer, sister Mary 15, and John Dawn 3, William's grandson. Frank is also employed as a farm labourer. His mother Ellen was living elsewhere (see Other Information below).
Military Service
Rank: Private
Service Number: 4774
Military Unit: 1st Battalion, The Sherwood Foresters, 24th Brigade, 8th Division
Theatre of War: France and Flanders, date of entry 24.3.15.
Attested: 6.8.1914, Nottingham, age 21 years 158 days
Occupation: Farm hand. Height 5ft 4¾ins. Weight 135 lbs. Chest 37 inches; range of expansion 3 inches. Eyes blue. Hair dark brown. Physical development: Good. Religion: Church of England
Next of kin: William Costall (father), Ellen Costall (mother), The Green, Plumtree, Notts
6.8.14: Sherwood Foresters recruits training
24.3.15: Posted to the 1st Battalion as one of the replacements for their high losses at the Battle of Neuve Chapelle (source: Nottinghamshire Great War Roll of Honour)
9.5.15: Gunshot wound to head received in action at the Battle of Aubers Ridge (which was part of the British contribution to the Second Battle of Artois) during the attack on Rouge Bancs.
13.5.15: Died at No.13 General Hospital, Boulogne
Medals Awarded
1914-1915 Star, British War and Victory
From the UK, Army Registers of Soldiers' Effects 1901-1929:
Frank's mother Ellen was awarded £4 6 shillings 3d (£4.31p) on 30.9.15 and his father William was granted a War gratuity of £3 on 15.7.19.
Go to WWI Timeline to see how this man's death is part of the wider story of the war.
Other Information
Radcliffe serviceman Bertie Todd was also serving with the 1st Battalion and was killed during the 9th May attack on Rouge Bancs. During the continuing conflict, Lawrence Turner from the 1st Bn. was severely wounded three days later.
In 1911 his mother Ellen was living in Whatton-in-the-Vale with her married daughter Lucy Hannah Dawn 22, son-in-law Henry Dawn, 24 and grandson Frank Leslie Dawn, 2. On the census form his mother Ellen's status is given as Married, but this has been crossed out and replaced by Widow (possibly mistakenly, as it is appears to be written by a different hand). However, Frank's father William was still alive in 1911 and 1919 (when he received the War gratuity).
A William Costall died in Bingham district in 1933 age 82 and Ellen Costall died in Bingham district in March 1919, age 68.
Reasons for inclusion on the Radcliffe on Trent Roll of Honour
Born in Radcliffe on Trent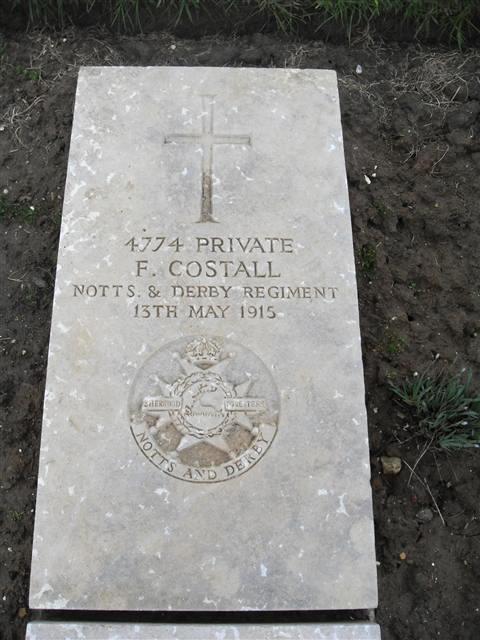 Boulogne Eastern Cemetery, France
Notts County Council website
Phil Watson provided the photograph