ANNIE ALLCOCK 1867–1955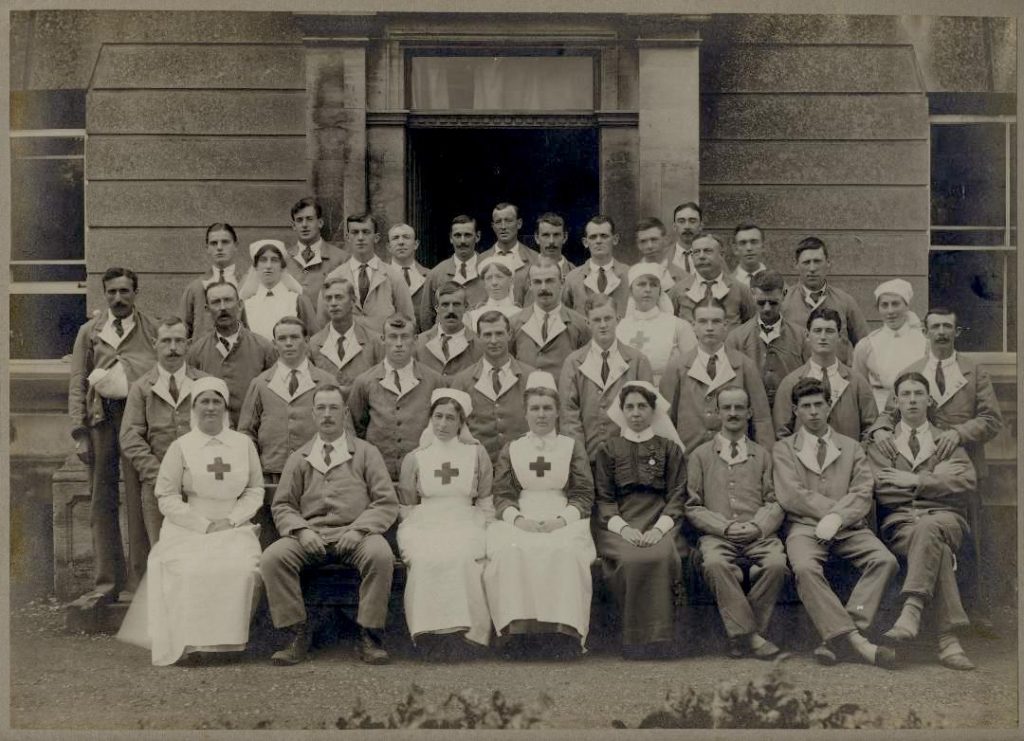 Injured soldiers and nurses Roxburgh Hospital, Stroud
Annie Allcock – front row and fourth from right in Matron's uniform
Photograph courtesy of the family
Born: 9th July 1867 in Sneinton, Nottingham
Marriage: 9th February 1926 to George Olley at St Mary's Church, Radcliffe on Trent
Died: 30th March 1955
Before the First World War
In 1871 Annie 3, was living in Sneinton, Nottingham with father Frederick 25, mother Hannah 25, a lace finisher, brother Frederick, age 2 and Eliza Shipsides (Hannah's mother), a lace purler. Annie's father was employed as a paper cutter.
By 1881 the family were living at 6 Robin Hood Terrace in Nottingham St. Mary. Annie 13, and grandmother Eliza Shipsides were lace workers. Father Frederick was a warehouseman. Two more children had been born: Joseph Henry 4, and Eliza 2.
Annie was working as a milliner in 1891, living with father Frederick, a hosier, mother Hannah, brothers Frederick, solicitors' clerk and Joseph, apprentice hosier, sister Eliza, dressmaker and Eliza Shipsides. The family were living at 28 Caroline Street, St Mary's, Nottingham.
By 1901 Annie 34, had embarked on a nursing career. In the census she is recorded as a nurse at Guy's Hospital, London. She was at Guy's from 15 March 1898 to 3 June 1901 and received a certificate after three years of training. Whilst there she was also trained in massage by Miss Wills and was awarded her Incorporated Society of Trained Masseuses (ISTM) certificate on 27 November 1900. After her nursing qualification she remained at Guy's Hospital Trained Nurses Institution for a further eighteen months until December 1902. This was an organisation for the private employment of nurses trained at Guy's which was founded around 1884. Information from Physiotherapy and Masseuse Registers. Chartered Society of Physiotherapy Registers. Wellcome Library, London, England and London Metropolitan Archives H09/GY/GHTNI.
She was listed as a private nurse with Norwich Nurses' Co-operative from April 1903 to July 1918. In 1911 Annie, a trained sick nurse, was living in the home of Clara Elizabeth Steel, retired headmistress, at 56 Clarendon Road, Norwich. Annie's family moved to Sydney Grove, Radcliffe on Trent, between 1901 and 1911. The 1911 census shows her mother, father, now a retired warehouseman, and sister Eliza, single and working as a dressmaker, were living in Sydney Grove.
During the war
The following information about Annie Allcock has been extracted from transcribed Red Cross V.A.D. records, available at www.redcross.org.uk
Annie enrolled as a Red Cross V.A.D. nurse during the war. She was a member of the 90th Gloucester Voluntary Aid Detachment. The exact start date of her V.A.D. employment is not known. Her Red Cross record card states that she was engaged as Matron of Roxburgh House V.A.D. Hospital, Stroud, Gloucester on 23rd November 1916, serving there until 23rd November 1917. At this time her address was given as Sidney Grove, Radcliffe on Trent. She worked full time and was paid two guineas per week. Prior to serving at Roxburgh House she is recorded as having undertaken Red Cross work in Norwich.
Her skills in massage (physiotherapy) would have been in demand at Roxburgh House. At the outbreak of war Almeric and Pauline Paget made an offer to the War Office to pay for the services of fifty masseuses. The numbers of masseuses rose rapidly and in 1916 the War Office recognised the importance of this work in rehabilitating wounded servicemen: the government gave a grant for the work of the Almeric Paget Military Massage Corps to be expanded to provide massage services in all military hospitals. Although there is no evidence that Annie was a member of the Corps, it is possible that her experience in this area was a factor in her appointment as Matron at Roxburgh House.
1921 Census
Address: Sidney Grove, Radcliffe
Employment: Nurse and Health visitor, Notts Education Committee, Bulwell
Household: father Frederick, warehouseman retired, J and R Morley, mother Hannah, invalid, sister Eliza, dressmaker and costumier.
After the war
Annie was a School Nurse and Health Visitor in Nottingham from July 1918 to 1925. She was a member of the College of Nursing and a S.R.N. (information about Annie's nursing career from a report published by Guy's Hospital, available from ancestry.co.uk under the category of UK and Ireland, Nursing Registers, 1898-1968).
Annie, age 59, married George Olley, age 69, of East Dereham, Norfolk on 9th February 1926 at St Mary's church, Radcliffe on Trent. On the marriage register George's occupation is given as 'gentleman'. He was a retired farmer born in Runhall, Norfolk, son of John Olley. George was a widower whose wife Amelia died in 1924. When he died on 17th June 1937, age 83, George, was living at Park Road, East Dereham. Probate was granted in Nottingham to his widow Annie and Charles Frederick Browne, farmer. Effects £3,770.4s.10d. According to the probate register and census information, George was born about 1854, making him around 72 when he married Annie. In 1939 she was living with her unmarried sister Eliza at 27 Bingham Road, Nottingham.
Annie died on 30th March 1955 at the General Hospital, Nottingham. Her address at date of death was 34 Selston Drive, Wollaton Park, Nottingham. Effects £1,406.16s. Annie's parents were still living on Sidney (Sydney) Grove when her mother died in 1931. Her father Frederick, who died in 1934, was employed for a long period by I. and R. Morley, hosiery manufacturers. Annie's brother Frederick became a solicitor, with premises in Bridlesmith Gate, Nottingham. He died in 1943, leaving an estate of £45,761.2s.8d.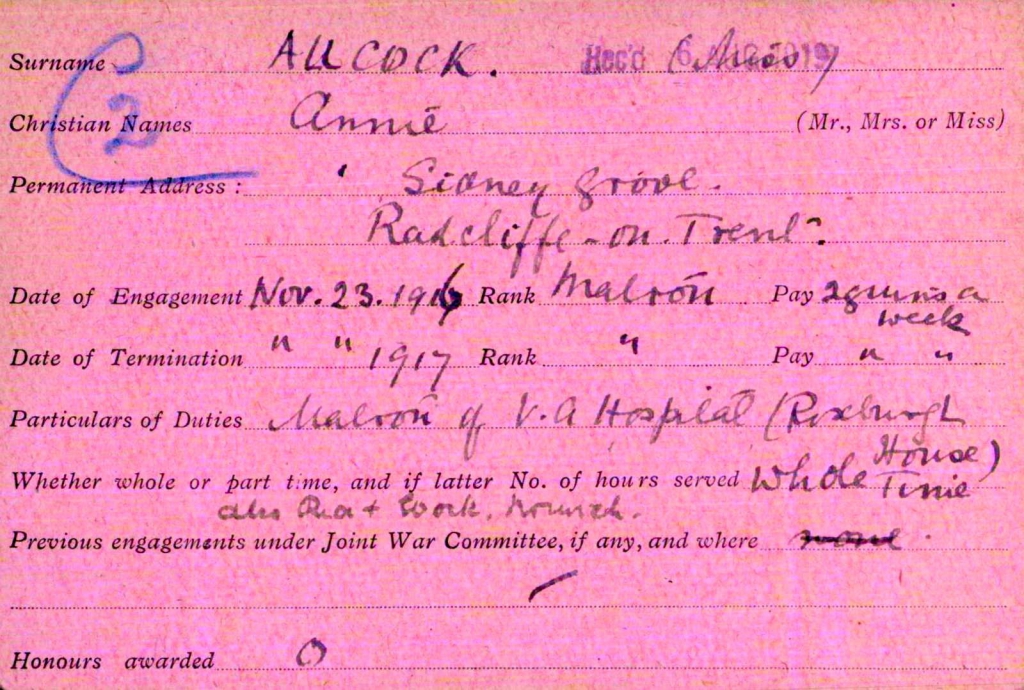 The Stroud V.A. Hospital and Roxburgh House
Stroud Red Cross V.A. Hospital opened on 28th October 1914 and was based at the Trinity Rooms (the parish hall). From 1916 Roxburgh House formed part of the Stroud Red Cross V.A. Hospital, providing extra beds to bring the total number of beds to 90.
The following description by the Commandant of Stroud V.A. Hospital, Glos. 90 is extracted from the 'Final report from the Red Cross in Gloucestershire 1914-19' available at: http://www.angelfire.com/az/garethknight/redcross/stroud.html
'The Stroud Red Cross Hospital at its commencement had provision for 30 beds, 20 in Trinity Parish Rooms, lent by the Vicar of the parish, and 10 in the General Hospital a few yards away.
The proximity of this building to Trinity Rooms made the nursing and care of seriously wounded soldiers possible, for while the Trinity Rooms provided a lofty, light, well ventilated building with class rooms for office, bath room and store room, there was no available place for operating theatre and X-ray room, etc. One small class room was fitted up as a surgery, but was unsuitable for undertaking operations.
The kitchen itself was an adapted "lean-to", in which it was wonderful that such excellent cooking was done.
In 1916, 60 further beds were provided, partly in Roxburgh House, kindly lent by the Stroud Board of Guardians, and partly by giving up the room hitherto used as an office, and also by the setting aside of five further beds at the General Hospital, making a total accommodation of 90 beds.
A small lean-to office was built at the Trinity Rooms'.
From October 1914 to 3rd January 1919 there were 1015 admissions and 6 deaths. The average number of days each patient was resident was 1915: 45, 1916: 53, 1917: 58, 1918: 44.
Author: Pauline Woodhouse