SIDNEY BELL 1872–1918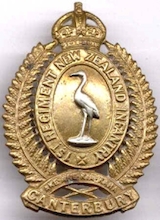 Born 17th March 1872 in Radcliffe on Trent
Baptised 7th April 1872, St Mary's Church, Radcliffe on Trent – baptismal name Sidney
Died 24th January 1918 in Ashburton, Selwyn District, New Zealand of heart disease, age 46
Buried in Killinchy Cemetery, New Zealand; he was not given a military funeral (see below).
Commemorated on Radcliffe on Trent War Memorial and on the Leeston Plaque, County War Memorial. He is also Commemorated on St Mary's Church War Memorial, Killinchy.
Uncle of Henry and Sidney Bell Marshall
1881 Census 
Age nine, at school, living with father Sam, 56, a farmer with 168 acres employing three boys and six men (he was also a bricklayer and inn keeper), brothers George, 22, a bricklayer, Sam, 20, a bricklayer, Frank 13, Ernest 13, at school, Elizabeth Stevenson a servant/barmaid and Elizabeth Cook a domestic servant. They lived at the Manvers Arms, Radcliffe on Trent.
1891 Census
Age 19, employed as an auctioneer's assistant and living with Catherine Bell, nee Parr, his widowed mother who is age 61 and an innkeeper (Manvers Arms), brother George 32 still at home and now classed as a farmer/bricklayer and brother Ernest 21 who is now a butcher. One domestic servant, Emma Richmond.
Military Service before WWI
Sidney Bell served in the Boer War. Records list him as Trooper 43908 in the Imperial Yeomanry. He was 5ft 10½in inches tall with a dark complexion, brown eyes and dark hair. He was slightly deaf (information from www.keteselwyn.peoplesnetworknz.info ).
1911 Census
Age 39 employed as a clerk auctioneer, single, living with Clara Marshall his widowed sister, 55 and Sidney Bell Marshall, her son, 19, a farm pupil. They lived at Barrow House, Main Road, Radcliffe on Trent.
Sidney Bell emigrated to New Zealand at some point in 1911.
Military Service
Rank: Private
Service Number: 6/3989
Military Unit: 10th Reinforcements, Canterbury Infantry Battalion, C Company, The Canterbury Regiment, New Zealand Expeditionary Force
Theatres of War: Egypt, France and Flanders
Enlisted 17th November 1915 at Trentham
Height 5ft 10⅜ins, weight 175 lbs
4 March 1916: Embarked from Wellington New Zealand to Suez, Egypt on vessel Willochra or Tofua.
8 April 1916: Disembarked Suez
13 April 1916: Embarked for France on the Kinfauns Castle
1 October 1916: Wounded in France. Hospitalised for three weeks with trench fever and rheumatism
29 October 1916: Embarked on a hospital ship for England where he was diagnosed with paratyphoid fever type A
31 August 1917: Medical board held at Codford cited two disabilities – over age and rheumatism
29 September 1917: Classified unfit by Medical Board
2 November 1917: Returned to New Zealand on the SS Tainu
5 January 1918: Finally discharged and granted a pension
24 January 1918: Died from heart disease, age 46
Medals Awarded: Entitled to British War and Victory, no record found
Details of inquest from a New Zealand newspaper
Returned soldiers death
An inquest was held at the residence of Mr HS Chappell Killinchy on Friday afternoon by Mr W G Linn JP, concerning the death of Private Sydney Bell, a returned soldier who died suddenly on Thursday afternoon. The evidence was to the effect that deceased had not been in good health since his return from front a few weeks ago. While on active service he had suffered from trench fever, shellshock and rheumatics. He complained of feeling unwell on Thursday and while sitting in a chair in Mr Chappell's orchard exclaimed "Lord preserve me from such pain" and immediately collapsed and died. Dr B Volkmann, who conducted a post-mortem examination, stated that he found deceased's heart very much dilated and enlarged.  In his opinion death was due to dilation of the heart. A verdict in accordance with the medical testimony was returned.  Private Bell was a native of Nottinghamshire England and came out to New Zealand seven years ago taking up his residence at Killinchy where he was engaged in farming pursuits. He was 45 years of age and had served in the South African war.
Funeral
He was buried in Killinchy Cemetery, Selwyn after a large funeral. Again the Press reported "The funeral of the late Private Sidney Bell took place at Killinchy on Saturday afternoon, a large number of friends attending to pay their last respects to the memory of the departed soldier. The service was conducted by the Rev H. G Hawkins. The bearers included four returned soldiers, one of whom, Private James O Boyle, returned from England on the same hospital ship as the late Private Bell a few weeks ago. Keen disappointment is felt in the district over the fact that the late Private Bell was not accorded a military funeral. Everybody expected that a military funeral would have been arranged, especially as the late soldier had not received his discharge from the forces at the time of his death. In addition to the service rendered by Private Bell in the present war, he served in South Africa."
(from www.keteselwyn.peoplesnetworknz.info)
Reasons for inclusion on Radcliffe on Trent Roll of Honour
Born and lived in Radcliffe on Trent.