HENRY MARSHALL 1884–1935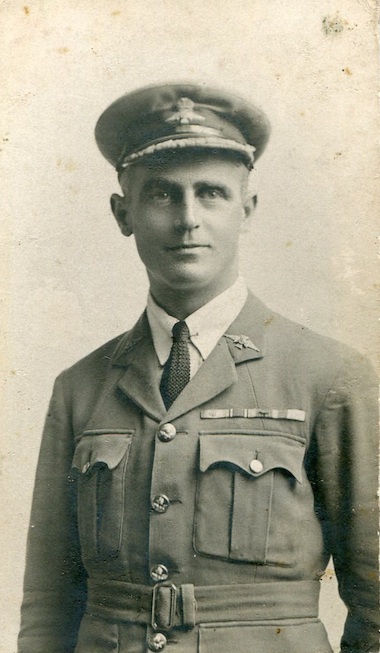 Photograph from a family member
Brother of Sydney Bell Marshall, nephew of Sidney Bell
Born Feb 1884, Barrow House, Radcliffe on Trent.
Baptised 16th March, 1884, St. Mary's Church, Radcliffe on Trent
Married 1921 to Evelyn Ruth Cole in Kent
Died 11th February 1935
Radcliffe on Trent School Register
Admitted to Radcliffe school 1.2.1887, father listed on school register as Henry Marshall
1891 Census
Age 7 living in Radcliffe on Trent with father Henry 36, lace agent, mother Clara 35 and brother Edwin age 9.
1901 Census
Age 17 living on Main Road, Radcliffe on Trent, a university student, with father Henry, lace manufacturer, mother Clara and brother Sydney, 9.
England and Wales, National Probate Calendar (Index of Wills and Administrations), 1858-1966: Probate for Henry Marshall's father was granted on 19 August 1907 to Henry Marshall, clerk and Samuel Bell architect and surveyor.
1909: Joined army as chaplain
1911 Census
Age 27, unmarried, living at 18 Edge Hill Road, Plumstead, S.E. London, occupation Clergyman (Established Church), Chaplain to the forces.
Military Service
Rank: Chaplain to the Forces, 3rd Class (promoted 22.6.1915, rank equivalent to Major)
Military Unit: Royal Army Chaplains' Department
Theatre of War: France and Flanders, Italy
1913: Montenegro – British peace keeping force
5.5.14: Stationed in Malta. Pay increase recommended from 10 shillings (50p) per day to 12 shillings 6d (62p)
8.7.14: Pay increase approved
1914-18: British Expeditionary Force. He was attached to the 58th (2/1st London) Division when they arrived in Malta February 1915 and remained with them on the island until June 1916.
31.05.15: Mentioned in despatches by Field Marshall John French
23.6.15: Promoted Chaplain to the Forces, 3rd Class
7.6.16: Selected for duty in France
22.6.16: Left the 58th (2/1st London) Division
18.4.18: Mentioned in Despatches by General Herbert Plumer
20.11.18: Transferred to Royal Air Force, Chaplain to the Forces, 2nd Class (equivalent rank Squadron Leader)
7.9.22: Retired due to ill health. Rank Wing Commander (Information from Monthly Air Force Lists, January 1922)
Medals Awarded Henry Marshall was awarded the 1914 Star with clasp, British War Medal, Victory Medal with oak leaf. He was Mentioned in Despatches twice. He was also awarded the Medaglia Della Guerra (Italy) and the Montenegro silver medal for bravery, awarded 9.11.1918, presented by the King of Greece after the war.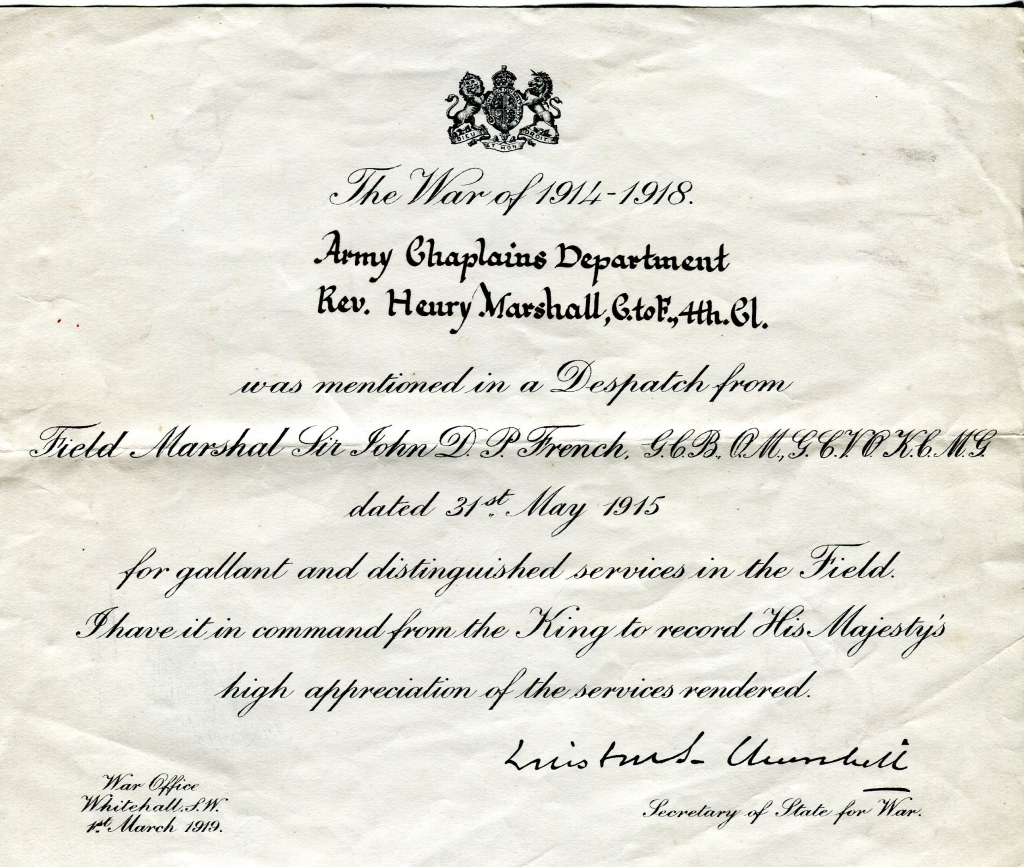 Military Personnel Address on 1918 Electoral Register
Barrow House, Main Road, Radcliffe on Trent. His brother Sydney Bell Marshall was also living there.
Rank given on 1918 Absent Voters Electoral Roll: Major
1921 Census
Address: 18 Fishpond Road, Hitchin, Herts
Employment: Clerk in Holy Orders, RAF
Household: wife Evelyn, Florence Lloyd, servant
Reasons for inclusion on Radcliffe on Trent Roll of Honour
Born and grew up in Radcliffe on Trent. Family members continued to live there.