SAMUEL PARKES 1899–1918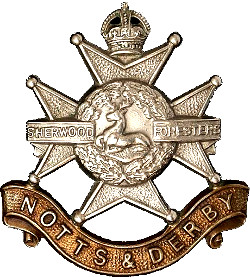 Born 10th October 1899 in Shelford, Notts.
Baptised 7th January 1900 at Saint Peter and Saint Paul Church, Shelford
Died of wounds 30 August 1918, age 18
Burial: Mont Huon Military Cemetery, Le Treport. Grave reference: VII. E. 11A.
Commemorated on Radcliffe on Trent War Memorial, Shelford Village Green War Memorial, St. Peter and St. Pauls church War Memorial, Shelford and Saxondale Memorial
1901 Census
Age one, living in Shelford with widowed grandmother Rebecca Parkes (Head), sixty-five, charwoman, father Reuben, twenty-four, yardman on farm, and mother Evelyn, twenty-two.
1911 Census
Age 11, living in Shelford with grandmother Rebecca Parkes (Head), parents George Reuben a farm labourer and Evelyn and sister Rebecca Ann 6.
Military Service
Rank: Private
Service Number: 103567
Military Unit: 10th (Service) Battalion, The Sherwood Foresters (Notts. and Derby Regiment), 51st Brigade, 17th (Northern) Division
Theatre of War: France and Flanders, date of entry 6.4.1918
2.6.1917: Enlisted in Newark
Age 17 years, 8 months
Occupation: Mechanic/Engineer
Height 5ft 7ins, weight 132lbs, chest 35 ins, hair brown, teeth good, vision 6/6; religion primitive methodist
16.11.17: Posted to 13th Training Reserve Bn. Rugeley Camp, U.K.
5.4.18: British Expeditionary Force. France
7.4.18: Posted to 10th Bn
15.8.18: Gassed shell wound
16.8.18: Admitted No 2 General Hospital, Le Tréport
30.8.18: Died of gas wounds
Son of George Reuben and Evelyn Parkes, of The Cottage, Shelford, Notts.
His mother Evelyn was in receipt of a pension of 5 shillings (25p) a week and on her death this was transferred to his father George.
Samuel Parkes woud have been with the 10th Sherwood Foresters at the Battle of Amiens, August 8th–12th, 1918. The battalion were at Vaux from August 10th–12th then 'in the line' on the 13th and 14th where they had fairly quiet days'.
From the War Diaries of the 10th Battalion, The Sherwood Foresters
August 15th Heavy evening gas bombardment started at 12.15.a.m. and lasted for three hours. D. Coy all casualties. and most of B Coy. Total casualties in the battalion were 13 officers and 423 other ranks including the following officers … Major T,.W. Daniel, DSO, MC, took over the Battn.
Medals Awarded: British War and Victory
Go to WWI Timeline to see how this man's death is part of the wider story of the war. 
He started work at Notts. County Asylum, Saxondale after 1916 and is listed on their records as a temporary attendant who had 'joined His Majesty's Forces since the Outbreak of War'.
Reason for inclusion on the Radcliffe on Trent Roll of Honour
His name is on the Radcliffe on Trent Memorial and he worked at Notts. County Asylum in the parish of Radcliffe on Trent.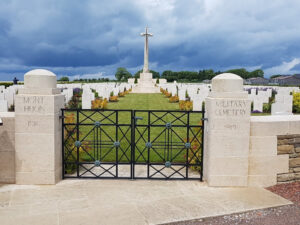 Mont Huon Military Cemetery, France Photograph courtesy of CWGC