ROBERT JAMES FOSTER 1881–1963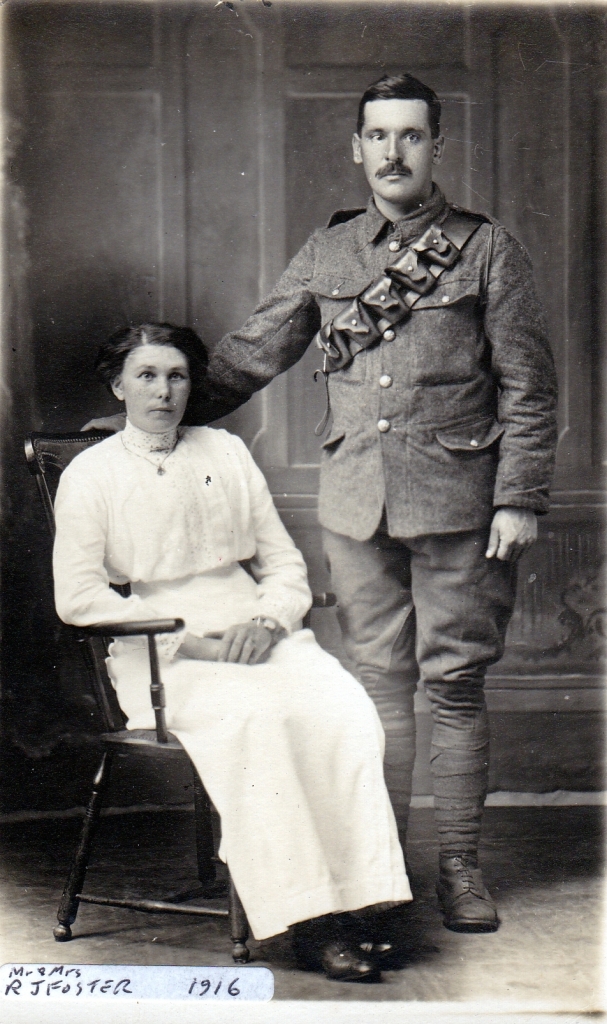 Photograph from the family collection of Foster relatives
Brother of Herbert John Foster
Born 19th December 1881 in Radcliffe on Trent.
Baptised 15th January 1882 at St Mary's Church, Radcliffe on Trent
Married 12th May 1913 to Emma Elizabeth Hollingworth at Netherfield
Died 1963, Cleethorpes, age 81
1891 Census
Age 9 living on Back Lane, Radcliffe on Trent with father Thomas, a butcher, mother Eliza, sister Mary 11, brother Herbert J. 7 and sister Annie 1.
1901 Census
Age 19 and employed as a railway labourer living at 28 Arthur Street, Carlton, Nottingham with William Davies a railway guard. His father Thomas and mother Eliza were living on Back Lane, Radcliffe on Trent with his brother Herbert John and sister Annie.
1911 Census
No census record found, serving with the army
Military Service 1901-1913
Rank: Gunner (on enlistment and completion of service)
Service Number: 20395
Military Unit: Royal Horse Artillery from 23rd November 1901 (belonged to Notts. Volunteer Brigade), 27th Brigade, Royal Field Artillery during the war
Considered fit for army 25 November 1901 at Derby for service in Royal Horse Artillery and Royal Field Artillery
Age on enlistment: 19years 11months on 23rd November 1901. Occupation: Labourer. Height 5ft 7¼ins, weight 141lbs, girth 35ins, range of expansion 3ins. Distinguishing marks: small scar right side of back of head. Complexion dark, eyes brown, hair dark brown. Religion: Catholic. Married: Wife lived on Jarra Road, Cleethorpes, Grimsby
Spent time in India 1904-1910
Military Service 1913-1918
Rank: Gunner (on enlistment and completion of service)
Service Number: 20395
Military Unit: Royal Field Artillery, 27th Brigade, 5th Division, transferred to Royal Engineers 1917 for six months
Theatre of War: France and Flanders, date of entry 19.8.14. Total war service abroad 4 years 3 months
Re-engagement paper (Army Reserve)-At present belonging to the Army Reserve of the Royal Horse and Royal Field Artillery-declared that his existing engagement will expire on 27 November 1913 desiring to re-engage to serve in section D of the army reserve.
In July 1913 his height was 5ft 8ins and his chest size was 38ins and waist 34ins. His helmet size was 22 and the size and magnitude of boots 8½.
Changed his religion from Catholic to Church of England in the field 31 July 1915.
Was certified that he had been tested on the work of 109th Railway Company in the field and proved himself a fair platelayer.
1.3.17: Transferred to Royal Engineers under Army Orders 204.16 (Compulsory transfer) and posted to 109th railway company as Sapper – platelayer Service Number: 307630. Posted to RE109 Railway Company 2 March 1917.
12.9.17: Transferred for benefit of service to 1st Division Ammunition Column RFA and retains RE rates of pay.
31.3.20: Demobilized.
Medals Awarded: 1914 Star, British War and Victory 30.7.1919
The accompanying King's certificate on his discharge is forwarded herewith to R Foster in respect of his service as No. 20395 rank, Gunner- Corps 27 Brigade RFA- received 1914 Star with thanks 1.8.1919.
Total service: 18 years 124 days Exemplary character.
1939 Register
Address: 4 Highfield Avenue, Immingham, Lincolnshire
Occupation: London North Eastern Railway Company plate layer
Household: living with wife Emma born 3.12.1879
Reasons for inclusion on Radcliffe on Trent Roll of Honour
Born in Radcliffe  on Trent.