LILY CHADWICK 1889–1968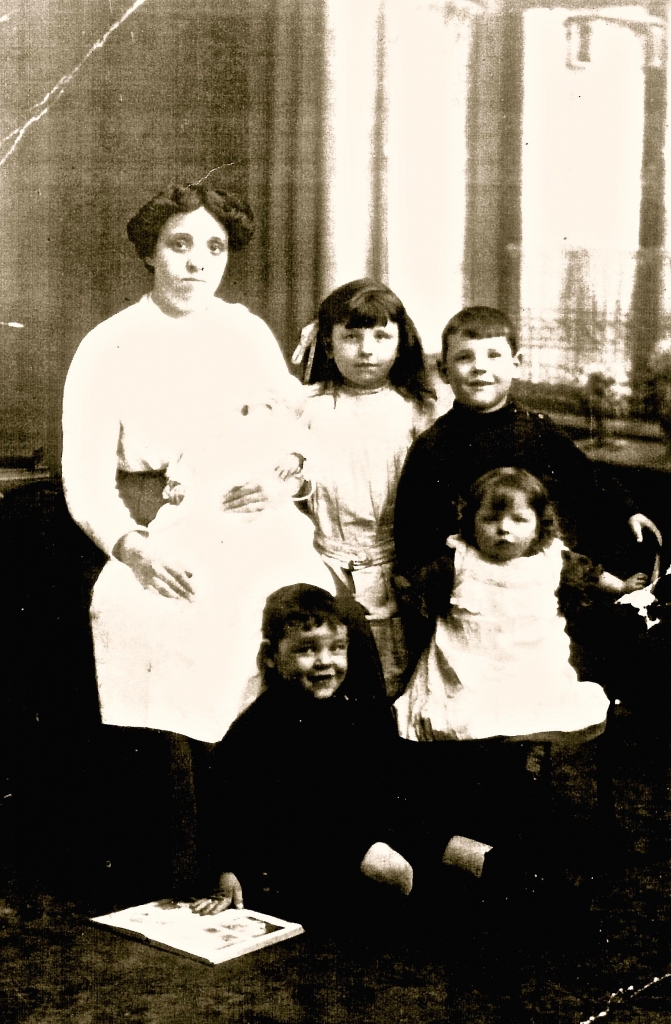 Lily Chadwick and her children
Born: December 1889, Leicester
Married: 1908 to Samuel Chadwick in Nottingham
Died: June 1968 in Nottingham
Before the War
Lily was born in 1889 in Leicester and in the 1891 census she was living with her father Arthur (single) age 31 a shoe finisher and mother Susannah (married to Charles Maxfield) age 38. There are other children in the family, their daughter Louise age nine and Arthur age seven plus two step-children: Katherine Maxfield age eleven and Samuel Maxfield age seventeen from Susannah's first marriage. Their address is 5 Brunswick Terrace in Leicester. Susannah and Arthur married in 1892.
In the 1901 census Lily was twelve and at school. Her mother was employed as a glove stitcher. Living with them were the two half brothers Sam age 27, a boot maker, and Arthur age 17, a shoe riveter, sisters Emily age seven, Violet age five and two boarders: Louise Porter a wool spinner who was the married daughter of Arthur and Susannah, and her daughter Edith age seven months. They were living at 205 Dorset Street, Leicester. Arthur the father was not listed on this census.
Lily, aged nineteen, married Samuel Chadwick in 1908. Sam was born in 1884 in Nottingham to parents Sam, a hawker born in Nottingham and mother Emily born in Derby. He had a sister Sarah. There is no trace of Lily or Sam in the 1911 census. Lily's parents had moved to Nottingham, 23 Currant Street in the Broadmarsh area, where her father age 50 was now an unemployed iron labourer, mother Susannah is a lace hand, her sister Emily age 17 was a dressing room hand and Violet age 15 was an errand girl. Arthur's granddaughter Edith Porter age ten was still sharing the house.
Lily and Sam had three children born before the war: Sally born 1907, Samuel, born 1908 and William (known as Billy) born in 1910. They lived on Willoughby Street, Lenton before coming to Radcliffe on Trent in 1917.  Another daughter Freda Winifred, reputed to be named after Freda Dudley-Ward, was born in 1919.
During the First World War
Lily apparently worked in munitions during the war (see Radcliffe Remembers (1999) edited by Jean Lowe and Pamela Priestland, p. 24). She had three small children to look after and may either have worked at Raleigh, who had turned a large part of their factory over to preparing munitions, or she may have been at the National Ordnance factory in the Meadows, Nottingham.

Samuel enlisted on 8th September 1914 in Nottingham and joined the Northumberland Fusiliers as a private. His health record was such that he was quickly transferred to the Labour Corps where he served in the U.K. His address on enlistment was 6 Marriot Square , Nottingham. A further two children were born: Florence Lily (known as Lily) in 1914 and Bernard in 1916 (but he died the following year). After Lily's birth, her mother had to spend a month in hospital at Nottingham General. As Sam was away at war, the family were sent to stay at a cottage home in Bingham and the baby Lily was taken to the workhouse in Bingham.
The Chadwicks lived on Knights Hill (Mount Pleasant), Radcliffe on Trent, in the second house on the left going up the road but then moved across the road to another house. They left Radcliffe in 1927. Whilst living in Radcliffe on Trent, Sally became friendly with the Birkin family from Lamcote House and also with Violet Dowson whose brother lived in The Manor and later The Grange in the village. These families were very kind to the Chadwicks and would supply them with Christmas hampers each year and would pay regular visits to the house if any of the family were sick.
Not only did Lily look after her own family during the war, she also assisted the local doctor with childbirths in the village. All the family were encouraged to help out with the family income and Lily and the older children would work for the Pell family at Holme House, picking seasonal vegetables. The children were often late for school or were absent the whole day at these busy times.
1921 Census
Address: Mount Pleasant, Radcliffe
Employment: home
Household: husband Samuel,  Labourer, Notts Corporation, Works and Ways Dept, Eastcroft, sons Samuel and William, daughters Sarah, Florence, Freda
After the War
In 1927 the family moved to a council house in Nottingham, as Sam found the travel expenses too much from Radcliffe on Trent where he worked for Nottingham City Corporation.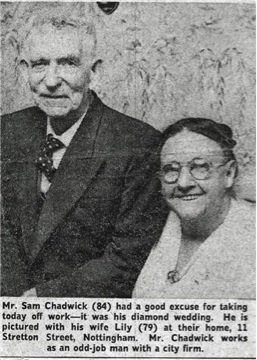 They celebrated their Diamond Wedding in 1968
Lily died in 1968 at Nottingham, aged 79. Sam died in 1974 at the age of 90.
Author: Marion Caunt