GLADYS MAY BREEDON 1899–1967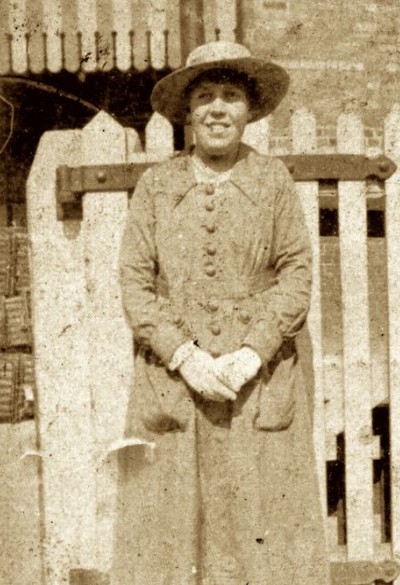 Gladys Breedon, railway porter
Photograph from Cutler Collection
Born: 27th October 1899 in Shelford, Nottinghamshire and baptised Shelford Church 4th February 1900.
Married: 9th August 1928 to Wesley Frank Swift at the Wesleyan Chapel, Radcliffe on Trent.
More details about Wesley Swift
Died: 1967  in Cheshire
Before the War
Gladys May Breedon was born in 1899 in Shelford, Nottinghamshire to Frederick and Sarah Elizabeth. Her father was born in Hucknall Torkard and Sarah was born in Liverpool.
In the 1901 census Gladys, age one, was living with her grandfather Peter Breedon, age 66, a retired farmer, grandmother Ann age 59, father Frederick age 23, recorded as a farmer's son and mother Sarah age 23. They were living on Bingham Road, Radcliffe on Trent, (possibly Lorne Grove as on the census they are living next door to the Barry family who lived in Lorne Grove).
In the 1911 census she was eleven and living with father Frederick, age 32, who was now a publican, mother Sarah age 31, sister Laura age 9 who was born in Radcliffe and now at school and brother Peter age 6 who was born in Bingham. They are living at The Lord Nelson public house, 18 Hempshall Lane, Bulwell. She was also recorded as living with her grandparents on Needham Street, Bingham with her brother Peter. Later in 1911 a trade directory records Peter and Ann (grandparents) living on Cropwell Road, Radcliffe on Trent.
Her father, Frederick died 8 December 1914 aged 37 at Bagthorpe Infirmary and was buried with his parents in Radcliffe on Trent cemetery.
Her grandfather Peter died on 12th March 1912 and was recorded as a gentleman in his will. He grants probate to William Reynolds, miller and William Levi, nurseryman. Effects were £1098.17s.0d. He was buried in Radcliffe on Trent cemetery.
During the War
Gladys's grandmother was living on Cropwell Road, Radcliffe on Trent. We can assume that Gladys stayed with her as she became a railway porter at the station in Radcliffe on Trent. In order to ensure that the railway industry kept going through this difficult time, women were recruited to do some of the jobs left vacant by the men who went to war. Charles Tytherley on the Radcliffe on Trent Roll of Honour, for instance, was a porter working at nearby Colwick. As a reservist, he had to enlist immediately war was declared. However some positions were not taken by women, such as driving trains and firing engines, mainly because the training period was too long. Many women took on the role as a railway porter as the duties were fairly light and could be learnt quickly.
1921 Census
Address: Cropwell Road, Radcliffe
Employment: Picture Framing, Passe Partout Binding, Boots Chemist
Household: grandmother Ann
After the war
Women were expected to hand the jobs back to the men when they returned from war.
She married Wesley Frank Swift on 9th August 1928 when she was 28 and he was 27. Wesley's occupation was recorded as a Wesleyan Methodist Minister. Witnesses at the wedding were Ellen Elizabeth Swift (Wesley's mother), Frank Cook Swift (Wesley's father) and Harriett May Boughey. Officiating minister at the wedding was F. Birdsall Swift. Gladys was recorded as living on Cropwell Road, Radcliffe on Trent and Wesley's address given as Bayview, Port Gordon, Banffshire. Their address in 1939 was 61 Church Road, Northwich, Cheshire.
Wesley was born in 1900 in Reading, Berks. He was recorded as working previously as a railway clerk and a lay pastor before being accepted for the Wesleyan Ministry. He became a minister in 1924. In 1939 he was working as a minister in Northwich, Cheshire. He died suddenly on 26 December 1961 at 202 Whyteledge Road, Caterham, Surrey but his address was given as 70 Pavilion Way, Eastcote, Ruislip, Middlesex. He left effects of £972.10s.11d to his widow Gladys May and his niece Dorothy Eleanor Masterman.
Details about Gladys death have not yet been confirmed. Ann, Gladys's grandmother died in 1924 and was buried in Radcliffe on Trent cemetery.
Author: Marion Caunt