MARY ANN WARD (née Durant) 1855–1938
Born Newark, Nottinghamshire in Oct-Dec 1855
Married Edward Ward on 12th July 1897 at St Mary's Church, Radcliffe on Trent
Daughter Grace Reynolds Durant born 8th July 1889 in Radcliffe on Trent
Died November 17th 1938 in Radcliffe on Trent
Before the First World War
In 1861 five year old Mary was living at 5 Hardy's Yard, Stodman Street, Newark with her grandfather John, a groom, father Robert, 50, also a groom, mother Mary, 32, a laundress (born in Ireland), brothers Samuel, 12, a labourer and Robert, 8. By 1871 Mary Ann was living away from home. She may have been the Mary Ann Durant, age 17, who was living with George Pink and family on Middle Gate, Newark and working as a personal domestic servant. However, there is also a Mary Ann Durant who was born in 1854 in Newark to different parents whose age matches that on the census form.
By 1881 Mary was living at Manor Farm, Shelford Road, Radcliffe on Trent, a servant in the house of George Morley, age 59, retired agent, and his wife. Also boarding there was George Johnston, 65, retired accountant. Her age was recorded as 21, although she was 25 according to the birth register. In 1891 Mary, 31 (35) was a servant living on Cropwell Road, Radcliffe in the house of James Brunner and family. He was a retired congregational minister. Her one year old daughter Grace (see newspaper article below) was living with her grandmother Mary Durant (born in Ireland) on Bingham Road, Radcliffe. Visiting them were Mary Ann's brother Samuel, a railway engine driver, and family. Her father Robert, 82, was in the Bingham Union Workhouse on Nottingham Road, Bingham. He died in 1894 in Bingham.
By 1896 Mary was practising as a nurse: at an inquest into the death of Maria Annie Dawson, age 23 of Radcliffe, it was stated that nurse Mary Durant and nurse Jane Osborne had attended the patient. Nottinghamshire Guardian 5 September 1896.
At the time of Mary's marriage to Edward Ward on 12th July 1897 in Radcliffe, Edward was a widower, age 40, living in Stathern, Leicestershire. His first wife Mary Rebecca died in 1891. Mary Ann's mother died in July 1897.  Her burial plot was purchased on 11th July and she was buried in Radcliffe cemetery on 14th July 1897, two days after her daughter's marriage.
In 1901 Mary, 41, and Edward, 44, a bricklayer/labourer were living in Barkestone, Leicestershire with Edward's son Tom Ward, 14, a farm plough boy, and her daughter Grace, 11.
By 1908 Mary had moved back to Radcliffe on Trent. She is recorded in Kelly's directory 1908 as a district nurse in Radcliffe. It is probable that she was employed by Radcliffe on Trent District Nursing Association, which was founded in 1900, but the date when she was first appointed District Nurse by the Association is unknown. Records for the early period have not survived, however later records show that she was employed by the Association for many years. Mary was also appointed the first infant protection visitor in Radcliffe on Trent under the Children's Act 1908, in which capacity she inspected the homes of people taking in children to nurse.
In 1911 Mary was living on Cropwell Road with daughter Grace, 21. Mary was a district nurse and is recorded as married. Her husband Edward was living in Barkestone with his daughter Sarah and his three grandchildren: John Edward, 12, and Dorothy and Annie, both 10. Edward is recorded as head of the family and married. Mary's brother Samuel John Durant, 63, now a widower, was living alone on Albert Street, Radcliffe, having retired from his occupation of railway engine driver.
In her nursing diary for 1911-1912, Mary recorded regular home visits to look after the welfare of mothers and babies, as well as visits to the sick, the elderly and the dying.
The following letters give an example of the duties she undertook as infant protection officer:
Bingham Union
Bingham, Notts
6th Feby 1912
Dear Madam,
Children Act, 1908
I enclose copy of notice received this morning from Mrs H. Beeson from which it appears that the child Mary Holmes has been removed from Mrs. Edwards to Mrs. Beeson. I have not received from Mrs Edwards a notice of removal as required by the Act but have sent her a form of notice and asked her to fill it up and return it to me without delay.
Yours truly,
R.H. Beaumont
Mrs M. Ward                                                              
District Nurse                                                      
Radcliffe on Trent
Mary wrote a letter in response to this and received the following reply: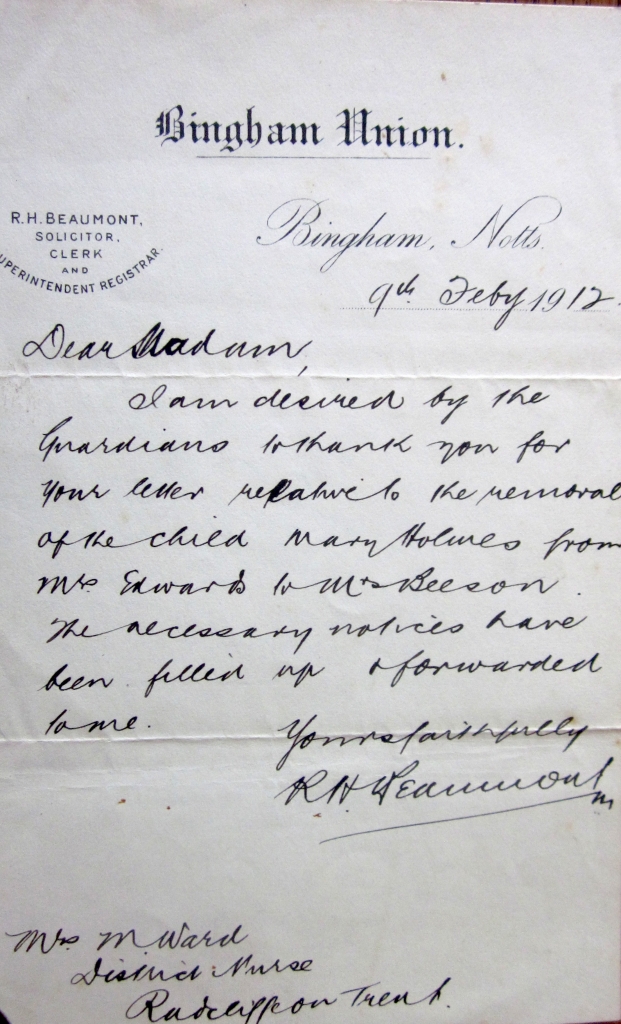 During the war
Mary continued with her district nursing duties in Radcliffe throughout the war. Her workload is likely to have increased markedly during this period, as according to the Queen's Nurses' Magazine, October 1914:
'…everywhere Queen's Nurses (district nurses) are in request for special work, in addition to their own duties, heavily increased as these are and likely to be during the coming winter. For suffering through war is not confined to our soldiers and their families, but is felt acutely in unemployment and consequent privation, sickness and general misery in every corner of the land.'
She and her daughter Grace moved to Victoria Road (now Street), off Cropwell Road some time after 1912. In Kelly's directory 1912 she is listed as a district nurse, address Cropwell Road but by Kelly's 1916 directory her address is Victoria Road, Radcliffe on Trent.
Her daughter Grace became a Red Cross V.A.D. nurse in WW1 – see Grace Reynolds Durant's biography in the Radcliffe Women section of the website.
After the war
Mary's district nursing career continued after the war, her name appearing in Wright's directory for 1920 and Kelly's directory 1925, still living on Victoria Road.
Her husband Edward was living in Barkestone, Leicestershire at the time of his death in 1923. He was buried in the parish of Stathern, Leicestershire on 4th April 1923, age 66.
In the electoral registers for 1925 and 1927 Mary is living on Victoria Road. She is not living there in the 1931 register, but in 1929 and 1931 there is a Mary Ward living on Holme Road, with a residence and occupation qualification to vote in parliamentary and local government elections.
Mary's brother Samuel died on 13th October 1934 in Surrey. At his date of death he was living at 'Elsworth', High Street, Knaphill, Woking.
Mary died on November 17th 1938 in Radcliffe on Trent, age 83. She is buried in Radcliffe cemetery with her mother, in an unmarked grave
Radcliffe and District Nursing Association at their committee meeting  on 29 November 1938, paid tribute to her:
'The meeting stood a few moments in silence in memory of Nurse Ward, for so many years district nurse to the Association.  It was agreed that a cross of holly should be placed on the grave at Christmas from the Association.'
Article on 4 October 1889 Nottingham Express
At Bingham petty sessions yesterday, before Mr R M Knowles, Col Vere Wright and Mr L Milward – MARY ANN DURANT, a single woman of Radcliffe on Trent applied for an affiliation order to be made against John Reynolds, a miller and small farmer of Radcliffe on Trent.
Mr H R Clayton appeared for the complainant and Mr T Walker for Reynolds. The paternity was admitted. Mr Clayton said it appeared that the complainant formerly resided with her mother at Radcliffe on Trent having been in a situation as a servant. In July 1888 she went into service of the defendant as housekeeper. Soon after she was seduced under a promise of marriage, and in the following December an action was commenced against the defendant. It was to come on at the Spring Assizes March 1889. Complainant had no witnesses to corroborate her statement then, except the defendants own children, and seeing there might be a difficulty, Mr Stroud who was acting for the plaintiff, advised a settlement. This was signed on 9 March and defendant paid £85 in settlement of Breach of Promise action and maintenance of the child about to be born. The girl, admitted receiving the money and breaking the promise she made in the agreement not to take out a bastardy summons. She did not however receive the whole of the £85, she only had £45 the remaining paying her solicitor. The point for the consideration of their worships was whether having entered into the agreement produced, the complainant could obtain an order. Lord Chief Justice decided an order could be made – 'it may be that in spite of the agreement to pay the money the child was in a state of destitution. It may be also that in spite of the money having been ample and having been regularly paid, the mother is endeavouring to extract money from the father.' He contended that the amount the complainant received was not sufficient to warrant the magistrates in refusing to make an order. Complainant bore out the statement of Mr Clayton for the defence. Mr Walker said Miss Durant could earn plenty of money and she ought not to be assisted by the magistrates in the extortion of a further amount from the defendant. Defendant said that he was not in good circumstances, his property being mortgaged to the fullest extent. He had a house in Radcliffe on Trent, 3 small fields and a mill. The latter was standing. The magistrates said that in the absence of any previous agreement such as that they had had before them, they should have made an order of 5s per week, but taking into account the fact that £40 went in settlement of the breach of promise case they should reduce the order by 6d per week.
Defendant would have to pay 4s 6d weekly until the child was 15 years of age.