GRACE REYNOLDS DURANT 1889–1974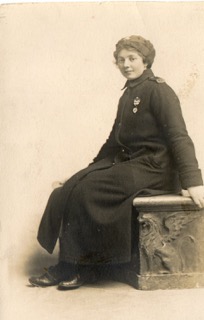 Grace Durant, photograph courtesy of family
Born: 8th July 1889 in Radcliffe on Trent, baptised 4th August 1889, St Mary's Church, Radcliffe on Trent
Marriage: 13th March 1921 to George Edward Hinchcliffe in Radcliffe on Trent
Children: sons George D. born 1922 and Ben J. born 1924 in Gainsborough district, Lincolnshire
Died: 17th March 1974, Lincoln district
Before the First World War
In 1891 one year old Grace was living with her grandmother Mary Durant, 62, (born in Ireland) on Bingham Road, Radcliffe in 1891. Visiting them were Grace's uncle Samuel Durant (Mary's son), 43, his wife and daughters. Grace's mother Mary Ann was a live in servant in the home of James Brunner, a retired Congregationalist minister living on Cropwell Road, Radcliffe. In 1897 Edward Ward married Grace's mother Mary Ann Durant in Radcliffe on Trent. By 1901 Grace was living in Barkestone, Leicestershire with her step-father Edward Ward, 44, bricklayer/labourer, mother Mary Ward, 41, and Edward's son Tom Ward, 14, plough boy on farm.
In 1911 Grace, 21, a blouse machinist, was living with her mother Mary on Cropwell Road, Radcliffe. Mary was now a district nurse. Her husband Edward was living in Barkestone with his daughter Sarah and his three grandchildren.
In November 1912 Grace enrolled as a member of the 94th Voluntary Aid Detachment of the Radcliffe on Trent branch of the Red Cross, attending lectures and passing examinations in Home Nursing in 1913 and First Aid in 1914.

During the war
At the outbreak of war in 1914 Grace volunteered to serve where required, and on 1st October 1915 she was engaged full time as a paid Red Cross Senior Nursing V.A.D., having taken extra training at Bagthorpe hospital (now the Nottingham City hospital) and Nottingham General hospital.  She was 26 (24 according to her Red Cross record card), single and living on Cropwell Road, Radcliffe. Special Service VAD nurses were paid by the War Office for service in military hospitals.
She was posted to the 4th Northern General Hospital, Lincoln, remaining there until she travelled to Malta, landing on 6th December 1916 where she worked at St. David's (62nd) Hospital.  (the above information about Grace Reynolds Durant has been extracted from her memoirs and from transcribed Red Cross V.A.D. records (see below), available at www.redcross.org.uk).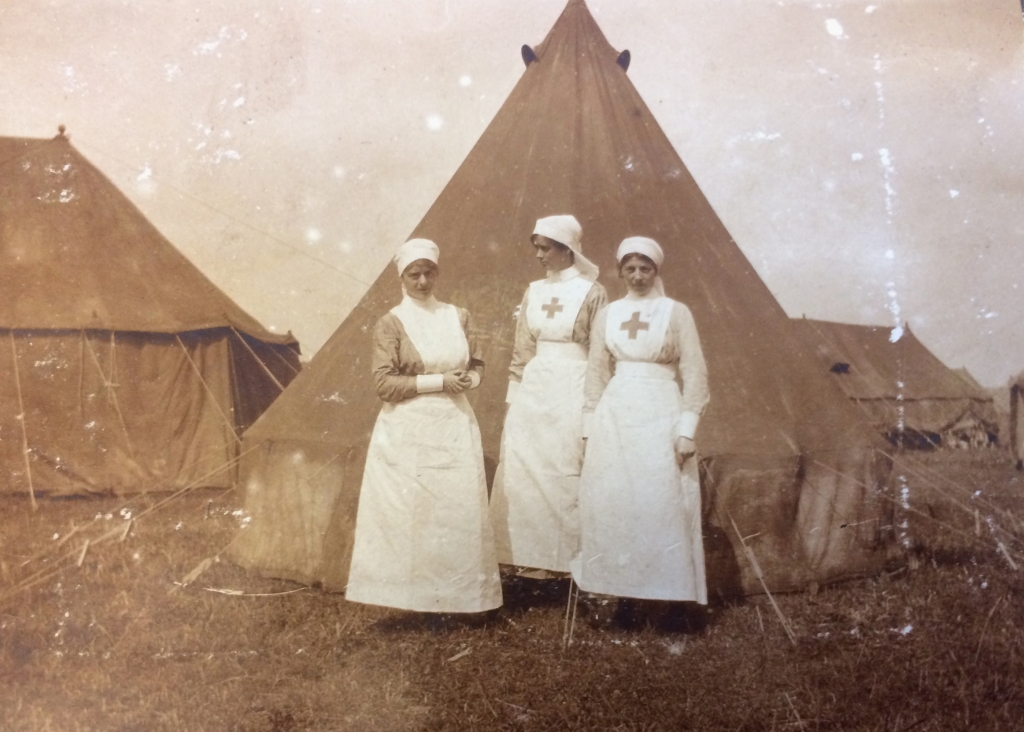 Grace Durant (right) St David's Hospital
St David's was a tented hospital with large hospital marquees built on rocky ground near the sea, situated near to St Andrew's Barracks hospital and St. Paul's hutment hospital.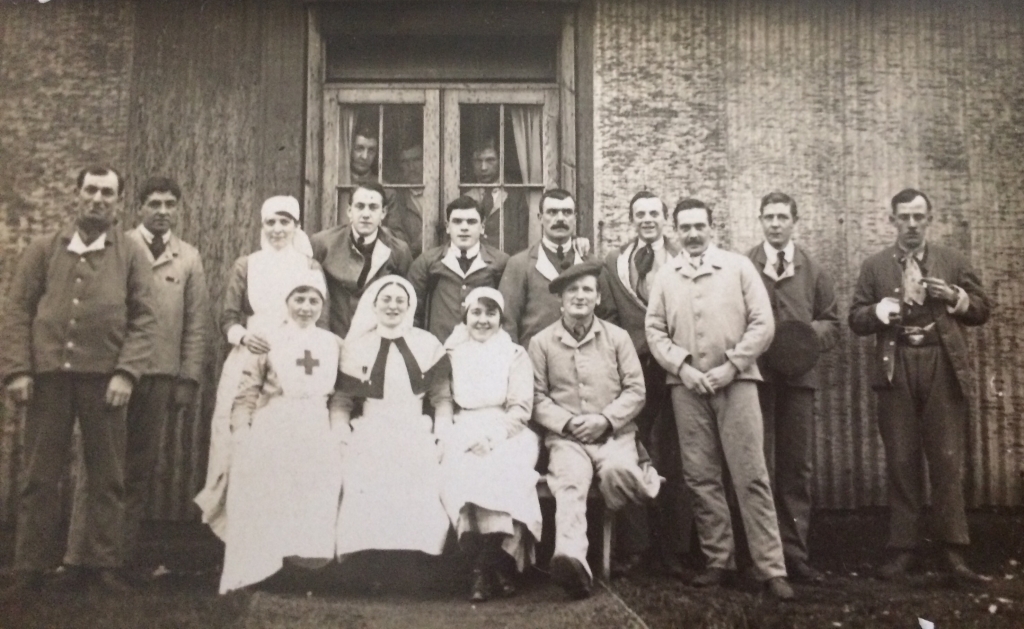 Photograph of Grace with patients at St David's
St David's opened on 25th July 1915 and closed on 1st May 1917 by which time it housed 1,168 beds. It was then mobilised and equipped as No. 62 General Hospital and transferred to Salonika. This was due to submarine attacks on hospital ships in the Mediterranean, which made it unsafe to transport the sick and wounded from Salonika to Malta. In all, five general hospitals, the 61st, 62nd (St David's), 63rd, 64th and 65th were transferred to Salonika from Malta.
Grace's memoir shows that she did not go to Salonika but remained in Malta, being transferred to Cottonera hospital where she served for some months until she became dangerously ill with dysentery on 28th August 1917.
She was admitted to Imtarfa hospital on 1st September, and remained there for two months.  A letter from a friend after Grace returned to England illustrates the gravity of her illness: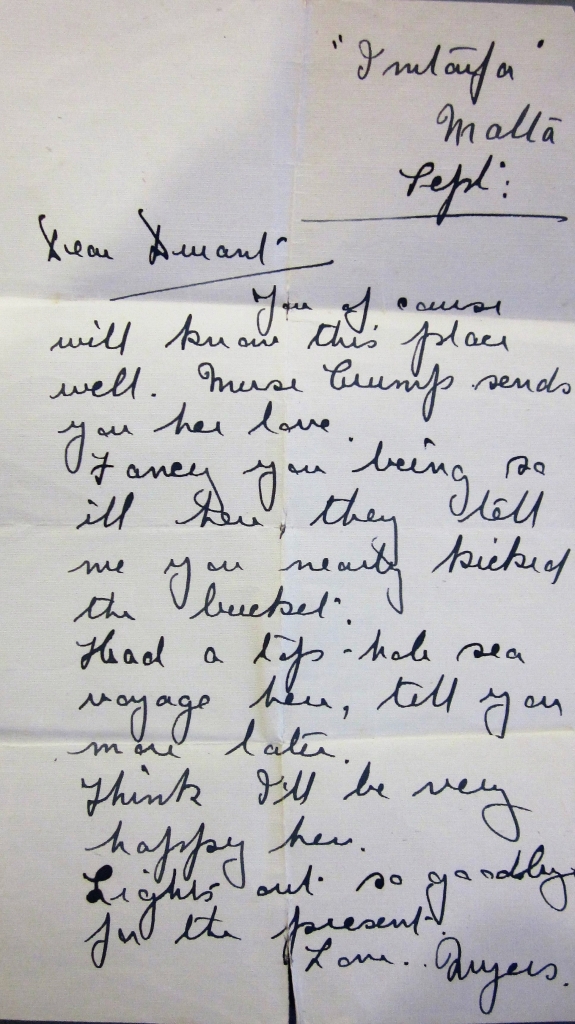 "Imtarfa"
Malta
Dear Durant
You of course will know this place well.  Nurse Crump sends you her love.
Fancy you being so ill here.  They tell me you nearly kicked the bucket.
Had a top hole sea voyage here.  Tell you more later. Think I'll be very happy here.
Lights out so goodbye for the present.
Love, Myers
News of her illness quickly reached Radcliffe on Trent. When she was recovering she received a letter from Claire Birkin, the Commandant of Notts. 94th Voluntary Aid Detachment, Radcliffe on Trent branch of the Red Cross:
Dear Miss Durant,
I am so relieved to hear that you are better and I was so sorry for your mother. She was so dreadfully upset and unhappy about you and one felt so helpless and you so far away. But she is greatly comforted now by the charming letters she has received about you from the matrons of your own hospital and the one you are now in. They praised you very much for your work and your patience during your illness and it makes me very proud! In that one of my detachment should have made so many friends and earned so much approval from those about her…
Click here to read the letter in full in Claire Birkin's biography
Grace was discharged from hospital on 9th November and invalided to England, returning on H.M. hospital ship 'Braemar Castle' on 12th November 1917, landing at Avonmouth on 22nd November 1917.  En route in the Mediterranean the ship was boarded by the Germans.  They accused hospital ships of carrying arms and ammunition, but after searching the ship and finding nothing the Germans left.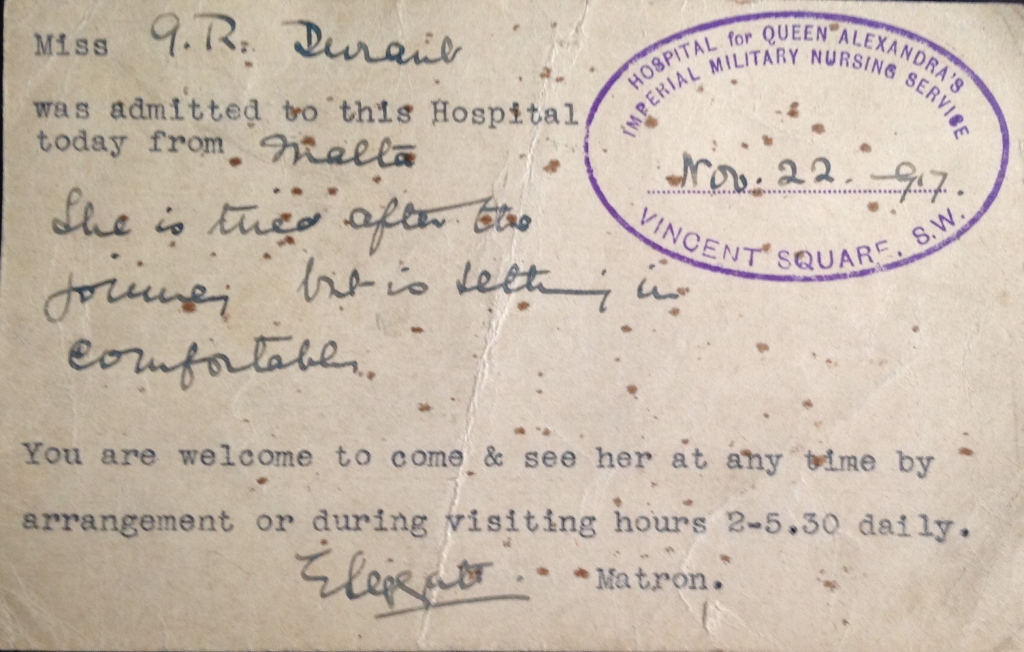 Postcard from the hospital to Grace's mother
On her arrival in England Grace was admitted to the Queen Alexandra's hospital for Sick Sisters at Westminster. She was passed fit for service on 31st December 1917 and returned to service at the 4th Northern General Hospital, Lincoln on 8th January 1918.
Grace was still serving there on 26th June 1919 when her Red Cross record card was completed, but her memoir shows that after the 4th Northern closed in early July 1919 Grace moved from Lincoln to the Notts. County War Hospital, (known later as Saxondale Hospital) serving there for a few weeks until it reverted to Notts. County Asylum after being vacated by the military on 30th August 1919.
Grace was awarded a Red Cross Member's badge for her five years' service as a VAD, and two scarlet efficiency stripes for service in a military hospital. She was also awarded the British War and Victory medals for her service in Malta.
Click here for more information about Grace's service in Malta.
Click here to read Grace's diary of 1917/18
1921 Census
Address: Portland Street Lincoln
Employment: home
Household: husband George Edward Hinchcliffe, Woodworking machinist, H Newrams, Timber merchants, mother in law Sarah Hinchcliffe, invalid
After the war
Grace married George Edward Hinchcliffe, age 33, a wood machinist from Lincoln, on 13th March 1921 in St Mary's Parish Church, Radcliffe.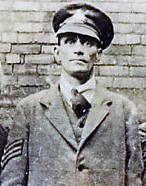 Photograph of George Edward Hinchcliffe
George was a sergeant in the Lincolnshire regiment who was discharged no longer fit for war service in 1917 due to neurasthenia (shell shock).  He was also wounded, having received a gunshot wound to his right thigh.  Grace met George while nursing him at the 4th Northern Hospital in Lincoln.  Their sons George D. born 1922 and Ben J. born 1924 were both born in Gainsborough district, Lincolnshire.  Ben sadly died soon after birth.
After the war Grace had to continue nursing to support the family due to George's continuing mental illness. She worked at the John Coupland hospital in Gainsborough and various other nursing jobs.
George, of 42 Sandsfield Lane, Gainsborough, died on 5th July 1939 in Bracebridge Heath mental hospital. Administration to Grace Reynolds Hinchcliffe, widow.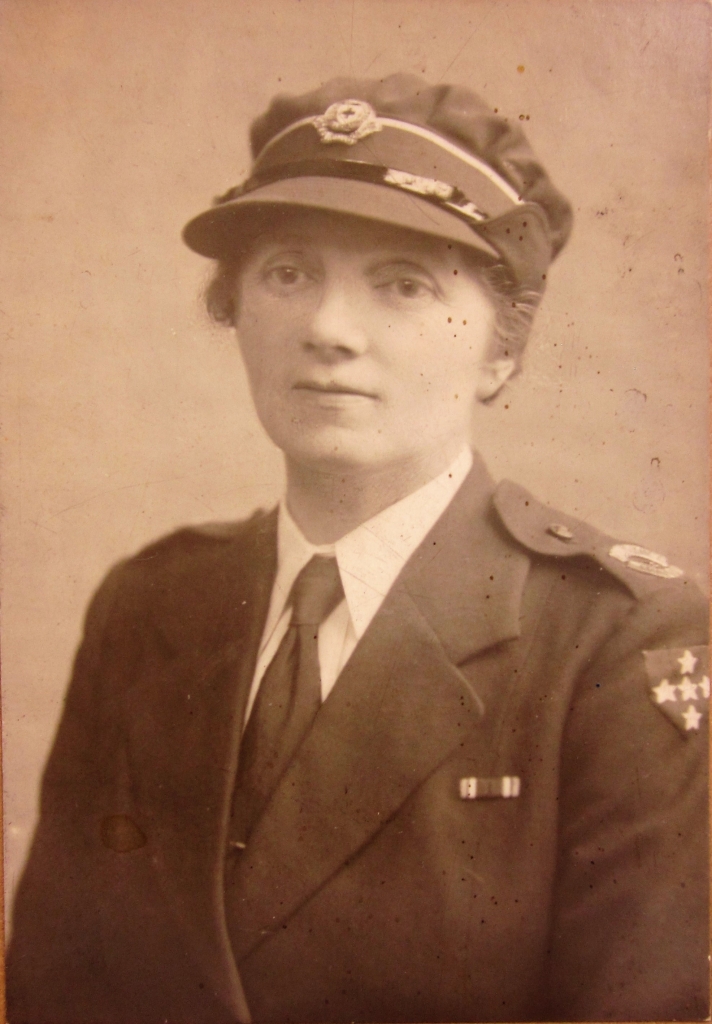 Grace in WW2 uniform
Grace again volunteered to serve as a Red Cross VAD nurse in World War Two, serving from 1940 to 1944.  She died age 84 on 17th March 1974 in Lincoln district.
Notes on 4th Northern General Hospital, Lincoln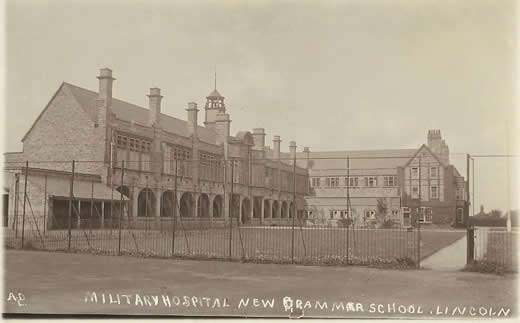 4th Northern General Hospital
Lincoln Grammar School (now Lincoln Christ's hospital School) was taken over by the military in WW1, becoming the 4th Northern General Hospital. As well as occupying the school buildings over twenty huts were erected on the school fields to provide additional accommodation. There was provision for 41 Officer beds and 1,126 Other Ranks beds, with more than 45,000 men being treated there during the war.
Author Pauline Woodhouse