LAWRENCE CHARLES TURNER 1893–1923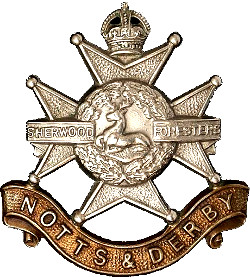 Born 21st January 1893, Radcliffe on Trent
Baptised 9th February 1893 St Mary's Church, Radcliffe on Trent
Died 12th June 1923, Radcliffe on Trent. Age 30
Commemorated on Radcliffe on Trent War Memorial
Radcliffe on Trent School Register
Admitted to school 30.8.1897
1901 Census
Age eight living on Victoria Street, Radcliffe on Trent with father Richard, wheelwright, thirty-seven, and mother Kate Ellen, thirty-five, , brother Harry W, two, sisters Alice G, five and Dorothy M, three.
1911 Census
Age eighteen working as a railway clerk. He was living on Victoria Street with parents and siblings Alice, fifteen, Harry, twelve, Dorothy, thirteen and Bernard three. Father's occupation on the census is coach-builder.
Military Service
Rank: Private
Service Number: 17487
Military Unit: 1st Battalion, The Sherwood Foresters, 24th Brigade, 8th Division
Theatre of War: France and Flanders, date of entry 19.3.15. Total war service abroad 2 months
Attestation: September 24th 1914, Nottingham
Age: 21 years 246 days. Occupation: clerk.
Address: Main Road, Radcliffe on Trent
Height 5ft. 4ins, weight 120 lbs, chest 35ins, complexion fresh, eyes brown, hair dark brown.
Occupation: clerk
8.10.14: Posted to 3rd Battalion
18.3.15: Posted to 1st Battalion, British Expeditionary Force, France
Wounded
12.5.15: Wounded in action, vicinity of Festubert, France. Gunshot wound to left hip. In 2nd Bn at this date according to War Office wounded list.
17.5.15–20.4.1917: Home
25.4.17: Discharged as unfit for service due to wounds. Character very good.
Next of kin: listed on record as father Richard, mother Kate and brothers Harry and Bernard.
Total Military Service: 2 years 214 days
Silver War Badge no. 164894 issued
Lawrence Turner was wounded in the Battle of Aubers. This battle involved a pincer attack against German positons north and south of Neuve Chapelle. The southern pincer was in the region of Festubert while the northern pincer was in the region of Sailly-sur-Lys. He would have been fighting with the Sherwood Foresters, 8th Division, in this northern attack. His fellow Radcliffe serviceman, Bertie Todd, also fighting with the 1st Sherwood Foresters, was killed in the same conflict.
There are a number of medical reports in his Pension records:
4.4.17: Has new joint the L. hip and still has sinus near the groin. Has very limited movement in hip joint and knee joint. 2in of shortening of L leg.
28.6.17: Nottm: Has a discharging sinus which arose 2 days ago and is quite superficial. Still lacks muscular power to move hip joint freely. Has a limp even with the special boot.  30%: 11 shillings (55p) for 26 wks. Award extended for a further 20 wks.
1.1.18: The records refer to a letter of appeal from Lawrence with reference to medical benefits (the letter is not in the records)
22.2.18: Nottm: Since last board he has had another operation for removal of dead bone from his hip by Mr Anderson Consulting Surgeon to Military Hosp Nottm performed 14.1.1918. Wound not quite healed. Muscles of whole leg very much wasted and flabby and still requires daily dressings. Is still weak and debilitated. 100%: 27 shillings 6d (£1.37p) for 30 wks from 1.1.18 (date of appeal).
18.5.18: Nottm: Man does not appear well. He is definitely anaemic. Want of power in limb, gets about with a stick. Limb is shortened. 50%: 13 shillings 9d (69p) for 52 wks.
1.5.19: Nottm: Small discharging sinus on outer part of wound on L buttock a depressed adherent scar well healed. Head of femur has been excised, a false jt resulting with want of power in limb. 2in of shortening of leg, wasting of thigh muscles 2in, wasting of leg muscles ½in, movements of knee and hip joints much limited.  60%
4.6.20: Nottm: Complains of occasional pain and discomfort left thigh. Wounds as described 1.5.19 well healed.  2¾in shortening of limb.  Wears a satisfactory surgical boot. Knee can be flexed to right angle and hip through angle of 75º. General condition improved since last Board, 50%
23.5.21: Nottm: Scars as described well healed. 2½in shortening L limb. Hip can be flexed to 75º and knee to a rt angle.  2½in wasting to thigh and 1in wasting L calf. Wears satisfactory surgical boot. Walks with a limp.  50%
7.2.22: Surgical boot supplied
2.6.22: Nottingham Special Board: Gunshot wound left hip. Large irregular scars some 5in by 1½in over anterior, outer and first……L hip. The main scar is well healed, adherent and tender. The hip joint has been excised leaving a very good new joint. M… limited in extreme ranges by flexion R L Extension complete, abduction fair, adduction slight, rotation moderate. Whole limb shortened 2 7/8in. Muscle thigh wasted 2½in, calf 1in as compared with R. Knee flexion limited to 80º … thigh. Slight lateral mobility by knee joint. Feet flat both sides. L ankle = N (normal?). Sensation L leg = N. Wears surgical boot which is satisfactory and walks with a limp. Scars R axilla well healed = no disability. Not suitable for F.A. No treatment. Not F and S. Conditional award 50%  12 mths.
Pension record card confirms a weekly pension of 20 shillings (£1) from 26.4.17 to his date of death, a disability assessment of 50%.
Medals Awarded: 1914–1915 Star, British War and Victory, Silver War Badge no. 164894
Go to WWI Timeline to see how this man's death is part of the wider story of the war.
Other information
In Wright's 1920 directory, the Turner family were living on Water Lane. Lawrence's father Richard is a carriage builder and joiner, his brother Harry was a motor engineer and his mother Kate was a stationer.
Gilbert Elwin remembered seeing Lawrence Turner in Radcliffe on Trent after the war was over:
'For some time afterwards Lawrence Charles Turner also journeyed back to Radcliffe by train and Gil would see him walking slowly home using a stick to his father's wheelwright's shop on Water Lane. He had been shot in the thigh and dragged his stiff leg out sideways' (source: Lowe, J. and Priestland, P. (1999) Radcliffe Remembers: Reminiscences collected to celebrate the Millennium, p.44).
Lawrence Turner would have been alive when the war Memorial was unveiled. His name was the last to be added, after he died in 1923. His younger brother Harry served in the war and survived. His sister Dorothy was a teacher at Radcliffe on Trent village school.
1921 Census
Address: Main Road, Radcliffe
Employment: Clerk, GNR
Household: father Richard, wheelwright, mother Kate, sisters Alice, shorthand typist GNR, Dorothy, assistant school mistress, bothers Harry, motor fitter and Bernard.
Death
Lawrence Turner died on 12th June, 1923 from nephritis (kidney failure) and toxaemia. It is likely that these symptoms were caused by an infection and were related to his war injuries. His occupation on his death certificate is given as railway clerk. His brother Harry was present at the death and registered it the following day.
Reasons for inclusion on Radcliffe on Trent Roll of Honour
Born, lived and died in Radcliffe on Trent.
Radcliffe on Trent cemetery