HENRY NORMAN TYLER 1893–1973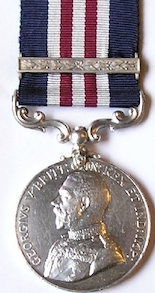 Military Medal
Born July 4th 1893 in Nottingham
Baptised 27th August 1893 St Saviour's Church, Nottingham. Home address: 7 Bathley Terrace, Nottingham
Married 14 December 1918 to Grace North, Basford district. Son Henry born 23 November 1920
Died 23 November 1973, age 83
1901 Census
Age 7 living at 41 Raglan Street, Nottingham.  Father Henry age 33, carpenter and joiner, mother Frances age 32, sister Doris age 5.
1911 Census
Age 17, clerk at hospital, living at 110 Bathley Street, Nottingham. Father Henry age 43, carpenter and joiner, born Kettering. Mother Frances Elizabeth (nee Prentice) aged 42, born Nottingham.  Two siblings: Doris May age 15 born in Nottingham, working in a chemist pill and powder dept.; John William age 2 born in Nottingham.
Military Service
Rank:  Private
Service Number: 69669, later 32566 (69669 does not appear on medal roll cards)
Military Unit: D Coy, 8th Battalion, The York and Lancaster Regiment, 70th Brigade, 23rd Division. 1st Battalion 26.7.19
Theatre of War: France and Flanders, date of entry 25.4.17; Italy date of entry 29.11.17
Attested: December 10th 1915 at Radcliffe on Trent
Occupation: asylum attendant. Height 5ft 6ins, weight 151 lbs. Medical category A1
National Health Approved Society: Ancient Order of Foresters
In reserves until April 1917
1.1.17–24.4.17: Home
25.4.17–28.11.17: France
Wounded
1.10.17:  Gun Shot Wound left elbow and hand, head (slight). Acting Lance Corporal at this time
To No 17 Casualty Clearing Station, Remy Siding
8.10.17:  No 126 Ambulance train to No 6 Convalescent Camp,Etaples
A Company, 8th (Service) Battalion as at 1.10.17 (FWR)
29.11.17–4.9.19: Italy
Wounded
20.8.18: Injured 'Crushed by Italian motor lorry during shelling.
Synovitis left knee and severe contusion of left thigh.'
April 1919: Home
26.7.19: posted 1st Battalion
10.12.19: Demobilised. Home address Barton-in-Fabis, Nottingham
Total service: 3 years and 307 days
Medals Awarded: Military Medal, dated in London Gazette August 16th 1917; British War and Victory Medals.
Other information
Notts. County Asylum records list him as a temporary attendant (i.e.had worked at the asylum for no more than 6 months)  who served in the war.
1921 Census
Address: Barton in Fabis
Employment: Estate Labourer, Col Clifton
Household: son Henry, father in law William North, retired roadman, mother in law, Grace
1939 Register
Address: Clifton, Nottingham
Occupation: Colonel Clifton's estate joiner
Household: living with wife Grace and son Henry, apprentice joiner
Reason for inclusion on Radcliffe on Trent Roll of Honour
Worked in the parish of Radcliffe on Trent at the Asylum.