GORDON PENISTON BERRIDGE 1886–1915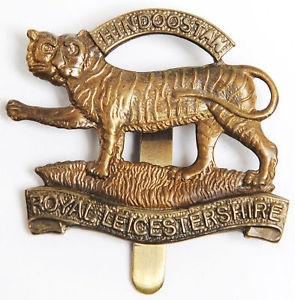 Born about 1886 in New Whittington, Chesterfield. Son of Kate Smith. Sisters Annie and Frances of Basford
Married 22nd September 1915 to Ellen Eliza Tandy at St Faith's church, North Wilford, Nottingham
Died 14th December 1915 age 29
Buried in Radcliffe on Trent cemetery,
Commemorated on Radcliffe on Trent War Memorial and Notts County Asylum Memorial.
Military Service before 1914
Rank: Private
Service Number: 7434
Military Unit: 1st Battalion, The Leicestershire Regiment
Enlisted: 20 August 1904
Age: 18 years 2 months, labourer
Height 5ft 3½ins, weight 112lbs, distinguishing marks scar on right cheek, girth when expanded 34 ins, range of expansion 2½ ins, complexion fresh, eyes grey, hair light brown
Religion: Wesleyan
20 August 1904: Sent to Poatea as a Private
9 Jan 1905: Transferred then extended service to complete 8 years with the colours
23 June 1905: Granted messing allowance
24 March 1908: Awarded 1st G.C.(good conduct) Badge
1911 Census, Overseas Military Establishments
He was stationed at Fort St George, Madras, India
24 October 1912: Transferred to Army Reserve. Home until 8.9.14
Military Service after August 4th, 1914
Rank: Private
Service Number: 7434
Military Unit: 1st Battalion, The Leicestershire Regiment, 16th Brigade, 6th Division
Theatre of War: France and Flanders, date of entry 9.9.14. Total war service abroad 261 days (8 months)
5.8.1914: Mobilized at Leicester
9.9.1914: France
5.8.1914-27.5.1915: Posted 1st battalion
27.5.1915-22.7.1915: Home
Admitted to hospital 29 May 1915 diagnosed with TB (tuberculosis) – "fatigue and diet and depressing surrounds have broken down his natural defences. Whether TB was latent in system before or primarily aggravated in the trenches is impossible to say."
Recommended for a discharge as permanently unfit by Medical Board 9 June 1915
Discharged 22 July 1915. No longer physically fit for war service
Military service 10 years 338 days
Medals Awarded 1914 Star, British War and Victory.
Pension record
A widow's pension form was filled out on 11.2.16. but was rejected on the grounds that there was 'no case for pension, married after discharge'.
Other Information
The 1st Battalion of The Leicestershire Regiment was fighting in France in the spring of 1915. They saw action at the Battle of Neuve Chapelle in March 1915. The first large scale use of gas by the Germans against British forces occurred in France, April 1915. Gordon Berridge was discharged suffering from the effects of gas poisoning in May 1915 (see note below).
Gordon Berridge was employed at Notts. County Asylum (Saxondale); he is listed in their records as an attendant who served in the Armed Forces between 1914 and 1915. It is likely that he worked at the hospital between 1912 and 1914 after completing his eight years with the colours. His death is recorded in the Parish Register as taking place at the hospital. It was usual at the time for asylums to treat patients with physical illnesses such as tuberculosis and epilepsy. The Committee of  Visitors to the Notts. County Asylum reported on 13th October 1915 that 'an attendant named Gordon Berridge has recently been discharged from the Army suffering from the effects of gas poisoning'.
He died on 14th December 1915 three months after his marriage. The cause of death given on his death certificate is tuberculosis. He is buried in Radclifffe on Trent Cemetery and has a Commonwealth War Graves Commission headstone.
Ellen Eliza Berridge became Eliza Ward, following her marriage to George Ward in 1917. Address: 104 Birchwood Lane, Somercotes, Alfreton, Derbys. She was still at this address in 1939 with her husband George, a miner and three children, Winifred born in 1918, George born 1923 and Alan 1925.
Reasons for inclusion on Radcliffe on Trent Roll of Honour
Gordon Berridge worked, died and was buried in Radcliffe on Trent.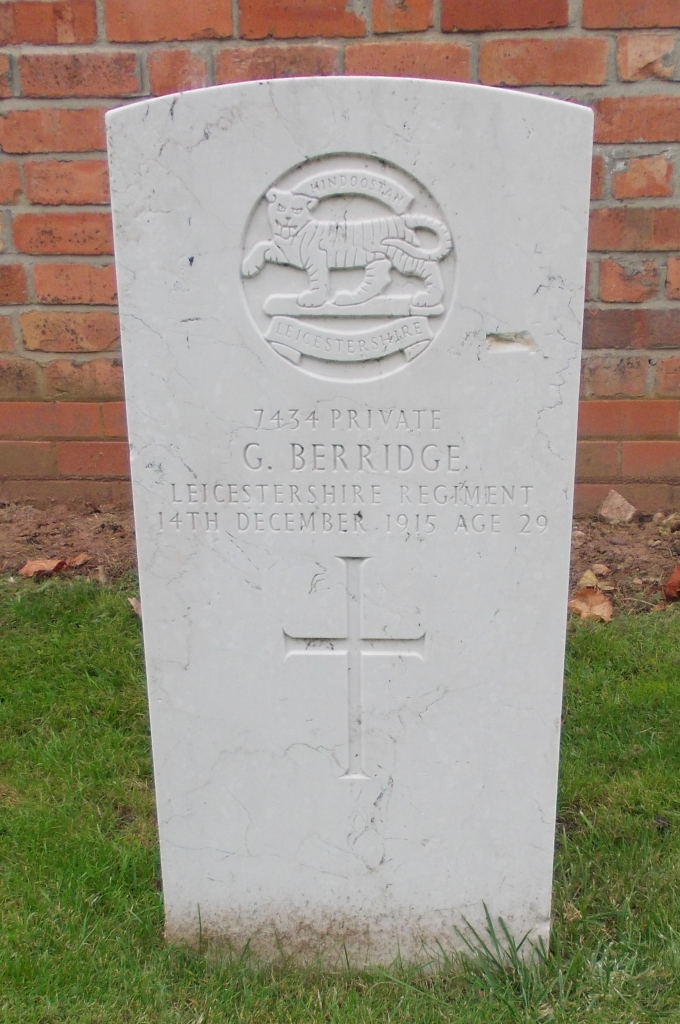 Radcliffe on Trent cemetery