JOHN HENRY HALL 1887–1971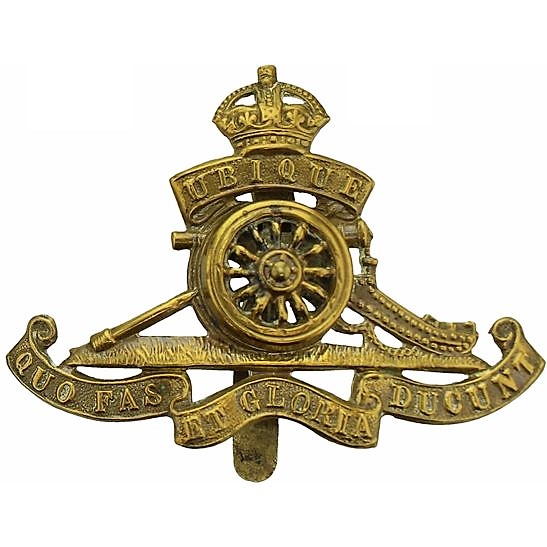 Born: 23rd September 1887 at Westwood, Derbyshire which is in Basford District
Married: 21st June 1917 to Mary Jane Scrimshaw at St Mary's Church, Radcliffe on Trent
Died: 12th July 1971 at Great Gonerby, Lincolnshire
1891 Census
Age four living with parents George W, 28, a railway signalman who was born in St Albans, Hertfordshire, mother Rosina, 26, and brother William, 1,  who was born in Wakefield, Derbyshire. They were living at 7 West View, Ovenden, Halifax.
1901 Census
Age 13 living at Great Ponton with parents, brothers William and George age 5 months, and sister, Edith age 8.
Military Service before WWI
Attestation: enlisted 17th November, 1909, Nottingham. Previously a territorial with the 8th Battalion, The Sherwood Foresters.
Service Number: 4947
Military Unit: 14th Hussars
Occupation: railway porter
Fresh complexion, blue eyes, brown hair, height 5ft 6ins, weight 127 lbs.
Posted to 20th Hussars 17.11.09 and discharged 20.6.10 having been found medically unfit for further service.
1911 Census
No trace of John but the family was living at High Dyke Cottages, Great Ponton, near Grantham. They had two more children, Rosina, age six, and Albert Noel, age three.  Grace, a grand-daughter age one,  was also living with them.
1912 Railway Employment
The London and North Eastern Railway 1939 Return of Staff Employed lists John Henry Hall entering the Company's Service on 16th September 1912.
Military Service in WWI
Rank: Gunner
Service Number: 41443
Military Unit: 223rd Siege Battery, Royal Garrison Artillery, 24 Fire Command
Theatre of War: France and Flanders
Enlistment: 3rd August 1914 to Royal Garrison Artillery, 24 Fire Command
Wounded
9.3.18: Reported 'Wounded' on War Office daily list no. 5512
Wounded
6.8.18: Reported 'Wounded' on War Office daily list no. 5636
The Royal Garrison Artillery No. 24 Coastal Fire Command was based in Liverpool. It is probable that John Hall began his service based in the U.K. and was later transferred to the 223rd Siege Battery which disembarked in France on 2nd December, 1916. John Henry Hall's wife Mary, a schoolteacher in Radcliffe on Trent was given leave of absence from school in September 1917 when her husband was either posted to France or was returning there after home leave (source: Radcliffe on Trent 1837-1920 (1989) edited by Pamela Priestland). John was later wounded in action twice.  In November 1918 Mary was given time off work when he unexpectedly returned home from hospital (Priestland, 1989). He received a Silver War Badge, No. B72202 issued on 21st January 1919. The Silver War Badge transcription includes details of his service with the Fire Command and the 1918 Absent Voter List notes he was serving with the 223rd Siege Battery.
Medals Awarded: British War and Victory
Military Personnel Address on 1918 Electoral Register
Hogg Lane, Radcliffe on Trent
Other information John Hall married Mary Jane Scrimshaw in Radcliffe on Trent on 21st June 1917. She was a teacher at Radcliffe on Trent school. The marriage register records him as a soldier stationed in Epsom, Surrey.
He was awarded a 20% disablement pension of 8 shillings (40p) per week plus 2 shillings (10p) for his wife for two years from March 1921 to March 1923. His pension ceased after 1923. Address: 24 Burngreave Bank, Pitsmoor, Sheffield.
1921 Census
Address: 291 Petre Street, Sheffield
Employment: railway guard, Great Central Railway
Household: wife Mary Jane, teacher Sheffield Education Committee
1939 Register
Address: 15 Skipton Road, Sheffield
Occupation: London North Eastern Railway goods guard
Household: living with wife Mary Jane born 14.11.1881
The couple later moved to Great Gonerby, Lincolnshire.
Reasons for inclusion on Radcliffe on Trent Roll of Honour
Married a woman from Radcliffe on Trent.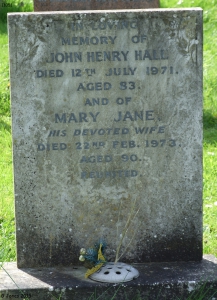 Churchyard of St Sebastian, Great Gonerby, Lincolnshire