MARY JANE SCRIMSHAW 1881–1973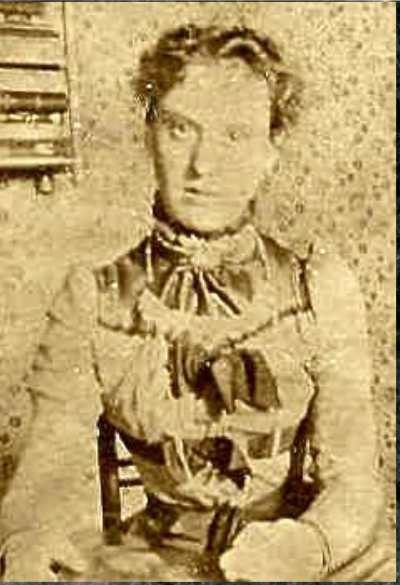 Mary Scrimshaw
All photographs courtesy of the family
Born: 14th November 1881 in East Stoke
Married: John Henry Hall on 21st June 1917 at St Marys Church, Radcliffe on Trent
Died: 1973 in Grantham
Before the war
In the 1891 census, Mary was nine and living with her parents Arthur, age thirty-six, a nurseryman who was born in Radcliffe on Trent, her mother Sarah who was from Hallam, Derbyshire and brothers George, twelve, John, eleven, Robert, seven, and Harry, age five. She also had a sister Elizabeth, age two. They were living at 31 Pine Street, Radford. Three of her brothers were born in East Stoke but Harry and Elizabeth were born in Radford.
In the 1901 census she was now aged nineteen and the family have moved to Bailey Lane, Radcliffe on Trent. Her father was  recorded as a market gardener labourer, her brother John aged twenty-one was a boot/shoe repairer, Robert aged seventeen a railway cleaner, and Harry aged fifteen was a fishmonger's boy.
In the 1911 census Mary was twenty-nine and an assistant teacher and still living with her parents, brothers John, Harry who was now a nurseryman's assistant and her sister Elizabeth. They had moved to a five roomed house on West End Villas in the village. Also living with them as a boarder is Percy Tibbals a railway porter who was born in Mauritius but was a British subject by parentage. Mary commenced work as an uncertified teacher at the village school in October 1911.
During the war
Mary continued teaching at the village school during the war.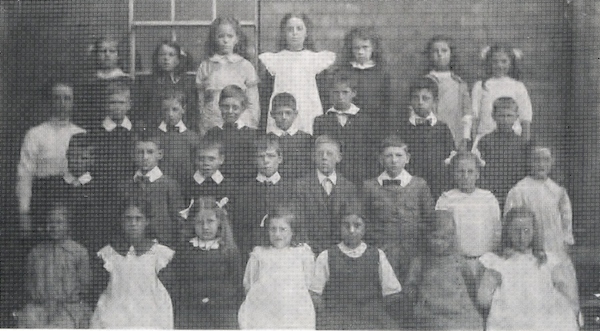 Miss Scrimshaw with her class 1914
She married John Henry Hall, a soldier stationed at Epsom, on 21st June 1917 at St Mary's Church in Radcliffe. She was thirty-five and John was twenty-nine. In September 1917 Mary was given leave of absence from school when her husband was sent to France. In July 1918 she was absent from the school with influenza but returned to work after a few days.
Article: The influenza pandemic and its impact on Radcliffe on Trent
John was wounded in action and in November 1918 she was given time off when he unexpectedly returned home from hospital.
John served in the war as a gunner with the 223 Siege battery, Royal Garrison Artillery
After the war
On 30th April 1920 Mary terminated her employment at the school.
Her father died on 25th April 1923, her mother on 15th February 1927 and her sister Elizabeth, who had remained a spinster, on 3rd December 1952. They are all buried in Radcliffe on Trent cemetery.
In 1939 Mary and John were living at 15 Skipton Road, Sheffield, where John was now employed as a Leeds Northern Railway goods guard.
John died on 12th July 1971.
Mary died on 22nd February 1973 aged ninety-one in Grantham. They had been married for 55 years. They are both buried in the churchyard of St Sebastian, Great Gonerby, Lincolnshire.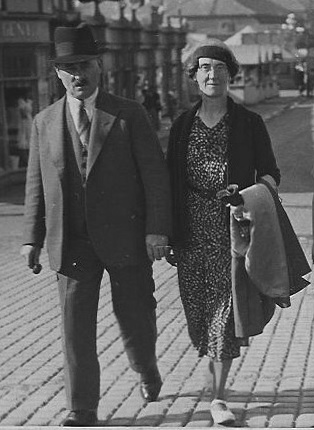 Author: Marion Caunt