ERNEST HALE 1893–1915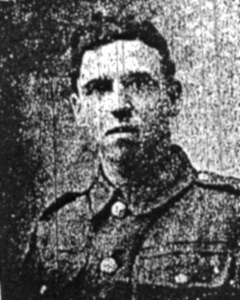 Photo from The Sherwood Foresters Museum, Nottingham Castle
Born 1893 in Radcliffe on Trent
Killed in Action October 5th 1915, age 22
Burial: Dud Corner Cemetery, Loos, Pas de Calais, France. Grave reference 111.K.9.
Not listed on Radcliffe on Trent war memorial. He is commemorated on the headstone of the grave of his brother and sister, Harold and Gertrude Hale, in Carlton cemetery, Nottingham, on St George's Church Memorial, Netherfield (brass tablet) and on Nottinghamshire Virtual War Memorial website.
1901 Census
Age seven living on Station Terrace, Radcliffe on Trent, with father Robert, thirty-nine, a railway labourer, mother Annie and his siblings William, seventeen, Robert, twelve, Gerty, four and Albert, seven months. Ernest was their fourth son.
1911 Census
Living at 166 Curzon Street, Netherfield, Nottingham with father Robert, a railway labourer, mother Annie and his siblings Sarah, Gertrude, Albert, Harold and May. Occupation: Number Taker Railway.
Military Service before 1914
Ernest Hale was a territorial (volunteer part time soldier) in the five years leading up to the war.
Rank: Private
Service Number: 286
Military Unit: 1st/8th Battalion, The Sherwood Foresters,
Attested: 5.11.1909, Carlton, age 17 years 1 month
Home address: 166 Curzon Street, Netherfield
Occupation: Tracer, working for Great Northern Railway
Height 5ft 2½ins, chest 32in when fully expanded.
Next of kin: Robert Hale, father
5.11.1909–1.3.1915: Member of Carlton Detachment of 1/8th Battalion. His service record states he became a very good rifle shot
31.7-24.8.10: Buxton Training
30.7-13.8.11: Scarborough
4.8-18.8.12: Aberystwyth
27.7-10.8.13: Thoresby Park
26.7-3.8.14: Hunmanby
26.7.14: Lance Corporal
Military Service 1914-1918
Rank: Lance Corporal
Service Number: 286
Military Unit: 1st/8th Battalion, The Sherwood Foresters, 139th Brigade, 46th Division
Theatre of War: France and Flanders, date of entry 2.3.15. Total war service abroad 7 months
1.11.14: Appointed paid Lance Corporal
2.3.15: British Expeditionary Force, France
5.10.15: Killed in Action
Medals Awarded: 1914-1915 Star, British War and Victory
Go to WWI Timeline to see how this man's death is part of the wider story of the war.
Sgt Burton wrote to his parents to tell them that he had been killed by a blast from a German shell.
Son of Robert Hale of 166 Curzon St, Netherfield, Nottingham. (Commonwealth War Graves Commission)
Personal effects sent to his father:
1 Prayer Book, 1 Testament, 1 Psalms, 1 Disc, 2 Note Books, 1 Manual, 1 Knife, 3 Rosaries, 1 illegible, 1 St. of illegible, 3 bullets, letters.
His father wrote on 1st March 1916 to enquire as to the whereabouts of one pair of field glasses, a silver pencil case, cap badge and pay book 'which were taken from his person at the time of death and have not been received'.
His father did receive a gratuity on 24 July 1916, amount is missing from pension card.
From the War Diary of the 1/8th Battalion, The  Sherwood Foresters, October 1st to 6th 1915
(diary held at the Worcestershire and Sherwood Foresters Regimental Museum, Nottingham):
Oct 1st The morning was spent cleaning up ground round bivouacs and packing wagons. Companies drew clothing etc from Q.M. stores. Transport less machine gun wagons and small arms ammunition.
2.00pm: Carts moved off by road. Battalion with machine gun wagons marched to Abeele
4.00pm: Stationed and entrained with little delay. Small arms ammunition carts moved by road with ammunition column.
7.00pm: Battalion detrained at Fouqueril and marched to Bethune
10.00pm: Billets were then found.
Oct 2nd Early in the morning orders were received to move into another area and a billeting party left. At 2.00pm the transport arrived and went to new area with Battalion. Orders received to leave that area on following morning.
Oct 3rd Battalion marched out from Bethune and went into billets at Mt. Bernanchon, arriving about noon. Remainder of day was spent in settling down.
Oct 4th Bombing practice in morning. Reserve machine gunners under MGO (Master General of the Ordnance). Just as Battalion falling in for afternoon parade orders received to embus at 3.30pm to proceed to a point near Vermelles. The Battalion went into German trenches and were occupied on night of 4th in cleaning up trenches.
Oct 5th Several casualties from enemy shell occurred. Battalion knew nothing of ration arrangements and there was great difficulty in obtaining water. Orders were received about 5.00pm to leave trenches and march to Mazingarbe where billets had been arranged by Staff Captain. Cookers were brought to new billets and there was tea for the men on arrival about 7.00pm.
Oct 6th Battalion marched out of Mazingarbe at 8.00am and went to Fouquieres-Les-Bethune. Some difficulty experienced with billets, but Battalion was all settled in by 2.00pm.
Reasons for inclusion on Radcliffe on Trent Roll of Honour
Born and lived in Radcliffe on Trent as a child.
Dud Corner Cemetery, Loos, France