CHARLES WILFRED BIRKIN 1865–1932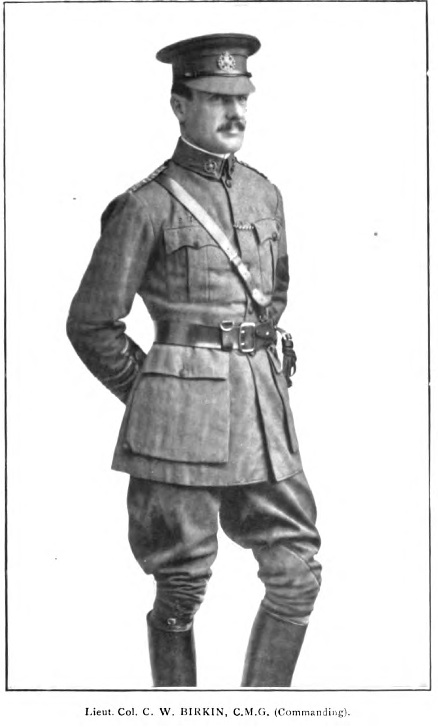 Photo from The Robin Hoods, 1/7th, 2/7th & 3/7th Battalions of The Sherwood Foresters.  Written by Officers of the Battalion. Published by J &  H Bell, Nottingham, 1921.
No Commanding Officer ever spared himself less than did Col. Birkin in bringing the Robin Hoods to a very high state of efficiency. He felt very much the great responsibility resting on him on taking a Territorial Battalion for the first time on Active Service , and he gave the greatest attention to every detail of the preliminary training , and at all times made the welfare and comfort of the men his special care (source: The Robin Hoods, pp 81-2).
Born 11th February 1865 in New Basford, Nottingham, the fourth son of Sir Thomas Isaac Birkin, 1st Bt, and Harriet Tebbutt.
Married 2nd July 1892 to Claire Lloyd Howe.
Children: Winifred May (born 1894, died 1983, mistress of Edward, Prince of Wales and known as Freda Dudley Ward), Violet Hilda (born 1899, died 1953, married Douglas Blew Jones), Vera Lilian (born 1903, died 1970, married James Seely), Charles Lloyd (born 1907, died 1985), who became Sir Charles Birkin.
Died 3rd April 1932, age 67.
1871 Census
Age 5,  living in Basford, Nottingham with his parents and six siblings. His father, Thomas, age 40, was a lace manufacturer employing 500 men, women and children. The large Birkin family consisted of Thomas, father, Harriet, mother, age 36, brothers Thomas Sidney, 13, Alexander M., 9, Richard L., 8, Charles W., 5, Philip A., 1 and sisters Harriet Maud, 11, Hilda M., age 3. There were six live-in servants in the household.
1881 Census
Age 15, a boarder at Rugby School. The Birkin family had moved to The Grange, Ruddington. Two more children had been born since 1871: Harry L., age nine and Ethel Lillian, age seven. The household included eight live in servants. Thomas Birkin, father, is described as a lace manufacturer and Justice of the Peace.
1891 Census
Charles Birkin was living at The Grange, Ruddington with father Thomas Isaac Birkin, lace manufacturer, mother Harriett, brothers Thomas, Alex, Richard, Philip (killed WWII), Harry (fought at Gallipoli), sisters Hilda and Ethel Lillian (who was awarded an Order of the British Empire for her work with the Red Cross in WWI). Charles and his brothers Thomas, Alex and Richard are all described as lace manufacturers. Philip and Harry are described as chemical students. The household included eight live in servants and a gardener.
1911 Census
Now married, living with servants at Elm House, The Park, Nottingham, working in the lace industry at Birkin & Co. His wife and children were away at Folkestone at the time of the census. The Birkin family then moved to Lamcote House, Radcliffe on Trent in 1912.
Military Service before WWI
27.8.1890: 2nd Lt. Robin Hood Rifles
15.10.1891: Lieutenant
1.5.1895: Captain
24.12.1902: Major
6.6.1908: Lt. Colonel 1st/7th (Robin Hood Rifles) Bn, The Sherwood Foresters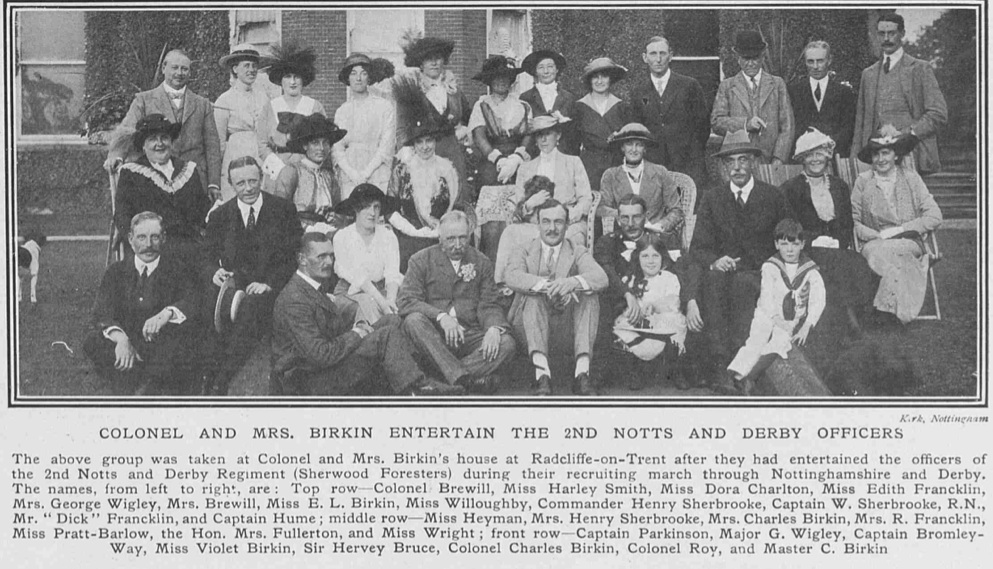 From The Tatler, 8th October 1913
Military Service during WWI
Rank: Lieutenant Colonel
Military Unit: 1st/7th Battalion, Territorial Force, The Sherwood Foresters, 139th Brigade, 46th Division
Theatre of War: France and Flanders, date of entry 26.2.15. Total war service abroad 5 months.
He commanded the 1st/7th Battalion, The Sherwood Foresters (Robin Hoods) in France until badly injured in July 1915.
4.8.15: As commanding Officer of the 1st/7th, Charles Birkin sent telegrams to all officers to mobilise and embodiment notices to other ranks.
5.8.14: The Robin Hoods paraded in full marching orders at their headquarters in Derby Road, Nottingham then marched to the centre of the city. 

10.8.14: Charles Birkin welcomed the 1st/8th Battalion, The Sherwood Foresters in Radcliffe on Trent following their muster in Newark town square. On this day, the Robin Hoods paraded in Nottingham market square before marching to Derby. The 1st/8th joined them in Derby the following day.
25.2.15.  Charles Birkin left Bocking Church Street with A and B companies and half of the regimental transport for Braintree station where they entrained for Southampton. Embarked on 'S.S. Empress Queen' at Southampton.
26.2.15.  Disembarked at Le Havre, 9 a.m. and went to rest camp to await the arrival of the rest of the Battalion.
4.3.15: Battalion arrived in Ploegsteert , a mile to the rear of front line trenches.
From March to June 1915 the Battalion was variously billeted at Bac. St. Maur, Neuve Berquin, Locre, Lindenhoek (trenches), Kemmel (trenches) Vlamertinghe and Sanctuary Wood (trenches).
30.7.15.  Battle of Hooge, Belgium. The Battle involved one of the first uses by the Germans of the flamethrower, a much feared weapon. The village of Hooge, near Ypres, had been captured eleven days previously by British infantry but the Germans reclaimed it on July 30th. Colonel Birkin was severely wounded in the head on the morning of July 30th near Maple Copse. He was discussing the best route for A and B Companies to take from Maple Copse to support the 7th Kings Royal Rifles in trenches between Sanctuary Wood and Hooge when a shell burst over him and fellow officers.
31.7.15. Left Unit
9.8.15. Embarked for England from Rouen with fracture of skull, gunshot wound.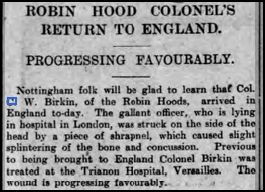 Note: the cutting from the Nottingham Evening Post reports a shrapnel wound but all the medical reports state that he received a gunshot wound.
12.8.15. Disembarked Southampton, sent to McShields Hospital, 17 Park Lane, London and given leave until 26th October.
Details below have been extracted from Lt. Colonel Birkin's military service records held at the National Archives, Kew, London.
25.10.15. Report from the Medical Board at Nottingham: He has made considerable improvements in the last fortnight but he still suffers from headaches and sleeplessness.
7.8.15. Report from the Medical Board at Nottingham: He is much better but the nervous symptoms such as headaches and inability to concententrate on mental work persist. He also suffers from tinnitus. Still unfit for general service.
23.10.15. Letter from doctor (name illegible) I have been attending Col. C. W. Birkin since his return from the front. He had a small scalp wound when I first saw him which has mainly healed. There was also some depression if the outer table of the skull beneath indicating there had been a slight fracture here. The wound has now quite healed but the depression in the bone can still be felt underneath.
8.12.15. Reported for duty to the Officer commanding the 3rd Line Group North Midland Division. It was proposed to place him in charge of practical operations and manoeuvres for instructional purposes.
10.3.16. Report from the Medical Board at Nottingham: He is much improved but still suffers from the effects of concussion with the usual symptoms viz. mental work fatigues him and causes heaviness in the head and if overworked he feels confusion of thought and is still unfit for any more reported duty than he is doing at present.
10.4.16. Report from the Medical Board at Ripon Training Centre showed he was suffering from the nervous effects of concussion.
9.7.16. Report from the Medical Board at Nottingham: He has apparently quite recovered from the effects of his wound but it would be impossible to say how far his brain has recovered from the concussion until he has tested it by ordinary mental work. He was declared unfit for general service and his recovery time was cited as 'uncertain'.
30.11.16. Transferred to the Territorial Force Reserves and employed by the War Office. Attached for duty at Room 82, War Office Annexe. Part of his duties included taking charge of and supervising the construction of coastal defences in Lincolnshire for which the Third Line of the Robin Hoods would be responsible.
1.1.17-12.7.17. Attached to Recruiting Directorate
14.7.21. Retired, having attained the age limit, with permission to retain rank of Lt. Colonel and to wear uniform.
Orders of Chivalry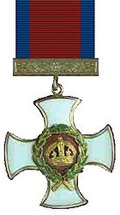 Companion of the Order of St Michael and St George, Awarded to Lieutenant Colonel Birkin, 1.1.1916:
Gazette Issue 29438. (11.1.1916) C.M.G. The King has been graciously pleased to give directions for the following promotions in, and appointments to, the Most Distinguished Order of Saint Michael and Saint George, for services rendered in connection with Military Operations in the Field, to be dated the 1st January, 1916:- To be an Additional Member of the Third Class, or Companions of the said Most Distinguished Order.
The Times, Friday, January 14, 1916. Rewards for service in the field. F ll – Col Charles Wilfred Birkin, Notts. And Derby r. Supplement to the "London Gazette." Central Chancery of the Orders of' Knighthood.
Mentioned in Despatches: Lieutenant Colonel C.W. Birkin Gazette No. 29422. (31.12.1915)  The following despatch has been received by the Secretary of State for War from the Field Marshall Commanding-in-Chief the British Army in France. I have the honour to bring to notice the name, whom I recommend for gallant and distinguished service in this field.


Medals Awarded: Companion of the Order of St Michael and St George, 1914-1915 Star, British War and Victory Medals with Emblems, Mentioned in Despatches
View a copy of the original War Diary entry for Birkin's Mention in Despatches
Military Personnel Address on 1918 Electoral Register
Lamcote House, Radcliffe on Trent
Other information
Served throughout the war as Lieutenant Colonel. He lived at Lamcote House, Radcliffe on Trent until his death in 1932. He was a prominent local figure; he gave a moving speech at the unveiling of Radcliffe War Memorial in 1921. He held the office of Justice of the Peace (J.P.) for Nottinghamshire and of Deputy Lieutenant (D.L.) of Nottinghamshire.
His obituary in the Nottingham Evening Post September 1932 stated that he was equally well known as a businessman, soldier, sportsman and agriculturalist. He is variously described in his obituary as Colonel Birkin and Lieutenant Colonel Birkin. He was head of the firm Birkin & Co., Lace Manufacturers. He commanded the Robin Hoods until wounded in July 1915. He bred horses and produced two winners: Diolite and Brulette.  At the time of his death, he was president of the West Nottingham Conservative Association. The Robin Hoods supplied a bugle party at the funeral.
During WWI, his home, Lamcote House, became an auxiliary hospital for wounded officers under the direction of his wife, Claire Birkin. She was decorated with the award of the Médaille de la Reconnaissance Française and  the award of the Médaille de la Reine Elisabeth of Belgium for her war service (go to Claire Birkin in 'Radcliffe Women' to find out more).
From 1922 Electoral Register
Living at Lamcote House with his wife Claire
Reasons for inclusion on Radcliffe on Trent Roll of Honour
Lived in Radcliffe on Trent.