JAMES SPENCER EASON 1894–1956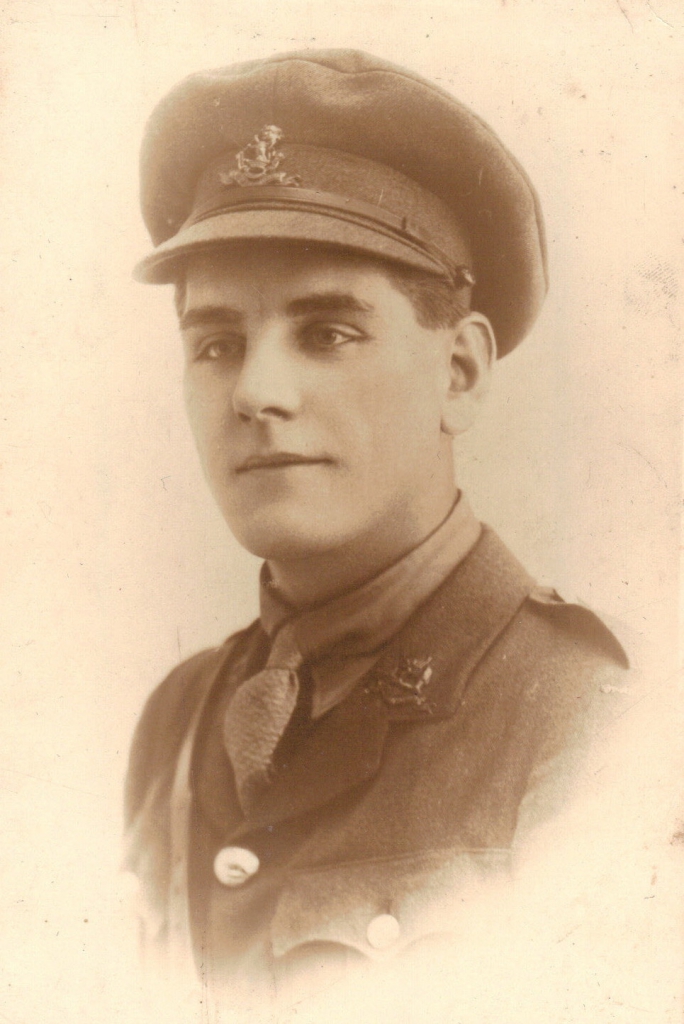 Photograph from Ancestry Member Tree
Born 16th May 1894 in Ripley, Derbyshire
Married 19th May 1919 to Dorothy Frances Upton age 19 of Radcliffe on Trent
Son John B born 1933, daughters Jean Dorothy born 1936, Nottingham district, Janice P. born 1940, Basford district and Kathryn M. born Basford district 1945
Died 5th September 1956, age 62, West Bridgford, Notts.
1901 Census
Age 6 living with father Sam 38, mother Lucy Ellen Spencer 42, brother Herbert 9 and sister Mary 10 at 27 Charles Street, Hasland, Derbyshire.
1911 Census
Age 16 a coal miner/hewer living at 80 Harcourt Street, Kirkby-in-Ashfeld, Notts with his father Samuel 48, a night scavenger with the council, mother Lucy Ellen 52, and brother Herbert 19, who was a colliery horse-keeper.
Metropolitan Police records: James Spencer Eason, warrant number 103095. Joined on 28 July 1913, and left on 8 March 1915. Last posted to W Division as a PC.
Military Service
Rank: Lieutenant (at completion of service), Corporal (on enlistment)
Service Number: G/32941(Royal Fusiliers) 76657 (Royal Engineers)
Military Unit: Duke of Wellington's (West Riding Regiment), formerly 2nd Battalion Royal Fusiliers, previously Royal Engineers
Theatre of War: France and Flanders, date of entry 18.7.1915
12.3.15: Attested at Mansfield: Pioneer, Royal Engineers Special Reserve (Motor Cyclist Section); age 21 years 330 days; height 5 ft 10 ins; chest 38 ins; range of expansion 3 ins; trade motor mechanic; next of kin Samuel Eason, father, 80 Harcourt Street, Kirkby in Ashfield, Notts
13.3.15: Joined at Hitchin. Promoted Corporal Motor Cyclist
18.7.15: Embarked for France
25.5.16–5.6.16: In close arrest 12 days; sentenced to be reduced to the ranks by F.G.C.M. (Field General Court Martial) for giving wrong name and number to Military Police.
5.6.16: Rank: Pioneer 76657
26.7.16: Transferred to 2nd Battalion Royal Fusiliers
10.8.16: Posted, Private 32941
1.8.17: Commission as 2nd Lieutenant Duke of Wellington's (3rd West Riding) Regiment, subsequently Lieutenant
1.8.17: In Lichfield Military hospital with tonsillitis for 12 days
Wounded
29.4.18: Gunshot wound to neck, Kemmel (Flanders)
9.5.18: To Royal Herbert Hospital, Woolwich
21.5.18: Arrival report: Regiment: 1/7 West Riding, 49th Division; late 8th battalion but now disbanded; address Harcourt Street, East Kirkby, Notts; date of leaving unit 29.4.18; port of embarkation Boulogne, 10.4(5?).18; port of disembarkation Dover, 10.4(5?).18; cause of return Gunshot Wound (neck)
15.7.18: Medical Board report, Royal Herbert Hospital, Woolwich: 'Disability: GSW neck. He had a bullet pass through the back of the neck with injuries to the 3rd and 4th cervical vertebrae. He is making a good recovery. The inlet & exit wounds in the neck are healed but he has not yet full use of the movements of the arms and legs. To remain in Royal Herbert Hospital pending transfer to a convalescent hospital.'
24.7.18: In Lamcote Auxiliary Hospital for Officers, Radcliffe on Trent. Letter sent by him to the War Office requesting a gratuity for wound received in action at Kemmel on April 29th. Regiment: 3rd West Riding.
1.8.18: Medical Board report, Carrington, Nottingham: '(1) Gunshot Wound (2) Neurasthenia. The GSW is unaltered. The general condition appears bad. The GSW healed. Complains of constant headaches, sleeps badly, is very depressed. During his examination had an emotional breakdown. The muscular reflexes are normal. Is slightly unsteady in Romberg's test.(See below). Tactile sensibility of the hands is disordered. He says he is very unhappy in his present surroundings and requires careful and skilled treatment in a special hospital for neurasthenia, or melancholia will supervene. This is an urgent case. He has been instructed to return to Lamcote. Requires special hospital treatment'
Note: In the Romberg test, the standing patient is asked to close his or her eyes. An increase loss of balance is interpreted as a positive Romberg's test. The Romberg test is a test of the body's sense of positioning (proprioception), which requires healthy functioning of the dorsal columns of the spinal cord.
Granted leave for 5 months from 29.4.18 to 14.9.18. Gratuity £104-3-4
2.1.19: Medical Board report, Imperial Hospital, St Anne's: 'On admission here (August 28th 1918) restless, irritable, agitated & emotional, easily fatigued, depressed, introspective & apprehensive, insomnia, battle dreams, lack of self confidence and concentration, memory defective, somewhat confused, occipital headache. Present condition: Improved, sleeps better, occipital headache, physical condition & self confidence improved.
To proceed on 3 weeks leave from 2.1.19 & to report in writing to War Office 10 days prior to expiration of such leave, his services having been applied for by Ministry of Labour in connection with Officers University & Technical classes. Should he not have received instructions to report to Ministry of Labour by the end of his leave, to report to 3rd West Ridings at North Shields.'
31.1.19: Granted leave for a further 4 months. Gratuity £83-6-8
22.2.19: Medical Board report, Oulton Hall Officers Hospital, near Leeds: 'Disability: 1. G.S.W. neck. 2. Neurasthenia. Origin: 23.4.18, France.
History: At above time & place sustained a G.S.W. neck. Neurasthenia symptoms developed in hospital. Early this year was discharged from a special hospital to C2. He was unable to carry on and is much troubled that during this period his brother officers thought him peculiar.
Progress: (1) is unaltered (2) is improving under treatment. He exhibits a typical anxiety neurosis based upon a certain occurrence in action. He is self conscious and emotional. Insomnia. Battle dreams due to repression. Appetite good. To remain in Oulton Hall Officers Hospital for further special neurological treatment.'
26.3.19: Medical Board report, Oulton Hall Officers Hospital: '(1) G.S.W. neck. (2) Neurasthenia (1) is unaltered. (2) is much improved under treatment. Receiving special neurological treatment in Oulton Hall Officers Hospital.
Appetite still good. Battle dreams less. Insomnia less. Has regained some degree of self confidence and is less emotional. More sociable. Has recently started to sing, dance and play billiards. It has hitherto been most difficult to get this officer to occupy himself, and he exhibits great anxiety over his domestic and business affairs. The Board are of opinion that he will now improve more rapidly and benefit for a change, and recommend that he be granted one month's leave. To proceed on one month's leave and to report to 5th Northern General Hospital, Leicester on 27th April 1919.'
24.4.19: Granted leave for a further 3 months. Gratuity £62-10-0
23.5.19: Medical Board report, Leicester: 'Disability: (i) G.S.W. neck (ii) Neurasthenia. He reported at this hospital on 28.4.19 in accordance with instructions received from Medical Board held at Oulton Hall 26.3.19 and was admitted. No improvement since admission.
He is very depressed and sometimes breaks down completely when spoken to. This occurred during examination by the board. He shuns his fellows and sleeps badly. Cerebration very slow. Stammers badly.
The board are of opinion that the best chance of recovery can be secured only by permitting this officer to escape from military environments. To proceed home pending notification in the London Gazette as to disposal.'
19.6.19: Letter sent by him to the War Office requesting a leave of absence certificate for the period 13.5.19 to 18.6.19, having been awarded leave by a Medical Board at the 5th Northern General Hospital, Leicester, pending notification in the London Gazette. Address Cropwell Road, Radcliffe on Trent
22.6.19: To relinquish Temporary Commission on account of ill-health, caused by wounds. To retain rank of 2nd Lieutenant and to be granted King's Certificate. Served in France
11.7.19: Medical Board report, Leeds: 'Disability G.S.W. neck. Neurasthenia. States he has not improved since last Board. Sleep disturbed & delayed. Occasional battle dreams. Occipital headaches. Memory fair. Concentration bad – association of ideas disconnected. Depressed & emotional.
Exam: Scar of T & T wound back of neck soundly healed. Not tender or adherent. Fine tremors hands & tongue. Pupils react. No Romberg. K. Js exaggerated. No Clonus (muscular spasm) or Babinski (plantar reflex of the foot which should be absent in adults and only present in babies). Stammers. Slight R. internal strabismus. Easily excitable. H.S. normal. Pulse 80. Twitching of facial muscles. Occasional Diplopia (double vision). 100% disabled.'
3.9.19: Medical Board report, Clipstone Camp: Regiment 1/7 Duke of Wellington's: 'The Board find that (1) G.S.W. of neck is now healed, but still complains of pain passing upwards to the back of the head. (2) The Board find he is depressed & breaks down without apparent reason – this occurred during examination. Memory good for remote and recent events. Speech clear and distinct but stammers slightly. He states he suffers from insomnia which he attributes to thoughts of active service – the chief reason for worry that he has not recovered more rapidly from his wound and is dependent on other people at present. Address Cropwell Rd, Radcliffe on Trent.'
By October 1919 he was referred to as Lieutenant in notes in his records although no date of appointment is specified. Rank of Lieutenant is confirmed on his Medal Rolls index card.
20.11.19: James wrote to the War Office at Cornwall House, Stamford Street, London requesting a wound pension, stating that his last Medical Board was at Cornwall House on 5th November for the purposes of deciding his claim to a pension. There is no report of that Medical Board or copies of any replies from the War Office in his service records.
8.12.19: He wrote again to the War Office asking whether he was entitled to a wound pension, explaining that he was discharged 6 months ago and as yet had received no pension or retired pay.
18.12.19: He sent another letter to the War Office applying for a wound pension.
19.12.19: Medical Board report, Leeds: 'States no improvement but is obviously somewhat better than at last Board. States: sleep variable, frequent sleepless nights; severe bi-temporal headaches; memory good; concentration bad; very irritable; easily worried; attacks of depression.
Examination: Minimal tremor of hands. K.Js 1. Pupils N. Teeth with denture good. No Romberg. Pulse 116 H.S.N. Slight R. internal Strabismus. Slight stammer. Physique and nutrition fair. Depressed and worried about pension. States that this is his 6th Board in 6 months.'
James wrote a further letter to the War Office regarding his pensions claim. Although this letter is undated, he referred to a Pensions Board he attended in Leeds some six weeks previously (see 19.12.1919 above). Thus his letter was probably written around the end of January 1920. In it he expressed his frustration at hearing nothing about the result, except that his claim for a pension was receiving attention. He then went on to say:
'Now, I am informed that I have to appear before a Board of Medical Officers, to decide my claim to a pension almost before I have recovered from the effects of the last one. I trust you will notify me if there has been a mistake for I can assure you that I am completely tired of Medical Boards and of having the horrors of the past brought back to my mind so frequently and vividly'
28.5.20: Effects (of wounds) still very severe and likely to be permanent
Eligible for a wound pension of £50 from 29.4.19 to 28.4.20; renewed from 29.4.20 to 28.4.21; further renewed from 29.4.21 to 28.4.22 at a rate of £50 per annum
Royal Irish Constabulary
The information regarding the service in Ireland has been confirmed by his grandson.  On 19 June 1921 he was on leave at a London hotel with his wife where he is described as a Nottingham University student. "It may be the case that he did not want to openly reveal his service in The Auxiliaries in the census – a number of them were murdered both on and off duty during the Irish War of Independence and some were certainly targeted in England during and after the war as potential revenge killings by the IRA".  His grandson also confirmed that John's wife Dorothy visited him in Dublin.
The Royal Irish Constabulary Service Records 1816-1922 are held in the National Archives and are very limited in information and often illegible.  The web site https://www. the auxiliaries.com provides the information below but the details establishing identity are suspect.
Further confirmation may be forthcoming so the details have been included below.
26.1.21: Joined The Auxiliary Division of the Royal Irish Constabulary with service no 1606. Posted to O Company.
18.2.21: Posted to N Company to make up numbers after Crozier removed around 30 of the Trim looters
18.2.21: Promoted Section Leader.
11.6.21: Posted to L Company. Reverted to T/Cadet
16.6.21: Involved in Rathcoole Ambush. £14 compensation for loss of property
20.1.22: Discharged on demobilisation of ADRIC
Medals Awarded: 1914-1915 Star, British War and Victory; received Silver War Badge eligible 11.6.1919, address: Cropwell Road, Radcliffe on Trent
Other information
He was a patient at Lamcote Auxiliary Hospital for Officers, Radcliffe on Trent. Gave his profession as soldier on marriage certificate.
13.4.1940: Note in service records: 'The Officer to whom these personal papers relate applied for enrolment in the Officers' Emergency Reserve on 29/9/39 and was not accepted' (he was 45 at the time)
1921 Census (19 June 1921)
Address: Northumberland Temp Hotel, St Pancras, London
Employment: Nottingham University Student, Mining Engineering
Household: wife Dorothy
1922 Register
Address: Loughborough Road, West Bridgford, Notts.
1927 Register and 1930
44 Farmont Road
1932 Register
The Polygon, Clapham
1939 Register
Address: 39a Burleigh Road, West Bridgford, Notts.
Occupation: soap salesman
Household: living with wife Dorothy born 23.9.1900, son John B born 1933, daughter Jean Dorothy (later married name Marks), born 1936 and under school age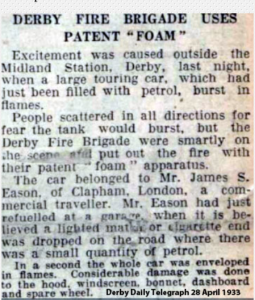 Will. James Spencer Eason, 17 Glenmore Road, West Bridgford, died 5th September 1956. Admin Nottingham 25th October 1956 to Dorothy Frances May Eason, widow – effects £1521. 19s. 3d
Reasons for inclusion on the Radcliffe on Trent Roll of Honour
Radcliffe on Trent address 1918.