WALTER DYSON 1878–1918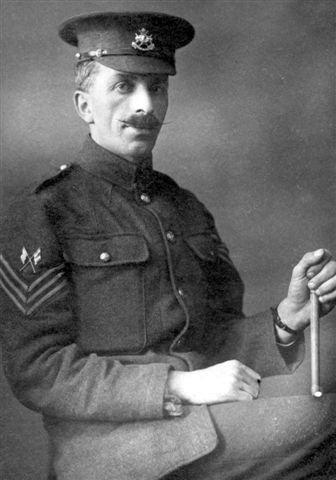 Photograph from family collection
Born 1878 in Radcliffe on Trent
Baptised 7th April 1878 St Mary's Church, Radcliffe on Trent
Married October 1918 to Edith Lilian Clarkson
Killed 4th November 1918, age 40
Buried Sebourg British Cemetery, grave A22
Commemorated at Nottingham Radford All Saints Church and on Radcliffe on Trent War Memorial
Recorded on Radford All Saints Church News sheets (Nottm Archive PR29,237)
1881 Census
Age three,  living with his Uncle Henry Wildman and Aunt Emily in Beeston.
1891 Census
Age thirteen living with father, William, carpenter and joiner, mother Harriet, brothers James 14 and Charles W. 8 months, and sisters Ellen 12, Sybil 8, Hester 3 and Catherine 2 on Shelford Rd, Radcliffe on Trent.
1901 Census
Age 23  an assistant school master living in Aston Manor, Warwickshire.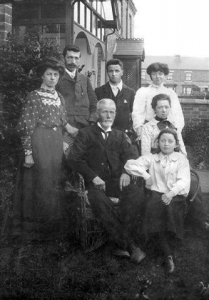 With father and siblings 1905
1911 Census
Age 33 a School Master living as a boarder at 21 Shakespeare St, Nottingham.
Military Service
Rank: Private on enlistment, then Sergeant (as in photo above, top)
Service Number: 27472
Military Unit: 9th Battalion, The Sherwood Foresters, 33rd Brigade, 11th (Northern) Division
Theatre of War: Egypt, date of entry 3.3.16; France and Flanders. Total war service abroad 2 years 8 months.
Enlisted Nottingham 14th June 1915
Occupation on enlistment: Schoolmaster, Ropewalk School
David Nunn has written the following account of Walter Dyson's military service:
'He was the son of William and Harriet Dyson of Radcliffe on Trent and the husband of Edith L Dyson of 168 Noel Street Nottingham.
From the surviving fragment of Dyson's military record, it seems he was likeable and charismatic but resistant to the more rigid strictures of military discipline. It is probable that Dyson's personality, age and experience of managing young people along with apparent aptitude and enthusiasm for soldiering secured an impressive succession of rapid promotions; within two weeks of volunteering, he had been awarded a lance corporal's stripe and rose to corporal four weeks later. By mid-August, Dyson was a sergeant, acting RSM by Christmas before reverting to sergeant in January 1916. However, in the field, Dyson's early military potential soon seemed to evaporate; he was twice severely reprimanded – on March 31st for 'while on guard being undressed' and on August 7th for 'while on active service neglect of duty'- before being 'reduced to the ranks for inefficiency' on September 5th. The remnants of 9th Sherwood Foresters were evacuated from Gallipoli on December 21st 1915 to Egypt where Dyson joined them having embarked on March 3rd 1916. By early autumn the battalion was fighting for its existence on the Somme. 9th Sherwood Foresters marched to Orvilliers at 3.30am on September 25th, occupying Constance Trench in preparation for joining 11th Division's assault on Thiepval, Mouquet Farm and the Zollern, Schwabern and Stuff Redoubts. The following day, the unit captured Thiepval following a grim struggle through murderous machine gun fire. According to Lyn Macdonald, 'the Germans fought to the death for Thiepval, for every inch of trench dug deep through the pulverised rubble, for every strongpoint hidden in the old vaults and cellars, for every gallery and dug out burrowed into the chalk. One by one they were overwhelmed.' Over half of 33rd Brigade's 600 killed, wounded and missing on 26th September were from 9th Sherwood Foresters and the battalion sustained 492 casualties during that month. Dyson, however, survived. During 1917, following operations around the River Ancre, Dyson's battalion fought mainly in Flanders participating in operations around Langermarck, St. Julian, Polygon Wood and Poelcappelle. On June 7th, for instance, 9th Sherwood Foresters attacked Joye and Van Hove Farms near Wytschaete as part of an offensive which 'carried off one of the great limited-objective operations of the war when it stormed Messines Ridge 5 miles south of Ypres.' On this occasion, 9th Sherwood Foresters' casualties were light but in October, during an assault near Broodeseinde, which, at a cost of 20,000 men, advanced the British line 1,000 yards closer to the Passchendaele Ridge, the battalion lost 15 officers and 234 other ranks. However, there is no evidence that Walter Dyson was amongst the casualties during any of these actions. In 1918, 9th Sherwood Foresters were involved in the British Army's fighting retreat following the German breakthrough of March 21st and, during the counter attack, fought at the Battle of the Scarpe in late August, at the Canal du Nord between September 27th and October 1st and at 2nd Cambrai between 8th and 9th October. Dyson was not present during this action; on October 9th, he married Edith Lillian Clarkson at Nottingham Registry Office, returning to his unit nine days later. On November 1st, the battalion left Saulzoir at 1400 arriving an hour later at Verchain which was shelled during the afternoon and several NCOs wounded. At first light, the unit moved under persistent and heavy shell fire to Pressau via Querenaing, ''A' Company relieving the Rifle Brigade and 'B', 'C' and 'D' Coys.. the King's Own." November 3rd, with officer patrols reporting the enemy regrouping, saw 'C' and 'D' Companies ordered into Curgies where a party from 'D' neutralised a machine gun emplacement at the south end of the village. Having advanced 3,000 – 4,000 yards that day the battalion dug in for the night during which 33rd Infantry Brigade issued Order No. 392: 'Tomorrow November 4th at 0530hrs 9th Sherwood Foresters will attack and capture the line of the River Aunelle. Patrols will be pushed forward to Thiez and Sebourg". At 0530, without artillery support, 9th Sherwood Foresters carried out this command in pursuit of the enemy as the war's final week began. Dyson fell on November 4th probably as a member of either 'C' or 'D' Company both of which were mauled by machine gun fire in attempting to secure high ground east of Sebourg. He may have been killed during a determined afternoon German counter attack finally repelled by two 4.5" howitzers attached to the brigade engaging the enemy with open sights. Dyson was one of only 22,189 British servicemen in the 40-44 age range to lose their lives during the conflict (3.07% of the total). Edith (Clarkson) Dyson was teaching in Nottingham at Scotholme Boys' School the head teacher of which noted on November 21st 'Mrs Dyson absent. Her husband has unfortunately been killed. She, of course has our deepest sympathies.' That nearly three weeks had passed since Dyson's death, suggests he may initially have been listed as missing. As others celebrated the Armistice and prepared for the first peace time Christmas, Edith Dyson was left to mourn her husband of twenty six days. She returned to work early in January 1919 and, on May 26th, was granted a widow's pension of 13/9d (68p) per week.'
Nunn, David (2010, p. 94) 'Britannia Calls: Nottingham schools and the push for Great War Victory' (Knowle Hill Publishing).
Source: Nottinghamshire Great War Roll of Honour www.nottinghamshire.gov.uk/rollofhonour
Medals Awarded: British War and Victory
Go to WWI Timeline to see how this man's death is part of the wider story of the war.
Other information
He was killed near Sebourg, south-west of Mons, near Valenciennes in the same conflict (Battle of the Sambre) and on the same day as John Nowell from Radcliffe on Trent, who was also in the 9th Battalion of the Sherwood Foresters.
He left a will leaving effects to his widow Edith Lilian who was living at 168 Noel Street, Nottingham. She received a £5 grant from the War Office on 16.12.18 and a weekly pension of 13 shillings 9d (69p) from 26.5.19. Edith did not marry again and continued teaching.
Reasons for inclusion on the Radcliffe on Trent Roll of Honour
Born and lived in Radcliffe on Trent as a child. His name is on the Radcliffe on Trent Memorial.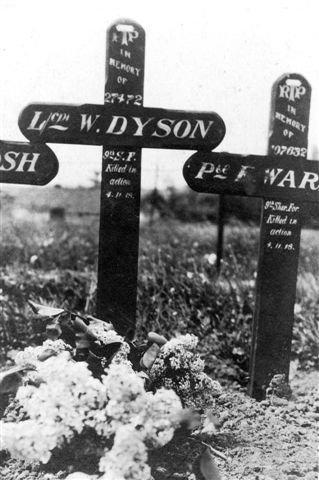 Grave in the field, from family collection
Sebourg cemetery, France