The Story of Hilda Mary Dowson 1883-1956
The story of Hilda Dowson embraces women's suffrage, public office, amateur dramatics, involvement in social organisations and a happy domestic life. When Hilda was born in 1883, women did not have the vote. There were no female M.P.'s, J.P's or judges and women were not allowed to graduate from universities. All this was to change during Hilda's lifetime, largely due to efforts made by her and like-minded women.
Hilda Mary Greg was born into a middle-class family on 23rd February 1883 in Wilmslow, Cheshire and baptised on 3rd April 1883 at Styal Presbyterian Chapel.  Her parents were Walter and Susan Elizabeth Greg (née Gaskell). Walter, a solicitor, was the brother of Alice Dowson, a left-leaning suffragist with ten children living in Nottingham. Her mother Susan was also involved with the campaign for women's suffrage, which first began in the 1860s. In 1891 the family was living at Lee Hall, Mottram St Andrews, Cheshire, together with five servants. Lee Hall was a large house with twenty-five rooms. Hilda had three siblings: Margaret Lilian, born in 1881, Elizabeth Gaskell born 11th December 1883 and Robert Lionel born in 1893.
Hilda married her cousin, Gerard Septimus Dowson, son of Alice and Benjamin Dowson, when she was twenty-two. They were married on 29th June 1905 at the parish church of Prestbury, Cheshire.  Hilda and Gerard moved to The Manor House in Radcliffe on Trent in 1905, which they rented until 1921.
Women's Suffrage Movement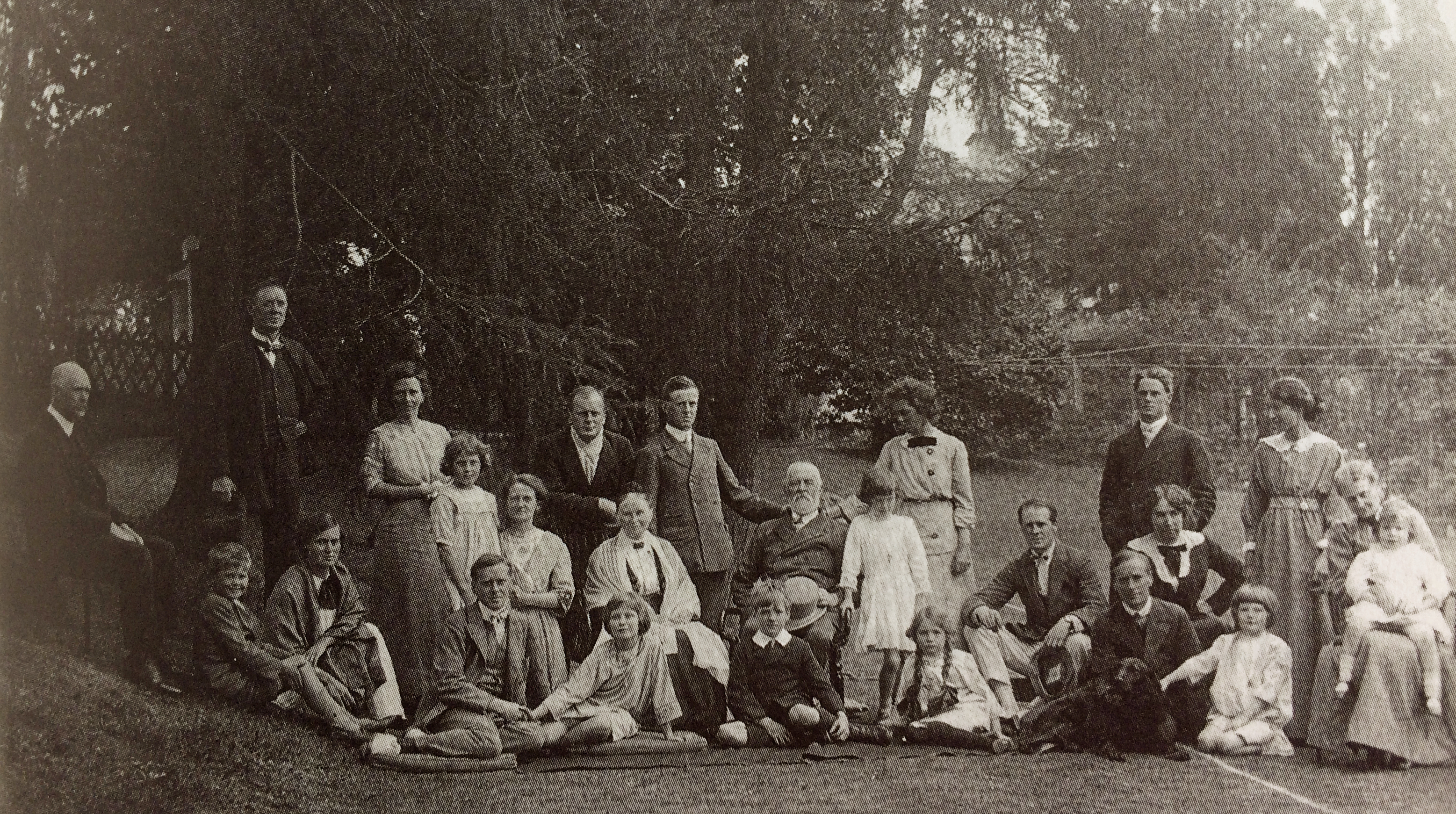 Golden Wedding celebration July 1913 for Benjamin and Alice Dowson
Back row standing (l-r): Will and Helena (Nellie), Rob, Felix, Maud, Gerard and Hilda Dowson
Middle row: Hubert, seated far left, Bimbi (Winifride), standing, Hester, Alice and Ben, Angela, standing, Tom, Lina and Emily, seated with Susanna
Bottom row: Robin, Ina, Bernard, Bay (Alix), little Ben in front of grandfather, Molly, Alex, Mona (dog is not named)
Hilda became involved with the Women's Suffrage movement in Nottingham after her marriage. Her aunt and mother-in-law, Alice Dowson, had been involved with the National Society for Women's Suffrage since the 1880s. Her cousin Alice Maud (known as Maud) and sister-in-law Helena Dowson (known as Nellie) were now also caught up in campaigning for Votes for Women.
The early 1900s saw the Nottingham branch of the society become an active constituent of the National Union of Women's Suffrage Societies (N.U.W.S.S.). In April 1908 two large suffrage meetings organized by the N.U.W.S.S. took place in Nottingham, Hilda being one of the organisers. Christabel Pankhurst spoke at one of the meetings. That same year Hilda travelled to London with members of the Dowson family and other supporters for a national 'Votes for Women' demonstration held on 13th June. The event attracted more than 10,000 participants, mainly women, who marched through central London to the Albert Hall. It was deemed a success but the Liberal Government under Herbert Asquith chose to ignore it. On 4th December 1908  the Derby branch of the N.U.W.S.S. held its inaugural meeting.
Hilda was one of the speakers and said that the vote  "would provide a symbol of liberty and citizenship, a safeguard of one's rights and privileges, and a powerful instrument to be used as occasion demanded."
On 5th July 1909 the N.U.W.S.S. organised a meeting in Nottingham Market Square with Mrs. Millicent Fawcett, Miss Eleanor Rathbone and Mr. Edward Carpenter as speakers. They were unable to make themselves heard above an unruly crowd and anti-suffrage feelings were made plain. The police were not in attendance despite the fact that their presence had been requested.
In January 1910 there was a General Election and Hilda and her sisters-in-law went to the polling  station at Lovers Lane schoolroom in Newark, hoping to get voters to sign petitions for their cause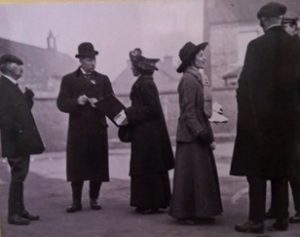 Hilda and Maud Dowson outside Newark polling station (Hilda is facing left)
They had to stand outside and suffer abuse from the male voters. The petitions were then presented to constituency members, Lord Henry Bentinck and Mr. J.E. Ellis, at the society's office in Bridlesmith Gate. The Dowsons had managed to collect 2,232 signatures from Rushcliffe district and Hilda's husband, Gerard Dowson, was among those in the party receiving the petition. Both Lord Bentinck and Mr. Ellis were in favour of women's suffrage; Mr. Ellis promised to present the petitions to parliament. The Nottingham Evening Post reported on 23rd February that a total of 8000 signatures had  been collected by women outside Nottinghamshire's polling stations.
The Nottingham Evening Post also reported that the N.U.W.S.S. held its annual meeting on 31st May 1910 at the Mikado Café in Nottingham. Hilda and Helena Dowson were appointed joint secretaries. It was noted that there were now 200 branches of the N.U.W.S.S. across the country and new branches had opened locally in Southwell, Newark and Hucknall. In July 1910 Hilda and other family members attended a demonstration in London to support the second reading of the suffrage bill (First Conciliation Bill).
There was much activity in Nottingham concerning women's suffrage around this time. A suffrage shop opened in Nottingham on Bridlesmith Gate selling  campaign literature. Hilda was often found there with other members of the Dowson family. Suffrage societies were always short of funds and looked for ways of raising money. A fund-raising fete and sale of work was held in the gardens of the homes of Mr. and Mrs. William Dowson and Mrs. Watson in The Park, Nottingham on 23rd June 1910.  The event included a performance of 'Lady Geraldine's Speech', a suffrage play arranged by Hilda.
The Women's Social and Political Union (W.S.P.U.), which advocated militant action, was now attracting considerable support in Nottingham. Their actions led to the arrests of some Nottingham members in London, including Helen Watts who was force fed in prison. Although the suffragists of the Nottingham N.U.W.S.S. had worked well with the suffragettes of the W.S.P.U., they now began to distance themselves from their illegal militant actions. Hilda, now secretary of the Nottingham N.U.W.S.S., continued to be active in the suffrage movement, seeking votes for women through constitutional means. In 1911 she took part in a tour of Northamptonshire villages where she spoke at meetings on the suffrage question. In 1912 she organised two successful meetings in Bottesford and Bingham at which the suffragist newspaper 'The Common Cause' was sold.    Her mother, Susan Greg, participated in a 1911 N.U.W.S.S. demonstration in London of over 40,000 women. Her sister, Margaret Greg, was one of 50,000 women who joined the Women's Suffrage Pilgrimage, which began in June 1913. She wrote to Hilda during the pilgrimage describing the journey. The women walked  to London from all corners of the country where they were addressed at Hyde Park on 26th July by Millicent Fawcett, leader of the N.U.W.S.S. The pilgrimage aimed to show the country  that thousands of women were prepared to campaign  legally and peacefully for the vote.
The Dowsons were also occupied by charitable work. In July 1913 the Nottingham Daily Express reported that Hilda and Gerard had entertained members of the Nottingham Albert Hall Mission Cripples Guild to tea on the lawn at The Manor House in Radcliffe after a meeting held at the Albert Hall. The Dowsons had hosted this event a number of times previously. After tea the children enjoyed playing at the recreation ground. The Rev John Cullen then invited them to watch a performance of 'A Midsummers Nights' Dream' on the vicarage lawn.  The play, produced by Hilda Dowson and Miss Green (a Radcliffe member of the N.U.W.S.S.), had also been performed on 27th June at the vicarage.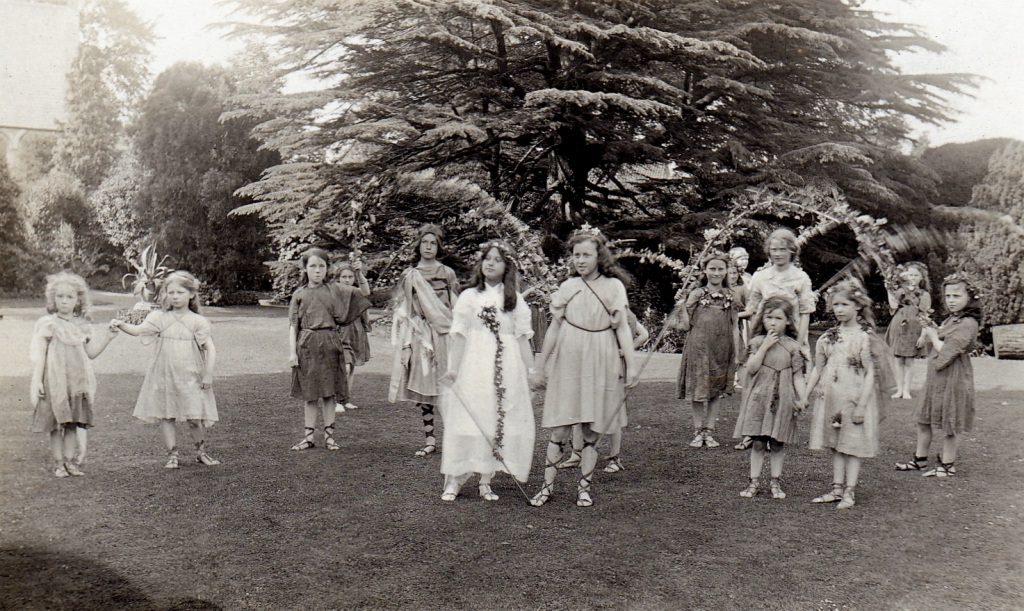 'A Midsummer Nights' Dream' performed in The Vicarage garden the following year, 1914
When war broke out in 1914 all branches of the suffrage movement suspended their public demonstrations and focused on supporting the war effort. The movement became dormant but did not disappear; Hilda continued to be the secretary of the Nottingham branch of the N.U.W.S.S. until at least 1916 (source The Common Cause, journal of the N.U.W.S.S.). In 1974 Hilda's son, Walter Dowson, gave the Nottingham N.U.W.S.S. Minutes Book to Nottinghamshire Archives (source: Crawford, Elizabeth, The Women's Suffrage Movement: A Reference Guide 1866-1928). The minutes book records meetings held at various points during the war, such as in December 1915 and June 1918.
During the war the Dowsons arranged for The Manor House tennis courts to be dug up to grow vegetables; they were re-laid after the war ended. Hilda took part in the Patriotic Fair held in Nottingham Market Square at Whitsuntide 1917 together with her near neighbour, Claire Birkin, now Commandant of Notts.94 Voluntary Aid Detachment and other women from Radcliffe. The fair raised over £20,000 for the war effort. Hilda was a founder member of the Queen's Nursing Association in Radcliffe and served as secretary when Claire Birkin chaired the meetings.
Gerard Dowson volunteered to be a searcher with the Red Cross. His work involved identifying unknown wounded soldiers in British hospitals and linking them to families who had reported missing relatives. It appears that he was also in the reserves of the Sherwood Foresters. A notice in the London Gazette on 17th June 1917 stated that he was created a temporary 2nd Lieutenant on 23rd May 1917 with the 2nd Battalion of the Nottinghamshire Volunteer Regiment.
The Dowson's three children were born in the period covered by the First World War. Wanda Greg was born in July 1914, Rhona Penn on 16th June 1916 and Walter Felix Geldeston (known as Waldo) on 24th March 1918.
Hilda Dowson and the N.U.W.S.S. after WWI
Hilda continued to play an active part in the N.U.W.S.S. after the end of the First World War.  On 6th February 1918 The Representation of the People Bill became law granting women the vote, albeit only to those over thirty who were householders or wives of householders. Hilda would have voted for the first time in the December 1918 general election.
In June 1918 the Nottingham branch of the N.U.W.S.S. met to discuss whether it should be dissolved now that their objective had been achieved. It was proposed to continue the group's work with an emphasis on campaigning for legislative reform and to help women achieve public office. The branch campaigned in particular for female police officers in Nottingham, female magistrates and against punitive legislation aimed at young prostitutes. A highlight for the group was the election of Helena Dowson, Hilda's sister-in-law, to the City Council, representing the Liberal Party. Hilda attended the majority of the N.U.W.S.S. meetings until it merged with the Nottingham Council for Women in 1923.
The Dowson's in the inter-war years
In 1922 the Dowsons moved temporarily from The Manor House to The Chestnuts next door, before purchasing The Grange located on Main Road, Radcliffe on Trent, in 1924. Over the following years, Hilda combined her interests in social affairs and causes with her flair for amateur dramatics.  She was one of the founder members of the Radcliffe branch of the Women's Institute, becoming president from 1938 until 1953.  She became chairwoman of the Radcliffe on Trent District Nursing Association until the formation of the NHS in 1948.  Following in the footsteps of her sister-in-law Helena Dowson, Nottingham's first female J.P., Hilda became a county magistrate sitting on the Bingham Bench for a number of years. She was also a member of the Marriage Guidance Council, the Council for the Preservation of Rural England and a committee member of the Nottinghamshire Drama League. Her husband Gerard was chairman of Radcliffe on Trent Parish Council from 1941-1943 and a parish councillor for many years. He was also chairman of the school managers.
Two of the Dowson's children were away at school in the late 1920s. Rhona was a pupil at a boarding school in Gerards Cross from 1929-1933 and was then educated in Switzerland and Germany.  In April 1939 she was a PT instructor in the ATS with the rank of Corporal.  She studied physiotherapy at St Thomas's hospital and then worked at Harlow Wood in Nottinghamshire. Walter Dowson, better known as Waldo, was educated at Gresham School in Holt, Norfolk and then at Oriel College, Oxford, where he studied Law. Sadly, the Dowson's oldest child, Wanda, who had shown talent as a painter and mandolin player, contracted kidney disease and died at the age of fourteen on 3rd October 1928.
Hilda and Gerard enjoyed traveling between the wars, visiting Jamaica in April 1920 and then sailing from Liverpool on a round cruise taking in Lisbon, Madeira and the Canary Islands in February 1929. In 1936 they visited Ceylon and Java. On their return Hilda gave a lantern lecture at Henley Hall in Mansfield.  She showed a number of photographs and also souvenirs of their trip which included beautifully carved wooden heads, local materials, coral and a cheroot that the Javanese people smoked.
During the Second World War Hilda helped set up the Nottingham and Nottinghamshire Prisoner of War Relatives' Association. Its purpose was to provide comfort, help and advice to relatives of POWs.  It also assisted with packaging and dispatching parcels to various prison camps in Europe and beyond. The headquarters were at 11 Fletcher Gate, Nottingham. The Association was particularly relevant to Hilda as Waldo had been taken prisoner of war in 1940.  He had joined the T.A. in 1937 and was promoted to Lieutenant in the Sherwood Foresters in 1939.  He was wounded and captured near Lillehammer in Norway whilst serving with the 8th Sherwood Foresters in 1940.  He was in hospital in Oslo with facial wounds before being moved to Oflag 79 prisoner of war camp in Germany. Walter Dowson was released in 1945 and returned to Radcliffe in April of that year.
Hilda would have been pleased to see the election of Nottinghamshire's first female M.P., Florence Paton, in 1945. It was Florence's fourth election campaign and she was the only woman standing in the East Midlands. She was elected with a comfortable majority, representing Labour in the Rushcliffe constituency. It was due to the efforts of women like Hilda, who had campaigned for women's suffrage, that her candidature and election victory was made possible.
Hilda died on 7th July 1956 at the age of seventy-three in Radcliffe. There is a plaque in The Manor House recording the fact that she had lived there from 1905-1921. Gerard Dowson died in December 1964, aged ninety. Waldo died on 31st March 1989 in Salcombe where he had been living with his sister Rhona.  She died December 2004 in Plymouth, Devon.
On 24 August 2019, a plaque was unveiled outside The Grange to commemorate Hilda Dowson's role in the women's suffrage campaign. The plaque was donated by Radcliffe Local History Society and Radcliffe WW1 Group.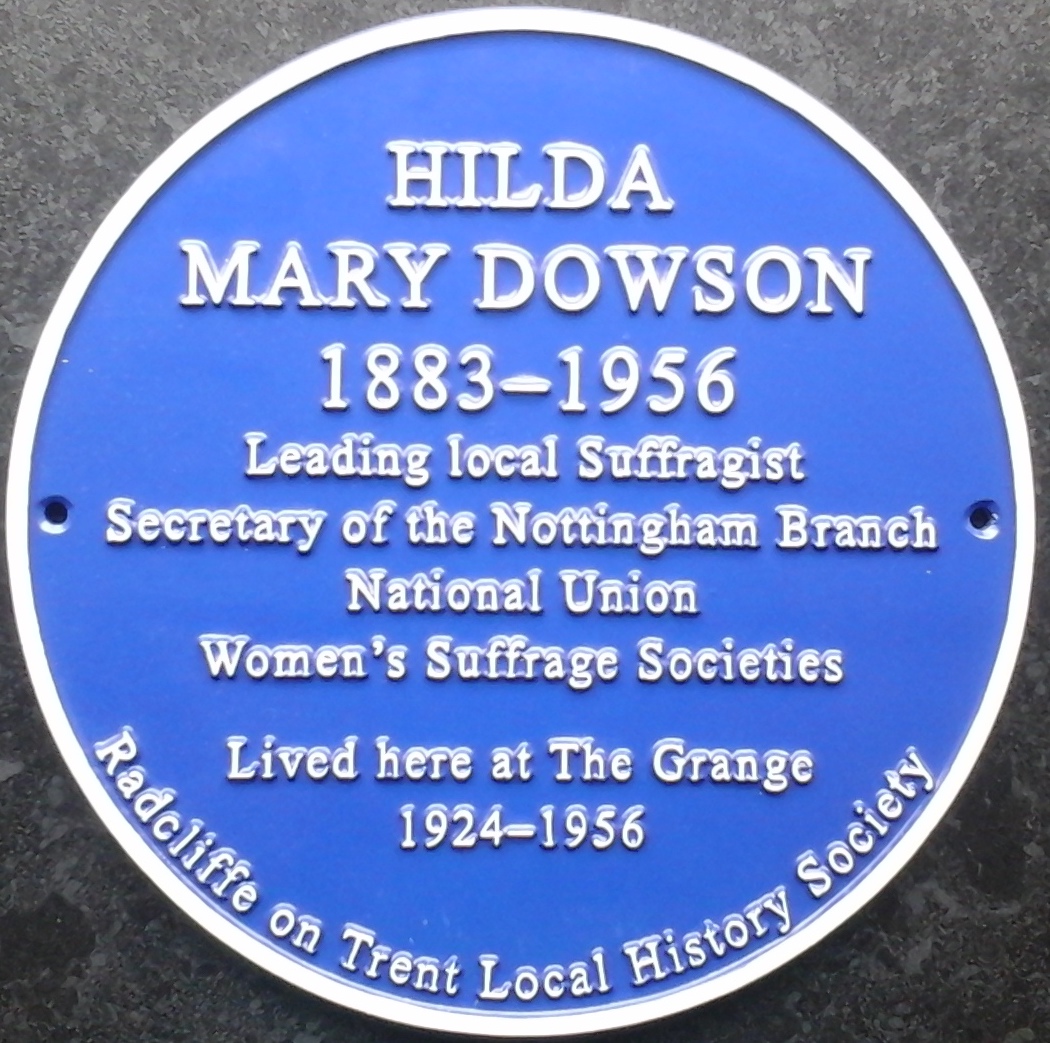 Marion Caunt and Rosemary Collins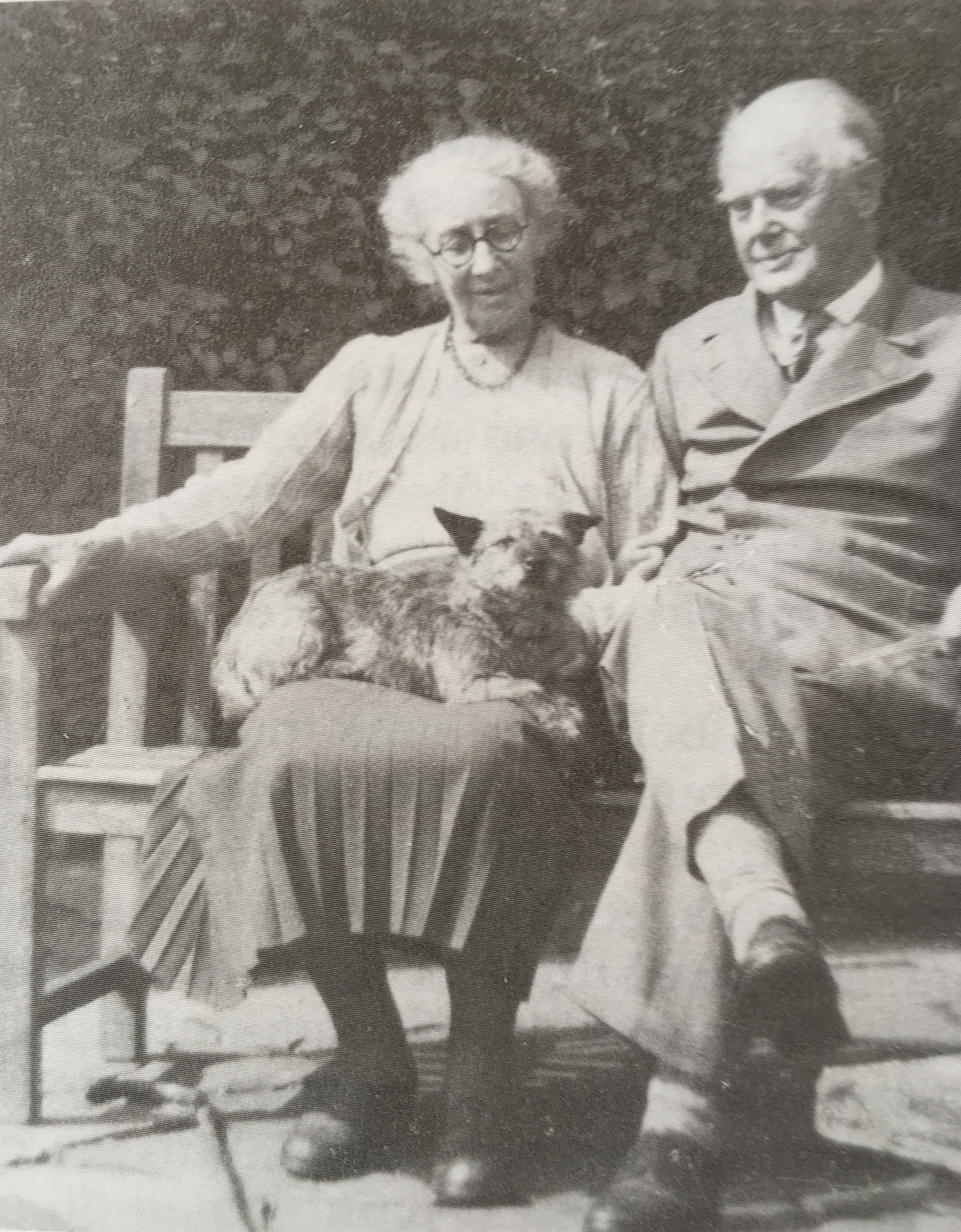 Gerard and Hilda on their Golden Wedding Day at The Grange 29 June 1955
References:
A history of The Manor House Radcliffe on Trent from 1749-2017 by Marion Caunt.
No Surrender! Women's Suffrage in Nottingham by Nottingham Women's History Group.
What Grandmother Said by Dame Alix Meynell.
The Women's Suffrage Movement: A Reference Guide 1866-1928 By Elizabeth Crawford – Google Books.