HELENA MARY DEXTER 1879–1965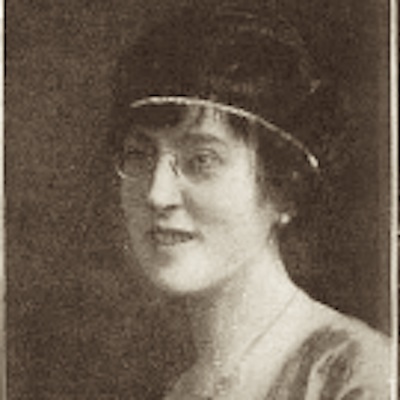 Helena Smith photographed on her engagement to Norman Dexter 
The Tatler 3rd September 1919
Born: 18th March 1879, maiden name Radford
Marriage (1): Samuel Smith, 5th November 1902 in Little Bowden, Northamptonshire
Marriage (2): Norman Lloyd Dexter, 18th August 1919 in Liverpool
Died: 2nd September 1965 in Scarborough
Before the War
Helena Mary Radford was born on 18th March 1879 in Burton upon Trent. Her parents Henry and Catherine (nee Atkins) were married in 1879 in Leicester. Her father was born in Hartshay, Derbyshire and her mother was born in Willoughby Waterleys, Leicestershire. In the 1871 census her father is recorded as a farmer with 15 acres. They had a daughter, Elizabeth, who died in 1876 at the age of five. They were living in Worthington, Leicestershire.
In the 1881 census, Helena was two and living with her parents Henry and Catherine (recorded as Cath), two boarders and a lodger at 113 Moor Street, Burton upon Trent. Her father died on 17th June 1881. In his will it is recorded that he was a brewery clerk and probate was granted to Catherine his widow, effects of £161.
In the 1891 census, Helena, aged twelve was a scholar living with her widowed mother (recorded as Kathleen), a dressmaker, at 110 Queens Walk, The Meadows in Nottingham.
In the 1901 census, there is no record of her but her mother was recorded as living at 76 Woodborough Road, Nottingham. Catherine died in 1902, age 65, at Market Harborough, Leicestershire.
On 5th November 1902, Helena, age 24, married Samuel Smith, age 36, a lace manufacturer who was born in New Radford, Nottingham in 1867. They were married at St Nicholas Church, Little Bowden, Northamptonshire. Samuel was the second son of James Smith of Crescent Lodge, The Park, Nottingham, their first son Edward having died in 1872 aged only fifteen. Helena Mary was the only daughter of the late Henry and Catherine Radford, formerly of Burton upon Trent and late of Market Harborough. Samuel was described as a bachelor whose profession was a manufacturer.
James Smith was described in the 1881 census as a 'bobbin and carriage manufacturer part of lace machinery' employing thirty men and fourteen boys. He died on 7th March 1906 in Torquay and left Sam £51,375.16s.7d.
One of their witnesses was his sister, Lilian Smith. In the 1911 census Sam's sister Lilian was living in the family home, Crescent Lodge in The Park and described as a spinster living on her own means together with an Aunt Priscilla Lees a housekeeper and her daughter Alice Maud Lees who was recorded as a companion. Lilian died on 21 May 1911 and probate was granted to her brother Samuel and a solicitor Herbert Mayo Leman. Effects of £21,372.13s.1d.
Helena and Samuel moved to Radcliffe on Trent and lived in Elm House on Cropwell Road before moving to The Hall in 1905.
In the 1911 census, Helena and Samuel are recorded as living at The Hall, Radcliffe on Trent. They had been married for eight years and had one child, Howard Samuel Lees, age six, born in Radcliffe in 1904. Also living with them were two governesses, Maggie Evelyn Margerson from Wingerworth, Derbyshire, Elizabeth Schrader who was born in Shassburgh, Germany and four household servants. The number of rooms in The Hall was recorded as seventeen.
Samuel Smith died on 24th October 1912 and probate was granted to Helena Mary and Herbert Mayo Leman, solicitor. Effects of £54,171.15s. 8d.
During the war
In 1916 Helena opened up The Hall as a convalescent home for wounded officers. Lt. Norman Lloyd Dexter was sent there to recover from a serious injury sustained in France in the Cambrai area, Somme Department, on 22nd February 1918. He subsequently lost an arm due to this accident (see Lt. Norman Lloyd Dexter's biography).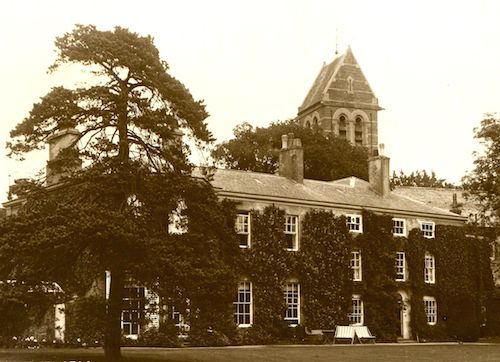 The Hall, Radcliffe on Trent courtesy of The Royal British Legion
1921 Census
Address: The Hall Radcliffe
Employment: Home
Household: husband Norman Lloyd, Furniture maker and dealer, Bath Street, Ilkeston, Blanche Cullis, cook, her husband Frederick, out of work lace worker, their daughter Gladys.
After the war
Helena married Lt. Norman Lloyd Dexter on 18th August 1919 at St Peter's Church in Liverpool.
Helena's son Howard Samuel Lees Smith died on 27th October 1923 in Manchester, age eighteen, as a result of a cycling accident. He was buried alongside his father Samuel in Radcliffe on Trent cemetery. He left effects of £306.13s.5d to his mother.
In 1924, Helena presented a carved oak screen to St Mary's Church, Radcliffe on Trent, located at the west end of the north aisle (formerly the baptistry) in memory of her first husband and her son. A brass plaque (below) next to the screen was placed by her second husband, Norman in memory of her.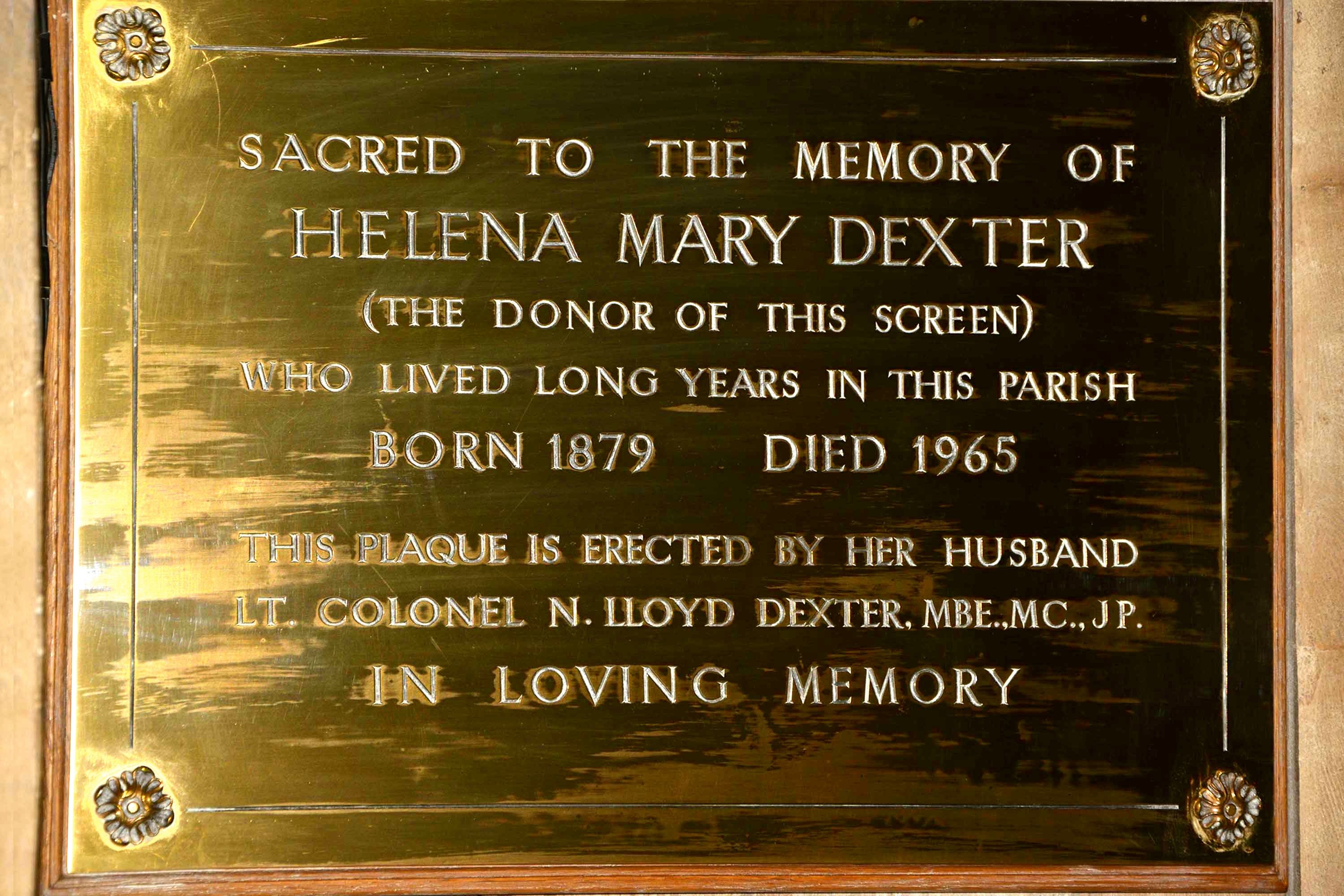 Helena and Norman took part in a number of village occasions, especially events relating to the British Legion. The Radcliffe branch was formed in 1931 and Lt. Dexter was the first president. He became Lt Col. in 1939. They lent the grounds of The Hall many times for fund raising activities and social events and both were collectors of antiques.
Helena and Norman continued to live at The Hall until 1939 when they moved to 'Crossways', College Road, East Bridgford and then to Rose Lea, Crown Terrace, Scarborough. Helena died on 2nd February 1965, age 86, in a nursing home. In her will she left probate to her husband Lt Col.(retired) N.L.Dexter MBE, MC and effects of £10,451.
Lt Col. Norman Lloyd Dexter died at his home in Scarborough in 1971, age 80. He left estate worth £36,814.
Author: Marion Caunt