HARRY THORPE 1883–1962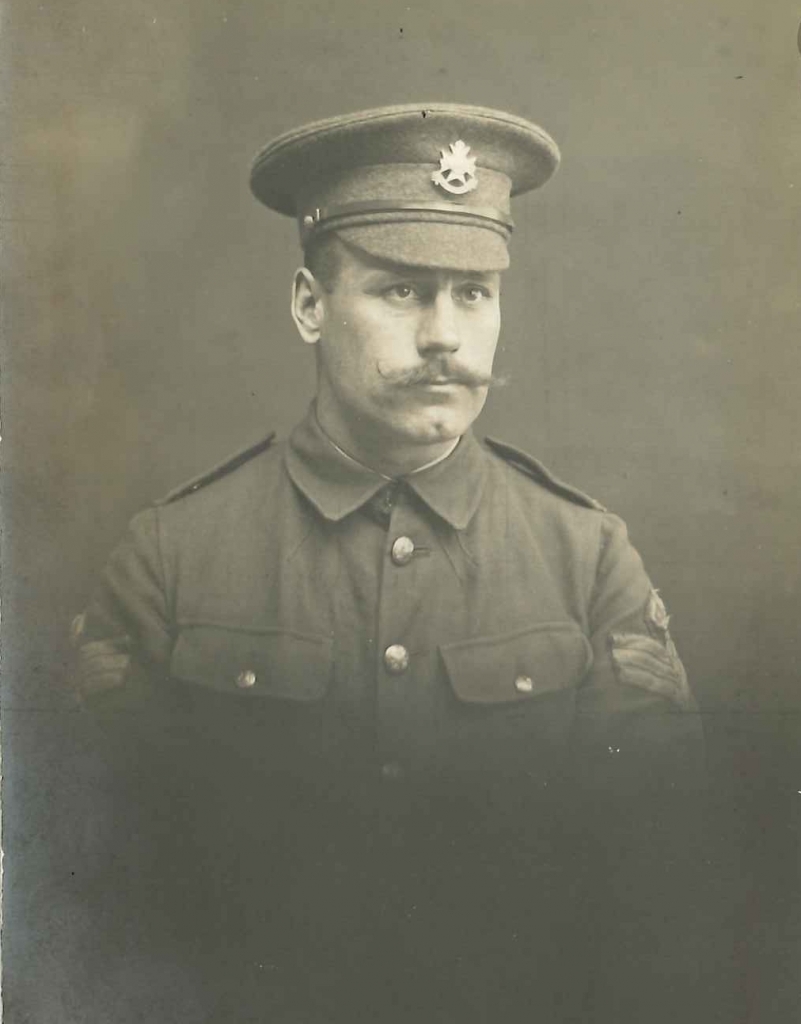 Photograph courtesy of family
Brother of Charles and William
Born 14th October 1883 in Elston, Notts, baptised on 11th November 1883 at All Saints Church, Elston
Married 1st November 1910 to Harriet Smith, Scarrington, Notts.
Daughters Dorothy May born Crownhill, Plymouth on 8th August 1911 and Marjorie Ellen born 9th July 1920 and baptised in Radcliffe on Trent
Death 16th January 1962
1891 Census
Age 7 living on Norton Street, Orston, Notts. with father Thomas aged 38, agricultural horseman, mother Eliza 37 and siblings George 13, Elizabeth 12, Mary 10, Elston 9, Arthur 6, Anna 4, all at school, Emily 3, Lydia 1 and two boarders (farm servants).
1901 Census
Age 17 living at Greens Barn Farm, top of Cropwell Rd, Radcliffe on Trent with parents Thomas and Eliza and siblings. Father a wagoner, Harry a farm hand horseman.  Four more children born: Clara 10, Ethel 7, Eva 4 and Charles 2.
1911 Census
In regular army stationed at Crownhill Barracks, Devon. Married. Sergeant, 2nd Battalion, Sherwood Foresters, age 27.
Military Service
Rank: Company Sergeant Major, later Warrant Officer Class 2
Service Number: 6973
Military Unit: 2nd Battalion, The Sherwood Foresters, 18th Brigade, 6th Division
Theatre of War: France and Flanders, date of entry 8.9.14.
Prisoner of war for 4 years
Enlisted 24.6.1901, age 18 years 8 months
Labourer by trade
 8.9.14: Entered France
8.9.14 – 19.11.14: Served in France
20.10.14  Prisoner of War captured at Ennetieres; International Red Cross Archive; the battalion suffered tremendous losses and was almost destroyed on 20th October 1914).
29.6.15: War Office casualty List 'Previously reported missing, now reported POW '
9.3.18: War Office daily List 'Prisoner of War in Germany, arrived in Holland for internment'
19.11.18: Home to 21.1.20, arrived at Hull, SS Arbroath
22.1.20 – 26.1.20: En route Flensburg.
For 6 months in 1920 Sherwood Foresters were in Flensburg-Mürwik at the Naval Academy Mürwik to supervise the elections to the Schleswig plebiscites.
Following the defeat of Germany in World War I, the Allied powers arranged a referendum in Northern and Central Schleswig. In Northern Schleswig (10 February 1920) 75% voted for reunification with Denmark and 25% voted for Germany. In Central Schleswig (14 March 1920) the results were reversed; 80% voted for Germany and just 20% for Denmark, primarily in Flensburg. No vote ever took place in the southern third of Schleswig. On 15 June 1920, Northern Schleswig officially returned to Danish rule. The Danish/German border was the only one of the borders imposed on Germany by the Treaty of Versailles after World War I which was never challenged by Adolf Hitler.
15.6.20 – 21.6.20: Returned to UK
22.6.20: Home
23.6.22: Discharged with a life pension of 55½ (23p) pence per day
Other Information
The following information about the actions of the 2nd Battalion, The Sherwood Foresters at the time Harry Thorpe was most likely captured comes from www.invisionzone.com and was written by Graeme Clarke on April 17th 2012:
The  battalion landed at St. Nazaire, France on Thursday 10 September 1914 and on Friday 9 October 1914 entrained at St. Remy for St. Omer. They moved into billets at Arques and then moved into the Vieux Berquin area on Monday 12 October 1914.
The battalion then advanced until Sunday 18 October 1914 when they relieved the 2nd Battalion, Durham Light Infantry in positions at Ennetières. On (October 20th) the Germans attacked the battalion who were ordered to fall back to the high ground at La Vallée. The retiring troops were surrounded during this procedure and forced to surrender. The survivors, 2 officers and 49 other ranks, held a ridge near the windmill at La Vallée and managed to fight off further German attacks at 7.30pm.
The War Diary for the 2nd Battalion notes:
20 October 1914 On night of 19th-20th A Company relieved D Company, C Company relieved B Company taking A Company's place in reserve. All night the companies were employed in improving their trenches and communications but the work was considerably interfered with by enemy fire.
At daybreak the enemy commenced a heavy shell fire on the village, the house occupied by Battalion HQ being destroyed.
At 7.10 am it was reported that a considerable number of the enemy were moving round our right flank towards ESCOBECQUES. At 10 am B Company was sent to reinforce the trenches on the right. At 11.30 am 1 company of Durham Light Infantry arrived to reinforce the Battalion. About 1 pm a vigorous attack was made on our front trenches, but it was driven off with considerable loss. About 3 pm enemy commenced his advance against the right flank supported by artillery from north, east and south. All remaining reserves, 3 platoons of Durham Light Infantry and about 50 men were pushed to aid the 5 platoons who were holding that flank. The enemy's advance was however very rapid and we were vastly outnumbered. The few remaining men were collected and fell back, some covered the retirement of a battery of our guns and others assisted to man handle the guns onto the road. For some time the remnants of the battalion held on to some high ground overlooking the sandpits west of Ennetieres, but at 7 pm fell back to the road running through the T of FETUS. Here we joined up with the Durham Light Infantry and West Yorkshire Regiments and remained in position until ordered to fall back to Bois Grenier.
Casualties 710 NCOs and men missing.
Nottingham Evening Post dated 5.2.15 shows Harry Thorpe as being reported missing under dates 6th to 10th December 1914.
Derby and Chesterfield Recorder dated 2.7.15 shows him listed on an official list of Prisoners being held in Germany.
The International Red Cross Committee POW records list him as a prisoner at Hameln camp, Germany, having been captured in the Lille area.
Medals Awarded
1914 Star, British War and Victory. Clasp and Roses, received 29.6.20
Military personnel address on Absent Voters List 1918
Castle Ward, Nottingham: shown as a Prisoner of War; home address 155, Ilkeston Road, Nottingham.
Other information
After his release from captivity Harry Thorpe continued serving in the army. Soldier in 1920 (daughter's baptismal record).
Document WO 102/18 held at National Archives, Kew shows he was recommended for a Long Service and Good Conduct award 1.1.19
Address at date of death 1 Park Street, Beeston
1921 Census
Address: Drill Hall, Inkersal Road, Staveley, Derbys.
Employment: Army Company Sergeant Major
Household: wife Harriet, daughters Dorothy and Marjorie
1939 Register
Address: 1 Park Street, Beeston, Nottingham
Occupation: haulage contractor, retired
Household: living with wife Harriet, born 24.8.1883, and daughter Marjorie, a shorthand typist
Reasons for inclusion on Radcliffe on Trent Roll of Honour
Lived in Radcliffe on Trent with parents and siblings.