CHARLES THORPE 1898–1976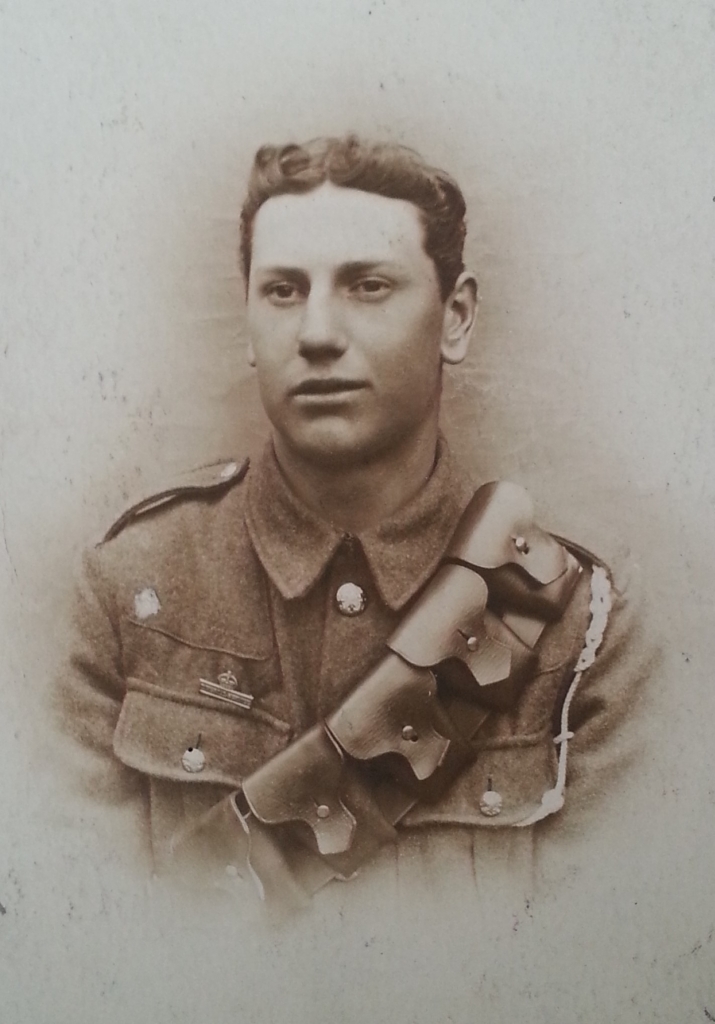 Photograph courtesy of family
Born 24 November 1898, Radcliffe on Trent.
Married on 6 February 1927 to Hilda Brooke at Holbeck Parish Church, Yorkshire.
Sons Derek born 1931 and Grenville born 1933.
Died 22 June 1959 in Sheffield, Yorks 
1901 Census
Age 2, living at Green's Barn, Radcliffe on Trent, with his father Thomas, a farm waggoner, and mother Eliza Thorpe (née Law), brother Harry 17, farm horseman and sisters Emily 13, Lydia 11, Clara 10, Ethel 7 and Eva 4.
1911 Census
Age 12 at school, still living at Green's Barn, Radcliffe, with father Thomas, a horseman on farm, mother Eliza and siblings George, 33 farm labourer, Lydia, Ethel, Eva and boarder Mark Wragsdale.
Military Service
Rank: Gunner
Service Number: 743 then 612528
Military Unit: 816 Battery, 2/1st Royal Horse Artillery (Royal Horse Artillery and Royal Field Artillery)
Theatre of War: Mesopotamia
22.03.15 Attested at Nottingham, age stated as 19 years 4 months (actual age 16 years 4 months). Height 5ft 8ins, chest 35ins, weight 130lbs, physical development good. Occupation: farmer. Address Albert Street, Radcliffe on Trent. Next of kin Elizabeth Thorpe, mother, of same address
22.03.15 Posted Gunner 2/1st RHA Notts
09.09.16 Transferred to Class 'W' Territorial Force Reserve. His mother had applied for his transfer to the Reserve, enclosing his birth certificate showing that he was over seventeen but under eighteen. Fully trained soldier at the time of transfer                                                                                                                                                                                                               
11.12.16 Rejoined Unit from Class 'W' Army Reserve
23.06.17 Mesopotamia to 12.02.19. Embarked Devonport 23.06.17, disembarked Basra 13.08.17
16.08.17 Absorbed into 215 Brigade RFA
13.12.19 Home
31.03.20 Demobilised
His service record has a notification of a change of address after demobilisation (date illegible): address c/o Mrs Thorpe, 42, Fire Station, Rotherham.
Medals Awarded: British War and Victory
Military Personnel Address on 1918 Electoral Register
Albert Street, Radcliffe on Trent
1939 Register
Address: 24 Spring House Road, Sheffield, Yorks. Occupation: lorry driver. Household: living with wife Hilda, son Grenville, at school, and two other people whose records are officially closed.
Ancestry Family trees give his birth date as 24 November 1898 and his marriage date as 6 February 1927 to Hilda Brooke at Holbeck, West Yorkshire. The 1939 register confirms his birth date.  The notification of an address in Rotherham Yorkshire in his service records indicates that this is the correct Charles Thorpe.
Other Information
Residence at date of death 24 Spring House Road, Sheffield, Yorks. Probate to Hilda Thorpe, widow.
Reasons for inclusion on Radcliffe on Trent Roll of Honour
Lived in Radcliffe on Trent with parents and siblings.