WILLIAM HENRY THORPE 1876-1957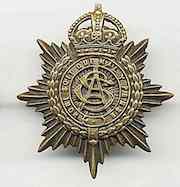 Brother of Charles and Harry
Born 27th April 1876 in Honington, Lincolnshire
Died 28th May 1957 at Saxondale, Radcliffe on Trent
1881 Census
At school, living with father Thomas, 29, agricultural labourer, mother Eliza, 26, brothers John Henry, 6, George Edward, 3, sisters Sarah Elizabeth, 2, Mary Ann, 4 months and two boarders, George Chilton and Joseph Asman, agricultural labourers.
1891 Census
Age 14, one of four farm servants living in the household of farmer Thomas Burrows, on Main Street, Sutton, near Granby, Notts. Also living there were  Thomas' nephew Robert Burrows and two domestic servants.
Military Service 1894-1910
10.4.94: Attested in Grantham, age 18, Private 4643 1st Sherwood Foresters. States that he is serving in the Militia, 3rd Lincolnshire Regiment.
Occupation labourer; height 5 ft 5½ ins; weight 126 lbs; chest 34 ins; eyes grey; hair light brown; religion Wesleyan.
Home 10.4.94 to 23.12.96; India 24.12.96 to 3.11.98; Malta 4.11.98 to 20.11.99; South Africa 21.11.99 to 15.9.02; Home 16.9.02 to 9.4.10. Total service 16 years.
Certificates of education: 3rd class 22.3.95; 2nd class 30.8.97
Campaigns: 1897-8 Tirah Expedition, Indian frontier; 1899-1902 South Africa: Cape Colony, Orange Free State
10.4.96: Granted 1 penny per day good conduct pay
1.12.98: Elected to come under the new messing rules, Special Army order of 2nd April 1898
3.7.01: Granted 2 pence per day good conduct pay
16.9.02: Demobilised
29.10.02: Transferred to Army Reserve
20.2.06: Re-engaged Private
9.4.10: Discharged: termination of engagement; father Thomas Thorpe, Orston, Notts
Medals awarded:
India medal with clasps Punjab frontier 1897-8 and Tirah 1897-8; King's South Africa medal with two clasps 1901 and 1902; Queen's South Africa medal with three clasps: Cape Colony, Orange Free State and Transvaal.  Russo-Japanese war campaign medal 1904-5.  Russian commemorative 1913 Romanov Tercentenary medal.
1911 Census
Asylum attendant, thirty-five, living at the Mapperley Hospital, Nottingham. His father Thomas, a horseman on farm, and mother Eliza were living at Green's Barn, Radcliffe on Trent with his siblings George, Lydia, Ethel, Eva, Charles and boarder Mark Wragsdale.
Military Service WW1
Rank: Driver
Service Number:T4/239663, previously 886, formerly 1272
Military Unit: 516 Company, Army Service Corps
Theatre of War: France
19.10.14: Attested in Nottingham
Age 38 years 6 months; address Albert Street, Radcliffe on Trent; states that he previously served in 1st Battalion Sherwood Foresters
Occupation asylum attendant; height 5 feet 6 inches; weight 148 lbs; chest 38 inches; range of expansion 3¾ inches; eyes grey; hair fair; religion Wesleyan; mother Mrs Thorpe, Albert Street, Radcliffe.
Home 19.10.14 to 23.2.17; Expeditionary Force France 24.2.17 to 7.7.18; On furlough 8.7.18 to 22.7.18; Ex. Force France 23.7.18 to 8.3.19; Home 9.3.19 to 7.4.19
19.10.14: Private 1272, embodied 4 Company, North Midlands Division Train, Army Service Corps (ASC)
29.12.14: Promoted Acting Lance Corporal
10.3.15: Promoted Acting Corporal
31.7.15: Promoted Acting Sergeant
23.2.16: Reduced to Acting Corporal; 516 Company.  516 Company was a Horse Transport Company of the ASC.
13.5.16: Reduced to Driver no reasons given
1.9.16: Posted to ASC Regular Army, service no. T4/239663. The prefix T4 was used for men affected by the compulsory transfer in 1916 onto regular army terms of men who were serving in ASC units of the Territorial Force.
24.2.17: Embarked Southampton per S.S. 'Karnak'
26.2.17: Disembarked Havre
13.5.17: Appointed Acting Corporal
10.6.17: Assumed duty with pay
30.9.17: In confinement, awaiting trial
17.10.17: Convicted by Field General Court Martial of drunkenness: Field punishment No.1 42 days and fined 5 shillings. Further service: rank Driver
28.10.17: To Headquarters 59 Division
27.2.18: To 4 Company 59 Division Train ASC
19.9.18: Granted 4 pence per day War pay
8.7.18 to 22.7.18: Leave
7.4.19: Disembodied (demobilised). In 516 Company RASC at demobilisation.  Home address Albert Street, Radcliffe on Trent.
On 27th November 1918 a Royal Warrant was published in which HM King George V commanded that the Army Service Corps should in future enjoy the distinction of 'Royal ' due to their splendid work performed during the Great War.
Medals Awarded: British War and Victory
Other Information
The 59th (2nd North Midland) Division joined the British Expeditionary Force on the Western Front in early 1917. It saw action at Ypres and Cambrai, and was almost destroyed during the German Army's Spring Offensive in March 1918. (Wikipedia)
From the electoral registers: During the 1920s and 1930s William worked at Mapperley Mental Hospital, Nottingham.
1921 Census
Address: Nottingham City Asylum, Porchester Road, Nottm
Employment: Male Nurse
Household: living in hospital
1939 Register
Occupation: Mental nurse at Mapperley Hospital, Porchester Road, Nottingham.
He is listed as married but his wife's name does not appear with his in the register. There are too many men named William H. Thorpe in the marriage registers to reach a definite conclusion as to his wife's name.
Reasons for inclusion on Radcliffe on Trent Roll of Honour
Radcliffe on Trent address during WW1