WESLEY FRANK SWIFT 1900–1961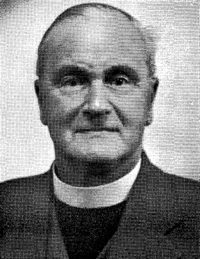 Photograph from his obituary (below)
Born 17th November 1900 in Reading, Berkshire
Married 1928 to Gladys May Breedon
Read more about Gladys Breedon 
Died 26th December 1961, Ruislip
1901 Census
Age 5 months, living with father Frank Cook 28 a shopkeeper born in Caernarvon, mother Ellen 28 born in Oxford and Hetty White 13 a domestic servant. They lived at 34 King Street, Reading, Berkshire.
1911 Census
Age 10 living with father Frank C, 38, a commercial traveller, mother Ellen 37 and brother Rowland 1.  They lived in a 6 roomed house at 55 Warwick Street, Oxford.
Military Service
Not known
Other information
Married Gladys May Breedon of Cropwell Road, Radcliffe on Trent on 9 August 1928. She worked as a railway porter in Radcliffe during the war.  He gave his occupation as Wesleyan Methodist Minister and his address as Bayview, Portgordon, Banffshire.
1939 Register
Address: 61 Church Road, Northwich Cheshire
Occupation: Minister of religion, Methodist Church
Household: living with wife Gladys
Will – Wesley Frank Swift of 70 Pavilion Way, Eastcote, Ruislip, Middlesex on 26 December 1961. Administration to Gladys May Swift, widow and Dorothy Eleanor Masterman (wife of John Eric Masterman) effects- £972.10s.11d
Obituary from the Minutes of the Methodist Conference 1962, page 199
Born at Reading in 1900. After working as a railway clerk and as a lay pastor he was accepted for the Wesleyan Ministry. He spent a year in the Mid-Norfolk Mission before being trained at Richmond, and he then served in the North of Scotland Mission, Edinburgh, Glasgow, Grimsby, Northwich, Sale, Leeds and Lytham St Annes Circuits, and as Connexional Archivist. In Leeds he was Synod Secretary. His writings included The Ministers' and Laymen's Handbook and the 1947 Wesley Historical Society lecture on Methodism in Scotland. As Editor of the Proceedings of the Wesley Historical Society he maintained the highest standards and contributed many articles of fascinating interest.
In 1956 World Methodism conferred on him the honour of a Fellowship in Methodist History. He was convener of the Lectionary Committee, a secretary of the International Methodist Historical Society, and British Secretary of the projected Methodist Dictionary. When it was decided to appoint a Connexional Archivist he was the obvious choice, and in a few months had already made many interesting discoveries. Many questions were settled by the advice, "Ask Wesley Swift," for in many spheres he was unique. He carried heavy responsibilities without any detriment to his work as a circuit minister. His interest in liturgy and lectionary was not merely academic, but enriched his conduct of public worship, as did his preaching. By faithful pastoral visiting he won much affection. He was himself eager for the means of grace, especially the Holy Communion. His cheerful, humorous and friendly personality was enriched by the happiness of his home.
He died suddenly on 26 December 1961, in the sixty-first year of his age and the thirty-eighth of his ministry.