FRANCIS GEORGE CURSHAM 1889–1918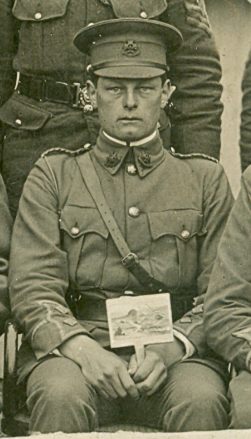 Francis Cursham in 1912, age 23
Born: 6th February 1889, Wilford, Nottinghamshire
Died: 31st August 1918 as result of fatal road accident at Aldershot. A military funeral was held at Holme Pierrepont on 5th September 1918.
Commemorated on Holme Pierrepont Lychgate and Repton School War Memorial. Epitaph on his grave at Holme Pierrepont: 'I thank my God on every remembrance of you.'
1891 Census
Age 2 living at Grove Avenue, Nottingham with father Henry, district manager, Union Assurance Society, mother Frances née Rawson, sister Frances 5 and brother Curzon 3. They have a cook, a nurse and a domestic servant.
1901 Census
He was an eleven year old pupil at an Ipswich grammar school run by a member of the family. His brother Curzon was also at the school. The brothers went on to Repton school, following in their father's footsteps. Their parents had moved to The Firs, Holme Pierrepont by this time.
1909
26.4.09. He enlisted as a 2nd Lieutenant (Territorials) Battalion, The Sherwood Foresters (Nottinghamshire and Derbyshire Regiment) on the 26th April 1909 and was promoted to Lieutenant on 14th March 1910. Height given as 5ft 10ins.
1911 Census
Employed as an insurance clerk and living with parents, Henry 51 and Frances 47,  sister Frances Irene 25 and maternal grandmother, Sarah Anne Rawson 78 at 'The Firs', Holme Pierrepont. They have a cook, Rebecca Proctor, and two maids, Emma Proctor and Annie Hopkinson.
Military Service after 1914
Rank: Major
Military Unit: 2/8th Bn, The Sherwood Foresters. Formation was initially part of the 178th Brigade of the 59th (2nd North Midland) Division
Theatre of War: France and Flanders, date of entry 26.2.1917
He was Captain with the 2/8th Battalion on 4th August 1914 and promoted to Major on 1st June 1916. The 2/8th Bn, The Sherwood Foresters was a territorial unit which spent the early part of WWI in the U.K. on garrison duty at Newark, Luton, Dunstable and Watford (see photo below of members of the battalion at Cassiobury Park, Watford). The 2/8th was sent to Dublin at the outbreak of the Easter Rising in April 1916 where it saw severe street fighting and experienced a high number of casualties. Francis Cursham was wounded on April 28th by rifle fire when attacking rebels holding Clan William House on Mount Street Bridge, Dublin and also by fragments of a grenade thrown by the British (see p. 41-42 The Sherwood Foresters in the Great War by Lt.Col. Oates and The Sherwood Foresters in the Easter Rising Dublin 1916 by Cliff Houseley). Following the rebellion, the unit remained in Ireland on garrison duty at the Curragh.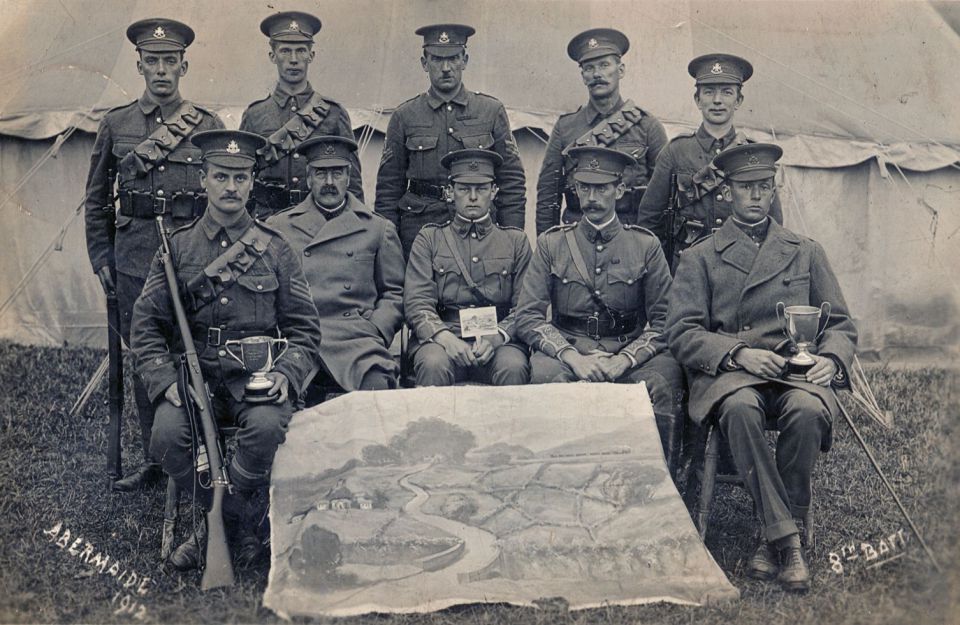 The officers and men of "E" (Carlton) Company, 8th Battalion, winners of the Brigadier's cup. The Cup was presented by the Brigade Commander to the winning section in the Sherwood Foresters Brigade competition on a 30-yards range. In 1912 it was won by a section of E Company who narrowly beat a section of Captain A. N. Lee's Company in the 7th Battalion. Francis Cursham holds the cup.
Front row from left: Sgt Charles Rhymes, Lt. Col. George Saville Foljambe, 2nd Lt. F. G C, Captain and Adjutant Hugh Bliss Tarrant Humes and 2nd Lt. Gerald Clarke. Middle of the back row standing is RSM Westerman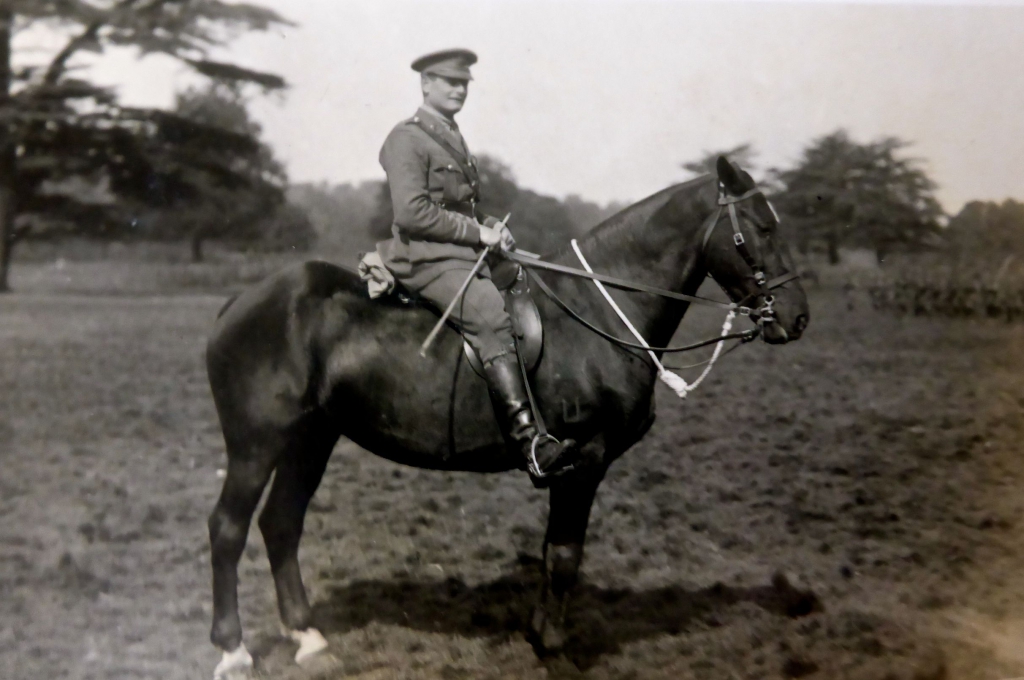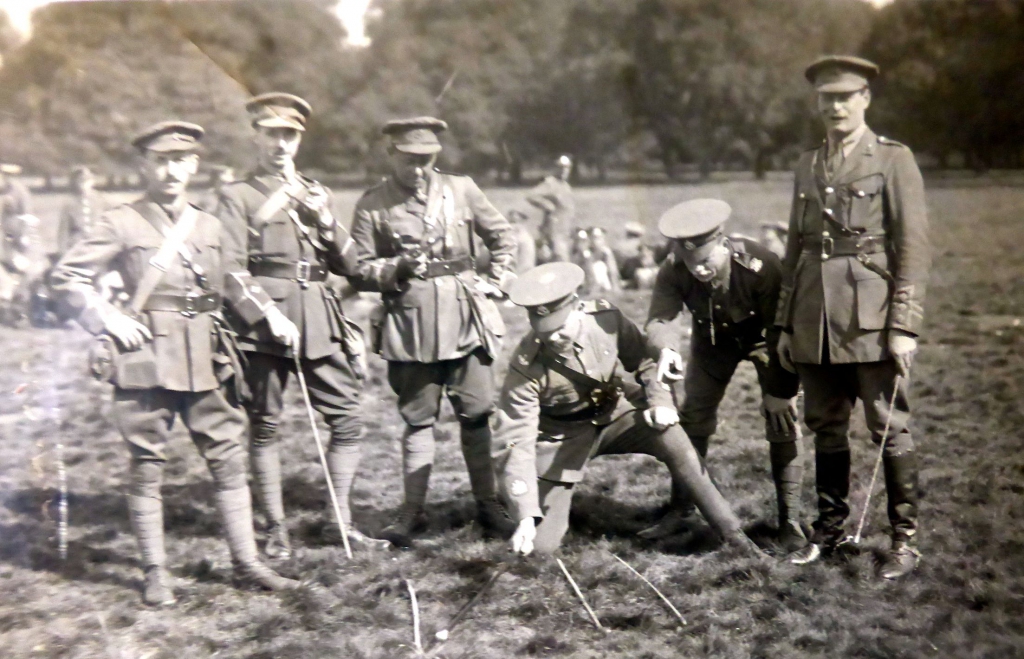 Casiobury Park 1915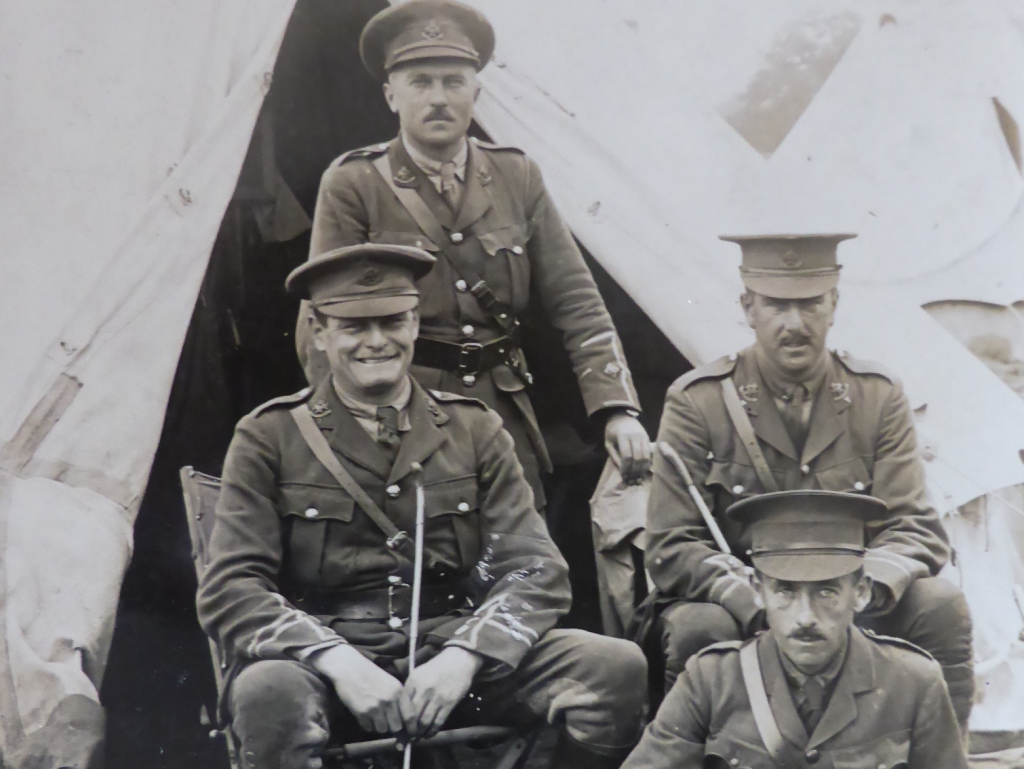 FGC in foreground with Dr Horton and Bill Wright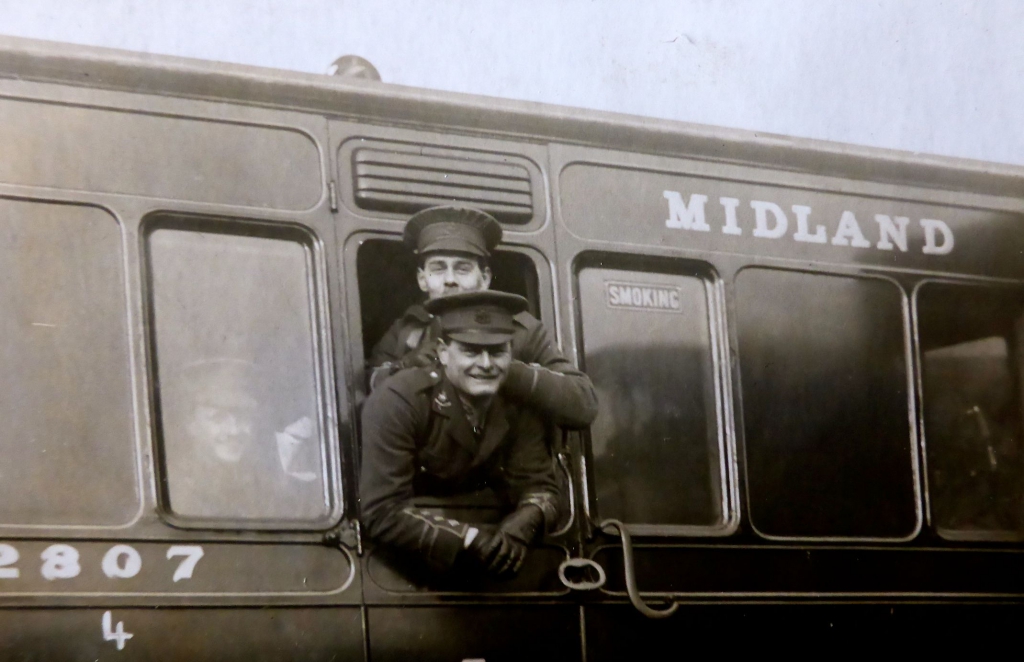 FGC with Lt. Whiston
All Photographs courtesy of Cursham family
The 2/8th embarked for France in February 1917. After two months in France Francis Cursham  returned to England with trench foot.
11.4.17. Embarked for England from Le Havre on H.S.Panama with trench foot (right).
13.4.17. Disembarked Southampton Docks. To 3rd Southern General Hospital, Somerville Seaton, Oxford
11.5.17. Examined by medical board at 3rd Southern General Hospital who concluded 'he has suffered from trench foot and is now better. Recommended 3 weeks leave.'
24.7.17. A further examination by the medical board at Breedon Camp, Cannock Chase concluded that his condition was caused by 'exposure on active service' and that 'this officer has now recovered. He has been directed to re-join the School of Instruction and carry on'.
At some point after the end of July 1917, he returned to the Western Front. He returned again to England in April 1918 suffering from boils. From August 1917 to April 1918, the 2/8 Sherwood Foresters were involved in the battles of the Menin Road Ridge, Polygon Wood (3rd Battle of Ypres, Belgium) and capture of Bourlon Wood (Nov. 1917) followed by action during the German Spring Offensive. The 2/8th was disbanded in France in February 1918.
21.4.18. Left unit in France
23.4.18 Embarked for England from Calais. Cause, boils. Arrived Dover on the 23rd.
9.5.18 Still in hospital.
7.6.18. Thurslby Camp, Sutton on Sea. Medical report states 'This officer became disabled by boils while serving with the E.F. in France. He has made complete progress since the last Board. He was instructed to return to his present unit and await further orders. The Board formed the opinion that the disability arose through the conditions of active service. Boils following scabies contracted on active service.'
31.8.18 He was stationed at the Senior Officers Training School, Aldershot, Hampshire when he was killed in a road accident on the 31st August 1918 at Crooksbury Road, Surrey. He died of internal haemorrhage and shock. At the time his rank was Major and military unit was the 7th Reserves, The Sherwood Foresters.
Coroner's Report at the inquest
A full report of the accident was given by Gilbert White, the coroner for the western division of Surrey, on 5th September 1918.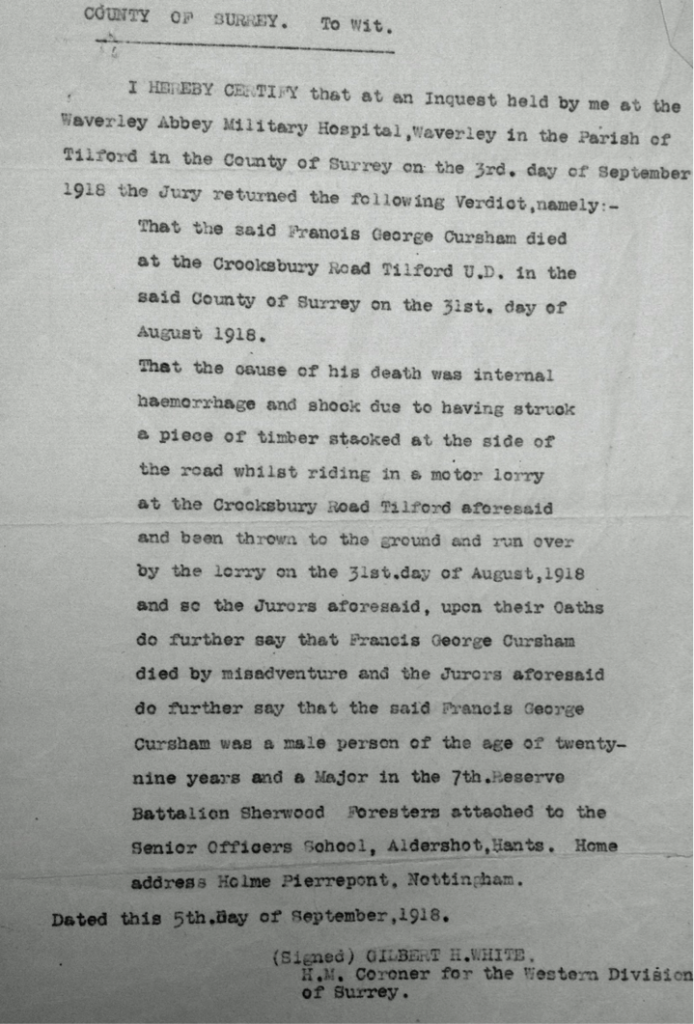 Funeral and Obituary
Francis Cursham had a full military funeral at Holme Pierrepont church on September 5th 1918 – the same day as the inquest. The coffin was placed on a gun carriage and draped with a union jack. It was attended by a detachment of soldiers and a military band. The service concluded with buglers sounding the 'Last Post'. The mourners included family members, fellow officers, many well-known figures in the area and staff from the Holme Pierrepont estate.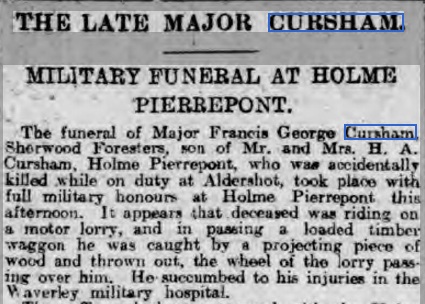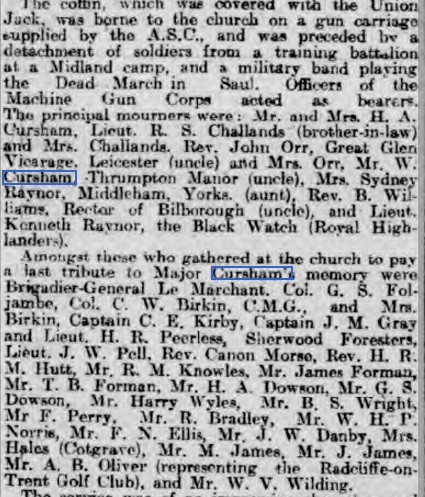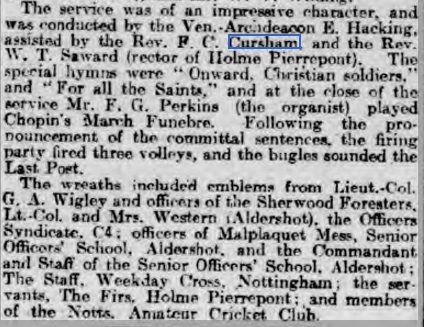 Francis Cursham is buried in Holme Pierrepont Churchyard and remembered on the lych gate.
Effects
His list of effects show a typical kit for an officer based in England. His sporting interests were reflected in the inclusion in his kit of a tennis racquet, fishing rod and set of golf clubs. These effects were sent to his parents at their request and signed for on 13th September 1918.
Probate was granted on 11th April 1919 and registered on the 15th April. Francis Cursham had £307.16s in his account when he died which was left to his father and sent c/o Curzon Cursham, Solicitor, 26 Low Pavement Nottingham to be paid by draft. His army pay from 5.9.14 – 30.9.18 amounted to £334. 16s. (3 years at 18/- per week).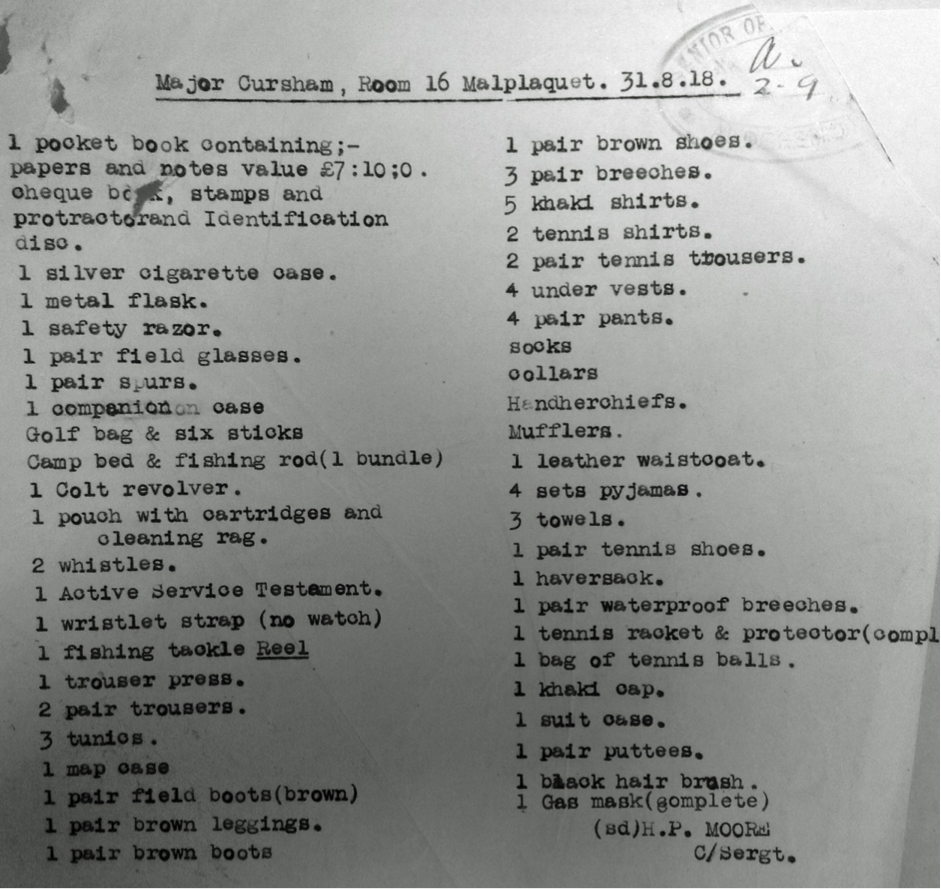 Other information
His father Harry had been an impressive athlete at Nottingham Boys High School and at Repton. He played football for England (eight caps) and Notts County, for whom he scored the record number of goals (49) in the FA cup between 1887 and 1897. He remains today (2016) the current top goal scorer in the FA cup. He scored 208 goals for Notts County between 1887-88 and 1890-91.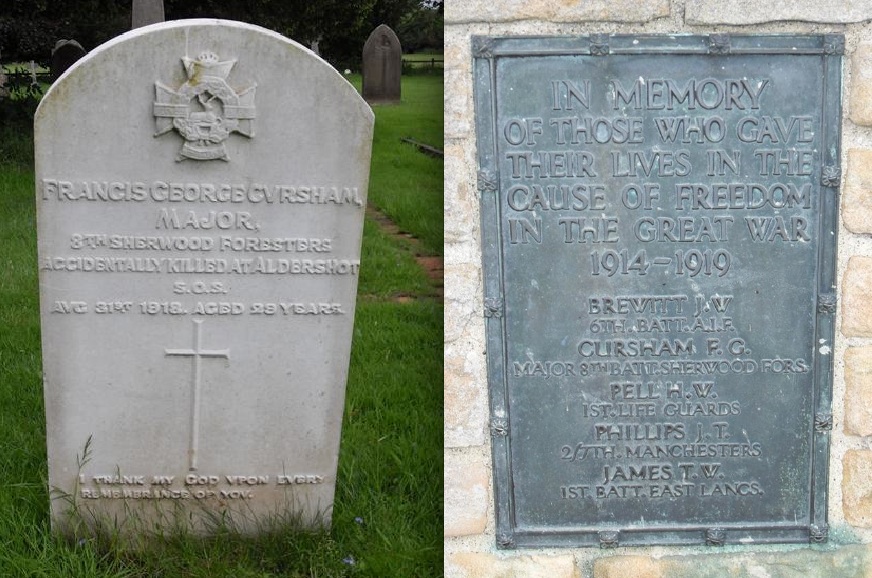 Gravestone at Holme Pierrepont and memorial plaque on Lychgate.