CHARLES FREDERICK ELLISON 1894–1969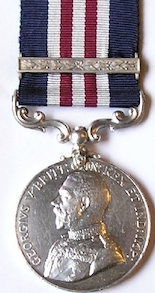 Born 1894 in Gamston, Nottinghamshire
Married 1921 in Manchester to Nottingham born widow Mary Ellen Wilkinson née Nash
Died on 21st March 1969 in Victoria, Canada.
1901 Census
Age 6, living with maternal grandparents Henry, a road repairer, and Mary. Also living at Gamston were his aunt, Annie and Uncle William. Meanwhile his mother Emma was living at Stanton on the Wolds with her husband George Costall from Shelford. She had married George in 1898.
1911 Census
Age 16 employed as a groom in the stables at Adbolton and living with mother Emma and stepfather George Costall, who was a waggoner on the farm.
Military Service before 1914
On 23rd November 1911 he enlisted with the Royal Fusiliers as an army reserve, service number 12748,  but was discharged unfit for service on the 20th August 1914. He must have been in receipt of pension as his records have been categorised as such.
Military Service from 1914
Rank: Sergeant
Service number: 1532 then 164558
Military Unit: South Nottinghamshire Hussars then Machine Gun Corps
Sometime later, possibly in the conscription of 1916, he returned to the army to serve as a sergeant with the Notts Yeomanry Machine Gun Corps.
His award of the Military Medal for acts of gallantry was recorded in the Gazette on 11th March 1919 and, although not named on the Lychgate War Memorial, he is listed as serving with the 100th Battalion Machine Gun Corps and an absent voter in the Spring 1918 Electoral Register for Holme Pierrepont.
Medals Awarded
Military Medal, British War and Victory
1921 Census
Address: Gore Street, Chorlton upon Medlock, Manchester
Employment: Motor Driver, J and J G Cooper
Household: wife Mary, also driver for J and J G Cooper, boarding with Cooper family
Other information
Emigrated to Canada in 1923 to join his brother in law
He was employed as a swimming instructor in Victoria, British Columbia. The newspaper article below, from 1941, showed he retained links with Nottinghamshire.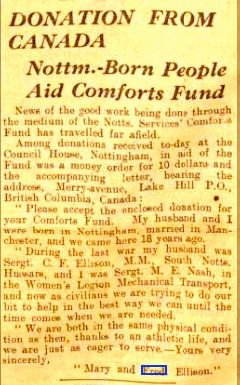 Nottingham Post 1st January 1941