SAMUEL ARTHUR HAINES 1887–1976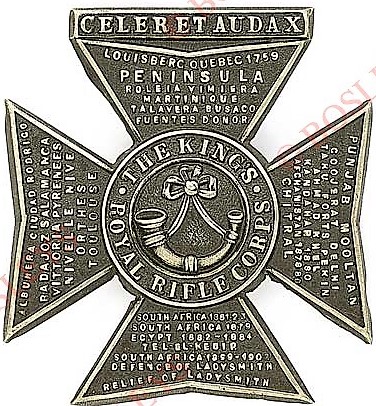 Born 14th April 1887 in St Lukes Parish, Derby
Baptised 31st July 1887 in Derbyshire
Married 16th September 1916 to Dorothy Blanche Coppin
Children: Lucy, Betty, Arthur and Richard all born in Derby.
Died 1976, Derby, age 89
1891 Census
Age three living on Harrison Street, Derby with father Samuel, 23, a builder's carter, mother Lucy, 28, brother John, two, sister Louisa, 11 months.
1901 Census
Age thirteen, office boy, living Sun Street, Derby with parents and two sisters, Louisa and Lucy, three.
1911 Census
In the military in India serving as a rifleman with the 4th Battalion, Kings Royal Rifle Corps.
He is also listed on 1911 census at his parents home, Wood Lane, Derby but his name is crossed through as is his brother John. Other siblings listed are Louisa, Lucy and Alec. His father was working for the Borough Council.
Military Service before 1914
Rank: Private
Military Unit: 4th Battalion, Kings Royal Rifles
Attested in Derby, 6.2.1905. Address 150 Woods Lane, Derby. Joined in Winchester 8.2.1905, age 18 years and 10 months. Occupation, plumber. Height 5ft 4ins, weight 117lbs.
1.6.1905 – 8.1.1907: Home
1907 – 5.2.1914: India (Poona)
Military Service 1914- 1919
Rank: Private, then Sergeant by end of service
Service Number: 6366
Military Unit: Kings Royal Rifles Corps
Theatre of War: France and Flanders, date of entry 31.8.14.
5.8.14: Mobilised at Winchester
31.8.14: Posted to France
27.10.14: Wounded and transferred to the reserves
It is highly likely he was wounded at the 1st Battle of Ypres where the Ist and 2nd Battalion, K.R.R.C. were present. Forces War Records state that during the battle B, C and D companies of the 1st Bn were surrounded and overwhelmed losing a total of 1.027 men either killed, missing or wounded in just 6 weeks.
5.12.14: Transferred
Transfer signed off by medical officer in Gosport.
1.10.15: Re-joined Oxford and Bucks Light Infantry. Occupation given as 'warder'. Rank, gunner.
21.1.16: Appointed Acting Sergeant. Instruction at gas school, Chatham. Progress good.
16.9.16: Marriage to Dorothy Coppin in Kent
24.4.17: Daughter Lucy born in Derby
24.6.17: Appointed Lance Sergeant
2.9.17:  Appointed to 69th Royal Defence Corps
Service Number: 48561
8.3.19: Demobilised. Rank, Sergeant
Was in Eastern Theatre of war at some point. Total service: 14 years 39 days.
Medals Awarded: 1914 Star with Clasp, British War and Victory.
Other Information
He was employed at Notts. County Asylum (Saxondale) before the outbreak of war; he is listed in their records as an attendant who served in the Armed Forces and was wounded. His regiment is given as the Kings Royal Rifles. He is recorded in the asylum's 41st Annual Report for the year ending 1915 as an attendant who joined the forces in August 1914; he would have been a reservist.
Reference in his military record states: 'A very active … soldier. One of the best cross country runners in the battalion. … Sober and steady. Ready to turn his hand to anything'. Conduct 'exemplary', character 'trustworthy'. Marriage by end of war, Wounds were to foot. Disablement 30%. Pension 9 shillings weekly. Range practice scores are on his military record.
Letter written by Samuel Haines in March 1919 to army informing them of his change of address from Chester to 50, Abbey Street, Derby. 'I was demobilised from No. 1 Dispersal Unit 8th March 1919. My unit being 69th company, RD Corps, 23 Crouch Street, Colchester. I am Sir, your obedient servant, 48561 S. Haines, Sgt.'
1921 Census
Address: 224 Mansfield Road, Derby
Employment: watchman, Derby Cooperative Society
Household: wife Dorothy, daughter Betty
1939 Register
Address: 224 Mansfield Road, Derby
Occupation: watchman for Derbyshire County Council
Air Raid Precautions warden
Household: living with wife Dorothy born 21.10.1893
Wife Dorothy died in 1984
Reasons for inclusion on Radcliffe on Trent Roll of Honour
Worked in the parish of Radcliffe on Trent at Notts. County Asylum.