THOMAS SYDNEY WATERS 1885–1951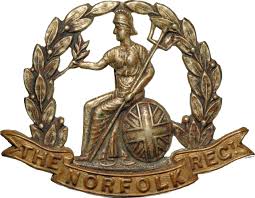 Born 9th January 1885 in Crimplesham, Norfolk
Baptised 15th March 1885  Crimplesham Parish Church
Married Eliza Annie East in 1916 in Bingham district
Died 28 June 1951 in Nottingham age 66
1891 Census
Age 6, a scholar living with father Isaac 42, an agricultural labourer, mother Mary, brothers Robert 9, William 1, Isaac 5 months, and sisters Violet 8, and Hannah 4.  They were living in Crimplesham, Norfolk.
1901 Census
Age 16 employed as an agricultural labourer. Living with father Isaac, mother Mary, brothers William 11, Harry 10, James 8 and sisters Hannah 14 and Florence 6.  They were living at Dewars Field Barn in Little Massingham, Norfolk.
Military Service before 1914
Rank: Private
Service Number: 6790
Military Unit: 1st Battalion, The Norfolk Regiment
Enlisted 5 January 1904 in The Norfolk Regiment
Height 5ft 7ins, weight 115lbs, after 6 months service 134lbs. Girth: 34½ ins, rate of expansion 2½ ins, complexion ruddy, eyes brown, hair dark brown
Religion: Church of England
Enlisted for three years army service with 9 years reserve service.
5.1.04–17.10.05: Home, mobilised at Norwich
21.7.05: Extended his army service to complete 8 years with the colours.
25.8.05: In guard room awaiting trial. Tried by Regimental Court Martial at Colchester for transmitting a civil offence: this is to say altering counterfeit coin.  Found guilty and sentenced to 78 days imprisonment.
Sentence  confirmed by Lt Col Wintour – Norfolk Regiment.
28.9.05: Returned to duty
12.10.1905–3.10.1908: S Africa
4.10.08–30.11.10: Gibraltar
11.12.10–13.08.14: Home
1.9.11: Transferred on conversion under War Office Letter 1.9.1911 to Army Reserve Section B
Military service from August 4th, 1914
Rank: Private
Service Number: 6790 (Norfolk), 317329 (Labour Corps)
Military Unit: 1st Bn, The Norfolk Regiment, 15th Brigade, 5th Division, transferred to 579 Home Service Employment Company, Labour Corps
Theatre of War: France and Flanders, date of entry 16.8.14
5.8.14: Posted 1st Battalion
14.8.14: France
Wounded
19.09.14: Gun shot wound to  back
23.09.14: Home, admitted to 5th Southern General Hospital, Portsmouth
29.12.14: Posted 3rd (Reserve) Battalion
4.10.15: Re-entered France, posted 7th Battalion, remained until 29.01.17
19.10.15: Contusion abdomen; admitted to No. 3 Stationary Hospital in Rouen
30.01.17: Home
30.6.17: Transferred to 579 Home Service Eng. Company, Labour Corps
11.1.18: Transferred to Agricultural Company
Home address: 16 Station Terrace, Radcliffe on Trent
31.3.20: Discharged. Total Service: 16 years 87 days
Awarded a pension of 13 shillings 9d (69p) a week from 21.2.19
Medals Awarded: 1914 Star, British War and Victory
Military Personnel address on 1918 Electoral Register
16 Station Terrace, Radcliffe on Trent
1921 Census
Address: Melton Mowbray
Employment: farm labourer, H Brett, farmer
Household: wife Eliza, boarder Donald Leake, farm pupil
1939 Register
Address: 4 Etheldene Cottages, Cropwell Bishop, Notts.
Occupation: Notts. County Council, heavy duty labourer, army disability pensioner
Household: living with wife Eliza Waters, born 1878
Reason for inclusion on the Radcliffe on Trent Roll of Honour
Lived in Radcliffe on Trent.