ERNEST BEMROSE 1889–1914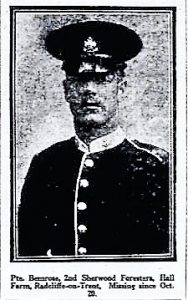 Ernest Bemrose, The Nottingham Evening Post, 12 March 1915
Born 6th April 1889 in Radcliffe on Trent.
Baptised 29th April 1889, St. Mary's Church, Radcliffe on Trent
Married 11th April 1914 to Annie Smith, Bingham Registry Office
Daughter Winifred A. Bemrose born 3rd July 1914
Missing 20th October 1914 (from the War Office Casualty List, published 10th December 1914). Presumed dead 1st April 1920 (from the UK Army Registers of Soldiers' Effects 1901-1929)
Ernest Bemrose is commemorated on Radcliffe on Trent War Memorial and on Notts County Asylum (Saxondale) Memorial. He is not commemorated on any CWGC memorial to the missing.
1891 Census
Age two living with father George, 38, an agricultural labourer, mother Emma, nee Larkin, 37, both born in Radcliffe on Trent, sisters Clara, 11, Gertrude, 4, Ellen, 1 month, brothers Frank, 9 and Christopher, 6. They lived in a house with four rooms on Shelford Road, Radcliffe on Trent.
1901 Census
Age eleven living with father George, mother Emma, brother Christopher, and sisters Nellie, 10 and Sarah L, 5.  They lived at Pinfold Cottage, Cropwell Road, Radcliffe on Trent.
Military Service before WWI
Attested in Nottingham for the militia or reserve division of the militia, 9th March 1907
Age on enlistment: 17 years 11 months
Occupation: farm labourer, working for George Bell in Radcliffe on Trent
Address: Pinfold Cottage, Cropwell Road, Radcliffe on Trent
Height 5ft 6⅝ins, weight 113 lbs, girth 35½. Range of expansion 2½ ins. Complexion fresh, eyes blue, hair brown. Distinguishing marks: scar on right forearm and right buttock.
Considered fit for militia 9th March 1907.
Ernest Bemrose attested in Nottingham for the regular army in August 1907, a typical move by men serving in the part-time militia. Only the first two pages of his service record, which have been damaged, are available online (see copies of his records on www.findmypast.co.uk and www.ancestry.co.uk). Therefore details of his military service from 1907 until he left the Forces and became a reservist have not yet been found.
His attestation for the regular army (on the damaged pages of his record) provides the following information:
Service number: 1845
Age on enlistment: 18 years 4 months
Occupation: general labourer
Height 5ft 7ins, weight 128 lbs, girth 35½. Range of expansion 3½ ins. Complexion fresh, eyes blue, hair brown, pulse rate 74. States he was still serving in the militia (the militia was replaced by the Territorial Force in 1908).
Considered fit for the army 12th August 1907 and transferred to 4th Sherwood Foresters (reserves) on 14th August 1907.
1911 Census
Age 21, a private in The Sherwood Foresters stationed with the 45th Regimental District in Normanton, Derbyshire. Normanton Barracks (now demolished) was the Sherwood Foresters depot. The 1911 Census lists 6 officers; 192 Warrant Officers, Non-Commissioned Officers, Trumpeters, Drummers and Rank and File; 32 wives, 22 children and 10 other persons who were stationed at Normanton Barracks, bringing the total population to 262. Ernest is listed as an infantry man.
Ernest's parents, George and Emma Bemrose, were living in Royal Oak Yard, Radcliffe, in 1911 with their son Christopher, brother-in-law George Larkin and nephew Albert Larkin. The house had three rooms.
1912-1914
Ernest Bemrose had left the army by 1912 and was employed at Notts County Asylum, Saxondale in 1912. Several reservists, like Ernest, were employed at the Asylum once they left the regular army. Under army regulations, they were reservists for five years and were required to re-join the army immediately in the event of war.
A Nottingham Evening Post article, dated September 9th 1912, reveals that Ernest Bemrose and William Henry Buxton, asylum attendants, were witnesses at an inquest on a patient who committed suicide.
1914: Marriage
Ernest Bemrose married Annie Smith from Royal Oak Yard, Radcliffe on Trent on 11th April 1914. Ernest's occupation is given as an asylum attendant and address as Notts. County Asylum on the marriage certificate. Annie Smith was born in Burton on Trent on 22.12.1893. Her parents were William and Alice. Annie's father William died in 1894 and her mother married Samuel Cooper in 1896.  Annie came to Radcliffe to work at Notts. County Asylum, date and occupation unknown (information from the Bemrose family).
Winifred Alice Bemrose was born on 3rd July 1914. Ernest's occupation is given as farm labourer on the baptismal record, indicating that he had now left his employment at the asylum. His address is given as 3 Royal Oak Yard.
The photograph above gives his address as Hall Farm, Radcliffe on Trent in 1915 but at present there is no further evidence to confirm that he lived at this address.William Bemrose, possibly one of Ernest's two cousins who were both called William Bemrose, is recorded on the Electoral Register as living at Hall Farm in April 1914.The tenant farmer at Hall Farm was Isaac Saint, a Sherwood Foresters' reservist who was called up in WWI.
Military Service WWI
Rank: Private, then promoted Lance Corporal
Service Number: 10411
Military Unit: 2nd Battalion, The Sherwood Foresters, 18th Brigade, 6th Division
Theatre of War: France and Flanders, date of entry on Medal Rolls Index Cards 11.11.14. It is assumed that this date is an error. As a reservist, Ernest Bemrose would have been required to enlist immediately war was declared in August 1914. His regiment, the 2nd Battalion Sherwood Foresters, left for France in September. 
Missing in Action: 20.10.14.
The 2nd Battalion Sherwood Foresters fought a major battle, known as the Battle of Armentieres, between 13th October and 2nd November 1914.  On 20th October they saw action at Ennetières (near Armentières, France and Ypres in Belgium). They held a vastly superior German force for forty-eight hours, and suffered casualties of 16 officers and 710 other ranks according to the regimental war diaries; the battalion was effectively wiped out. Seventy-eight men were later confirmed killed in action on that day and are commemorated on Ploegsteert Memorial to the Missing. The Sherwood Foresters' names are listed on the memorial under the title 'Battle of Armentières'.
Ernest Bemrose was listed as missing on the Casualty List issued by the War Office, 10th December 1914 (source: Forces War Records). On 2nd February 1915 The Nottingham Evening Post published the names of  454 Sherwood Foresters reported missing on the 10th December 1914 casualty list; Ernest Bemrose is listed among them. Only four could not be identified either as killed in action, prisoners of war or men who later returned to their regiment.

From the Casualty List 10th December 1914, published in the Nottingham Evening Post 5.2.1915
Evidence of Ernest Bemrose's death
Ernest's death is acknowledged on the UK, Army Registers of Soldiers' Effects 1901-1929 and on his Medal Rolls Index Card.
From the UK, Army Registers of Soldiers' Effects 1901-1929:
Bemrose, Ernest; L/Cpl 10411, Notts & Derby Regiment.
Death presumed 20.10.14, credit £8.18s.6d (£8.93):  £2.18s.10d (£2.94) to widow Annie on 22.3.20; £5.17s.8d (£5.88) on 1.4.20
Medal Rolls Index Card shows him as 'Deceased'. He is not remembered on any memorial to the missing in France and Flanders and he is not recorded on the Commonwealth War Graves roll of Soldiers Died in the Great War.
Medals Awarded: 1914 Star with Clasp, British War and Victory.
Pension record
A widow's pension form was filled out, dated 8.7.20, for Annie Bemrose, widow of Ernest, living at 59 Craven Street, Burton-on-Trent. Ernest Bemrose's death is recorded as 20.10.14. However, no details of form 104-88 being received by the Paymaster or a pension subsequently being awarded to his widow are entered on the card.
Go to WWI Timeline to see how this man's death is part of the wider story of the war.
Other information
Ernest Bemrose's widow Annie married Charles Bleasdale Thomas in 1924 at Burton on Trent; they had no children.  His daughter Winifred married in 1940 to Leonard Harrison. Descendants of Winifred were traced and visited Radcliffe where they visited the Memorial and and Upper Saxondale. With their approval an application was submitted to the Commonwealth War Graves Commission in September 2019, which was then passed to the National Army Museum to be scrutinised. The application was successful.
Lance Corporal Ernest Bemrose's name is now inscribed in the CWGC UK Book of Remembrance. It is hoped that it will also be inscribed in the Battle of Armentieres  section of the Ploegsteert Memorial of the Missing, in Belgium.
Reasons for inclusion on Radcliffe on Trent Roll of Honour
Born and lived in Radcliffe on Trent.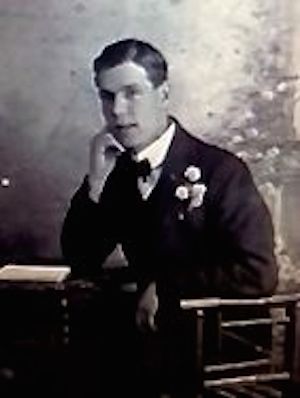 Ernest Bemrose, from the Sherwood Foresters museum at Nottingham Castle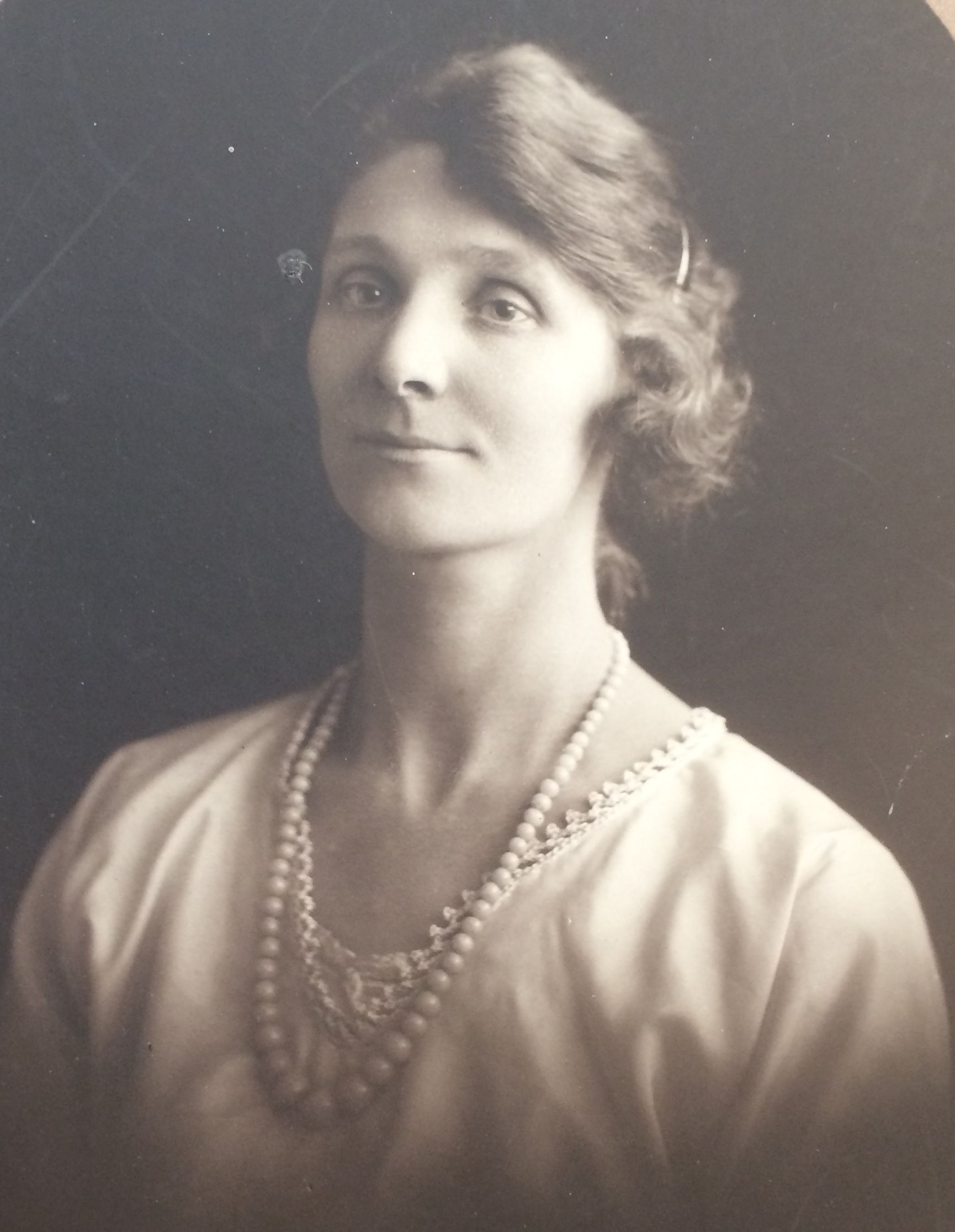 Annie Bemrose née Smith
Photograph courtesy of the family