WILLIAM HENRY RITTER 1893–1917
.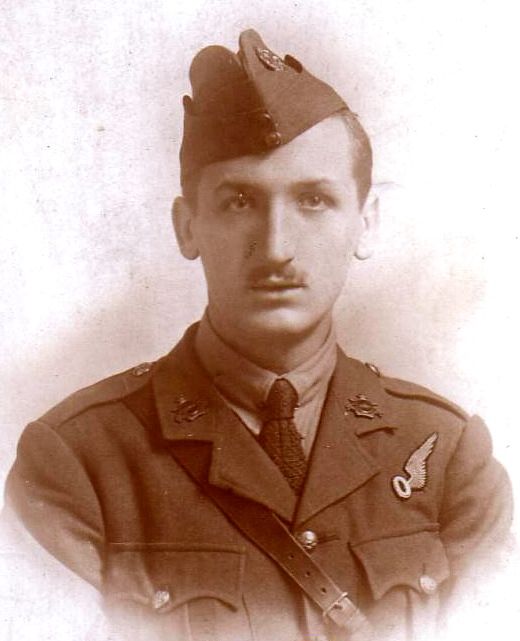 Photograph from Nottingham High School WW1 Book of Remembrance
Born 15th November 1893 in Nottingham
Killed in action 2nd June 1917, age 23
Burial: Varennes Military Cemetery, Département de la Somme, Picardie, France. Grave reference: I.K. 35.
Commemorated on Radcliffe on Trent War Memorial, University College Nottingham Officer Training Corps War Memorial and Nottingham High School War Memorial.
1901 Census
Age 7, living at 31 Musters Road, West Bridgford with mother Mary Charlotte (British subject, born in Frankfurt, Germany) and domestic servant Annie Manderfield. His mother's maiden name was Ward; she married his father Louis in 1892 in Nottingham. Louis was also born in Frankfurt and became a British citizen in 1892.
1909-1910: pupil at Nottingham High School
1911 Census
Age 17, a student living on Chestnut Grove, Radcliffe on Trent, with mother Mary C, sister Irene 16 and domestic servant Clara Young. Mother recorded as Head and married (Father absent on the night of the Census).
1914 Electoral Register
Louis Ritter (father) living on Chestnut Grove, Radcliffe on Trent
Military Service
Rank: Lieutenant
Military Unit: 15th Squadron, Royal Flying Corps, previously Army Cyclist Corps, formerly West Yorkshire Regiment
Theatre of War: France and Flanders, date of entry not known
Enlistment papers signed by him on October 14th 1914
Height 5ft 8ins, chest 34ins, vision 6/6
University of Nottingham Officer Training Corps
William Ritter was a member of the University of Nottingham O.T.C. The following letter from the O.T.C. was written to Captain E. B. Clive, The War Office, London on October 23rd 1914 in relation to two applications for service in the Army Service Corps (the signature is illegible).
Dear Clive,
I am obliged to you for your kind reception of Dr. Granger, which I also regard as a kindness to myself. I venture to enclose two application forms from two cadets of my Contingent who seem to me to be excellently suited for the Army Service Corps.
This cadet knows his company and platoon drill excellently and has had a lot of experience of small field operations, and fire control. He speaks both French and German fluently and has had considerable business experience. His medical form certifying him as fit was sent in some time ago.  
W. H. Ritter
This boy is the son of a naturalised German (Louis Ritter). I have seen the naturalisation paper (No.7207, August 29th 1892) and it is quite correct.
He has had two years service with the Nottingham High School Junior Division, and has been doing daily training with me for some weeks.
He speaks French and German fluently, and knows Belgium, North France, and Germany. He is at present with a shipping house in Nottingham.
He is a remarkably clever boy, and has done some extremely good work with me at map enlargement and reconnaissance*. I know some of his relations, and I am quite satisfied that he is a good boy.
I enclose herewith his application form and medical certificate.
Yours faithfully,
? Lawrence ??
* Knows drill extension well.
17.11.14: Appointed temporary 2nd Lieutenant, 12th Battalion, West Yorkshire Regiment
6.2.15: Army Cyclist Corps
Wounded
27.1.1916: Listed as "Wounded" on the Casualty List issued by the War Office .
Entitled to wear a "War Stripe".
For more information, description of the Wound Stripe click here.
Mentioned in Despatches, London Gazette page 5951

,
1.12.16: General List attached to Royal Flying Corps
25.3.17: Appointed temporary 2nd Lt. 15th Squadron, R.F.C.
2.6.17: Killed in action
Medals Awarded: British War and Victory, Mentioned In Despatches
Go to WWI Timeline to see how this man's death is part of the wider story of the war.
Death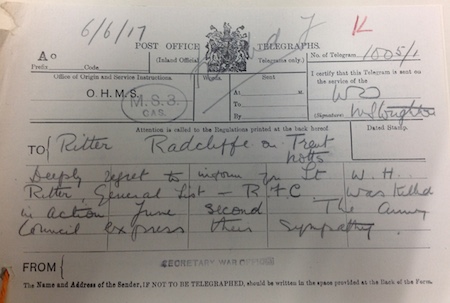 The official report on his death, dated 5.6.1917, states that he was killed in the field (France) on 2.6.17, particulars not yet received. His file at the National Archives, Kew, does not contain any further details of the circumstances of his death. However, the Graves Regisration Report at Varennes Military Cemetery, France, reports that he died of accidental injuries received whilst flying (see www.cwgc.org.). The anecdotal account, below, comes from a local history book. Gilbert Elwin's description in the book of Ritter's death was recorded by interviewers over fifty years after the event. Elwin would have known the Ritter family personally.
'While acting as an Observer William failed to secure a pin in the spindle of a rear facing machine gun and was killed when the heavy gun swung out of control and struck him'. Source: G.V. Elwin in Radcliffe Remembers edited by Jean Lowe and Pamela Priestland (Ashbracken, 2000)
Forces War Records and National Archives online also note that he was killed in a flying accident, but no particulars are given.
William Ritter is buried next to 2nd Lt. Alfred Lionel Cumming, General List and R.F.C. who was 'killed while flying' on June 7th 1917.
Casualty rates were high in the R.F.C. During the Battle of Arras in April 1917 the R.F.C. 'deployed 25 squadrons, totalling 365 aircraft, a third of which were fighters (scouts). The British lost 245 aircraft with 211 aircrew killed or missing  and 108 as prisoners of war. The German Air Services lost just 66 aircraft from all causes' (from Wikipedia).
Other information
His will records effects of £182.1.10d to his father Louis Ritter. The initial sum sent by the War Office c/o Robert Hallam Esq. Solicitor, was £133.0.4d. Louis Ritter had asked his neighbour Robert Hallam (whose son Robert was killed in 1916) to take up his case with the War Office. On 5th March 1918 Louis Ritter wrote to The Controller, Imperial Institute, South Kensington, London, as follows:
Sir,
1565/2 Account 4
I beg to point out to you that the matter relating to money due on this account is still unsettled.
In the first instance you gave the wrong amount as being due and I had this explained to you by my solicitor Mr. Robert Hallam. Later on, about 4 months ago, you acknowledged the error and gave the correct amounts which were due, since then however, the matter has had no attention from your Department, although Mr. Hallam has repeatedly applied for settlement. It is, to say the least, "unpleasant" to have to claim settlement of this matter after my son has been dead over 8 months, because it means one is constantly reminded of a most sad circumstance which one would willingly try not to remember.
I therefore request your kind immediate attention to the matter with a view of a speedy settlement and I think you will understand I am not asking anything unreasonable or unfair.
Believe me, dear Sir,
Yours respectfully,
Louis Ritter
£182.1s. 10d. was granted to Louis Ritter on the 9th April 1918.
Obituary
'RITTER. In loving memory of W. H. Ritter, Lieut. R.F.C., dear and only son of Mrs. and Mr. Ritter, Radcliffe-on-Trent, killed whilst flying in France, June 2nd, 1917.' From The Nottingham Evening Post, 3rd June 1918.
Other information
In 1939 the Ritter family was living in Nottingham. William's unmarried sister Irene was a nurse.
Reasons for inclusion on Radcliffe on Trent Roll of Honour
William Henry Ritter and his family lived in Radcliffe on Trent
Varennes Military Cemetery, France