THOMAS LEONARD RICHMOND 1890–1957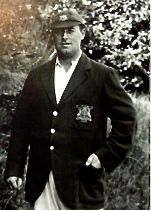 Photograph courtesy of Notts County Cricket Club
Brother of Edward
Born June 23rd, 1890 in Radcliffe on Trent.
Baptised 20th July 1890 St Mary's Church, Radcliffe on Trent
Known as "Tich"
Married 1923 to Marion Senescall  at Grantham. Two daughters, Mary born 1924 and Joyce born 1926
Died on December 29th 1957 age 67 at Saxondale Hospital
1891 Census
Age 9 months living on Bingham Road, Radcliffe on Trent with father Thomas, nurseryman, mother, Jane, brothers William Herbert 10, Edward 7 (also served in military), and sisters Ellen 9 and Frances Mary 5.
1901 Census
Age 10 living on Bingham Road with father Thomas, mother Jane, brothers William H. 20, Edward 17 and sister Frances M. 15. His father Thomas and brothers William and Henry were employed as nurserymen.
1911 Census
Age 20 a self-employed fruiterer living on Bingham Road with father, Thomas, mother, Jane Elizabeth, brothers William and Edward, and sister, Frances Mary. Family were all nurserymen.
Military Service
No service records available
Information from Pension Record Card
Acting Sergeant 36422, The Sherwood Foresters
Discharged 1st March 1919 due to gastritis, with a pension of less than 20%, 5/6d, until 31st May 1921.
Military Personnel Address on 1918 Electoral Register
The Harlequin, Radcliffe on Trent
1921 Census
Address: The Harlequin, Radcliffe
Employment: Professional Cricketer, Notts County Cricket Club
Household: father Thomas, mother Jane, brothers William and Edward both nurserymen.
Other information
For the first few seasons following The Great War, T.L. Richmond and A.P. Freeman jostled for the position as the best leg-break and googly bowler in England. There was little to choose between them purely as bowlers, though Freeman commanded a more precise length while Richmond tended to spin the ball more. Both cricketers were very small in height, less than 5 ft. 7 in.
However, whilst Freeman's abilities improved and his victims grew rapidly in No. in the late 1920s and early 1930s, Richmond's bowling ceased to be an effective force after 1926. The reason for his failure came mainly from his increasing weight, which combined with his lack of inches, made him appear very rotund. Immediately his bowling lost its sting, he was dropped from the Nottinghamshire XI, because both as fieldsman and as batsman he was a passenger in the side. In addition to this, the young cricketer Voce was very efficient substitute for him
Cricketing career
Richmond played club cricket chiefly for Notts. Casuals and made his first-class debut for Nottinghamshire v Middlesex at Trent Bridge on August 19, 20 and 21 1912. He gained a regular first-team place in 1912 and in 1920 captured 100 wickets for Nottinghamshire in a season for the first time, a feat he repeated six times during his career
In 1922 he took 169 wickets – a new record for Nottinghamshire which stood until broken by Bruce Dooland in 1954. Richmond took a hat-trick against Lancashire at Trent Bridge in 1926 and three wickets in four balls v Leicestershire at Trent Bridge in 1920 and v Yorkshire at Bramall Lane in 1922. In 1920 and 1923 he played for North v South and in 1921 he represented England v Australia at Trent Bridge scoring 4 and 2 and bowling 19-3-86-2.
On leaving Nottinghamshire he became the leading bowler for Sir Julien Cahn's XI and in 1929 and 1930 he took over 100 wickets in a season for that team. He played three first-class matches during the 1929/30 tour of Australia with Sir Julien Cahn's XI.
1922 Electoral Register
Address: The Harlequin
Household: living with parents and brother Edward
1939 Register
Address: 79 Edward Road, West Bridgford, Notts.
Occupation: manager, cotton furnishing company
Household: living with wife Marion and daughter Mary, a student at a business college
Family in directories. His will shows his widow Marion living at 79 Edward Road, West Bridgford.
Reasons for inclusion on Radcliffe on Trent Roll of Honour
Born, lived and died in Radcliffe on Trent.