WILLIAM HENRY BUXTON 1889–1944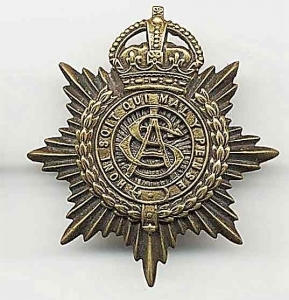 Born 29th October 1889, Thorneywood, Nottingham
Married on December 17th 1915 to Annie Lizzie Rushton at the Register Office, Bingham
Children Daisy born 1921, father's occupation Asylum Attendant, and William born 1922 in Bingham district. 1922 father's occupation greengrocer.
Died 1944 at Blaby, Leics.
1891 Census
Age 1 living with father Henry John 24, a carter, mother Clara 24 and uncle Walter Buxton 18, a butcher, at Howe Lane, Castleton, Derbys.
1901 Census
Age 11, at school, living with his grandmother Ann Buxton, sister Caroline 9 and uncles Chris and William Buxton at 5 Thorneywood Lane, Nottingham. William's father had died in 1892 and his mother married Walter Parr in 1898.
1911 Census
Living with his grandmother, Ann Buxton, sister Caroline, machinist, and uncle Christopher, carter, at 5 Thorneywood Lane, Nottingham. Occupation: butcher. His mother Clara, step-father Walter and three young step-sisters were living next door.
1914 Electoral Register
Address Notts. County  Asylum.
He was employed at Notts. County Asylum (Saxondale); he is listed in their records as an employee who left to serve in the Armed Forces.
Military Service
Rank: Private, Corporal  on demobilisation
Service Number: 030319
Military Unit: Army Service Corps
Theatre of War: France and Flanders, date of entry 26.5.15. Total war service abroad 3 years 3 months
Attested: 12th Nov 1914 in Nottingham, age 25
Address: Notts. County  Asylum
Occupation: butcher
Height 5ft 8 ins, chest 39 ins, weight 158lbs.
Next of kin given as mother, Clara Parr 3 Thorneywood Lane, Nottingham. After his marriage in 1915, next of kin changed to Annie Lizzie Rushton, Rose Cottage, Radcliffe on Trent.
17.11.14: Aldershot
12.11.14 to 25.5.15: Home
30.1.15: Promoted Corporal
3.2.15 : Transferred to 12th Division Mechanical Transport Company (Supplies)
26.5.15: France
13.12.15 to 21.12.15: Leave
12.1.17 to 22.1.17: Leave
22.1.18 to 5.2.18: On furlough from overseas
6.2.18 to 30.3.19: France
3.12.18 to 17.12.18: Leave
30.3.19: Transferred to UK for release from Service
29.4.19: Transferred to Class Z for demobilization
Medals Awarded: 1914-15 Star British War and Victory
Military Personnel Address on 1918 Electoral Register
Rose Cottage, Main Road, Radcliffe on Trent
Other Information
His uncle Walter Buxton, butcher and farmer of Marlock House, Lowdham, supplies a reference on the military record as to William's character and previous occupation. Walter states that his character is 'sober, honest and good in every way' he is an 'all round butcher' and 'he can slaughter bullocks'. He adds that William had been employed by him as a butcher for 4 years.
It is clear from an article in the Nottingham Evening News that William Buxton worked at the Asylum in September 1912. Both he and Ernest Bemrose were witnesses at an inquest into the death of a patient.
Buxton returned to work at the hospital after the war. He was one of seventy-three staff to lose their jobs following a nurses' strike from 11–12 April and was dismissed on 13 April by Notts County Council for 'misconduct'. Buxton was on leave during the strike and was not involved in strike action. Nevertheless he lost his job, possibly if he was known to be a member of the National Asylum Worker's Union.
1921 Census
Address: Notts County Mental Hospital
Employment: Male Nurse
Household: living in
1922 Electoral Register
Address: The Harlequin, Radcliffe on Trent
1939 Register
Address: Main Street, Melton, Leics.
Occupation: fish, fruit and vegetable roundsman
Special Constable
Household: wife Annie born 10.2.1893, and daughter Daisy, domestic servant. Daisy's married name Butler.
Reasons for inclusion on Radcliffe on Trent Roll of Honour
Worked at Notts. County Asylum in the parish of Radcliffe on Trent and lived in the village during the war years.