WILLIAM CYRIL VICKERSTAFF 1897–1918

Photograph from family collection

Born April 1897, Radcliffe on Trent
Died at sea 27th May 1918, age 21
Commemorated on Chatby Memorial to the 'Missing', Alexandria, Egypt and on Radcliffe on Trent War Memorial
Radcliffe on Trent School Register
Admitted 23.4.1900
1901 Census
Age three living on Victoria Street, Radcliffe on Trent with father Samuel, twenty-eight, mother Elizabeth, thirty, and was described as Cyril William in the census. His father was a bricklayer. His grandparents were William Vickerstaff (born circa 1845), a builder and Eliza (born circa 1851).
1911 Census
Age thirteen at school, living on Cropwell Road, Radcliffe with his parents and twin brothers age six (John Archibald and Samuel Percy), also at school. Described in the census as William Cyril.
Military Service
Rank: Private
Service Number: 280626; previous number 1680
Military Unit: 1/1st Nottinghamshire Yeomanry (South Notts. Hussars), 1st Mounted Division
Theatre of war: Balkans (Salonika), date of entry 12.9.15, then Egypt. Total war service abroad 2 years 8 months
Death of William Vickerstaff
The 1st Mounted Division arrived in Egypt in July 1917 and was placed under orders of Desert Mounted Corps. In April 1918 the division merged with the Warwickshire Yeomanry to form Battalion B of the Machine Gun Corps. In May 1918 its troops were transferred to France.
William Vickerstaff died on 27 May 1918 while being conveyed on the troopship HMS Leasowe Castle from Alexandria to Marseilles. The ship was carrying 2,900 troops plus crew in a convoy consisting of six transports including HMS Lily. The ship was struck on the starboard side at 12.25 a.m. approximately 100 miles from Alexandria by a torpedo fired from a German submarine. Around forty boats and rafts were thrown overboard and troops began leaving the ship. HMS Lily returned to assist, narrowly escaping going down with the Leasowe; rescue operations were carried out until about 2 a.m. when the ship sank rapidly at the stern. 102 men lost their lives: eight officers and forty-four other ranks from the South Notts. Hussars including William Vickerstaff. The majority of the men on board were saved. Rescued men returned to Egypt then finally arrived in Italy, June 21st 1918 from where they moved on to Etaples, France arriving August 19th 1918. They were then renamed 100 Battalion MGC (source www.1914-1918.net).
Medals Awarded: 1914–1915 Star, British War and Victory Medal
Pensions Record Card
His mother was a claimant for a pension but there is no further information.  Her address was given as 15 Lincoln Grove, Radcliffe.
Other information
There were several Vickerstaff families in Radcliffe at the time of the war. Eleven men from Radcliffe on Trent with this name served; William was the only casualty among them. Sam Haynes, also from Radcliffe and serving with the South Notts Hussars, narrowly escaped with his life when involved in the same military incident.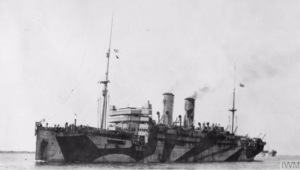 HMS Leasowe Castle IWM Q64269
Go to WWI Timeline to see how this man's death is part of the wider story of the war.
Reasons for inclusion on Radcliffe on Trent Roll of Honour
Born and lived in Radcliffe on Trent with parents and siblings
Chatby Memorial, Alexandria, commemorating those lost at sea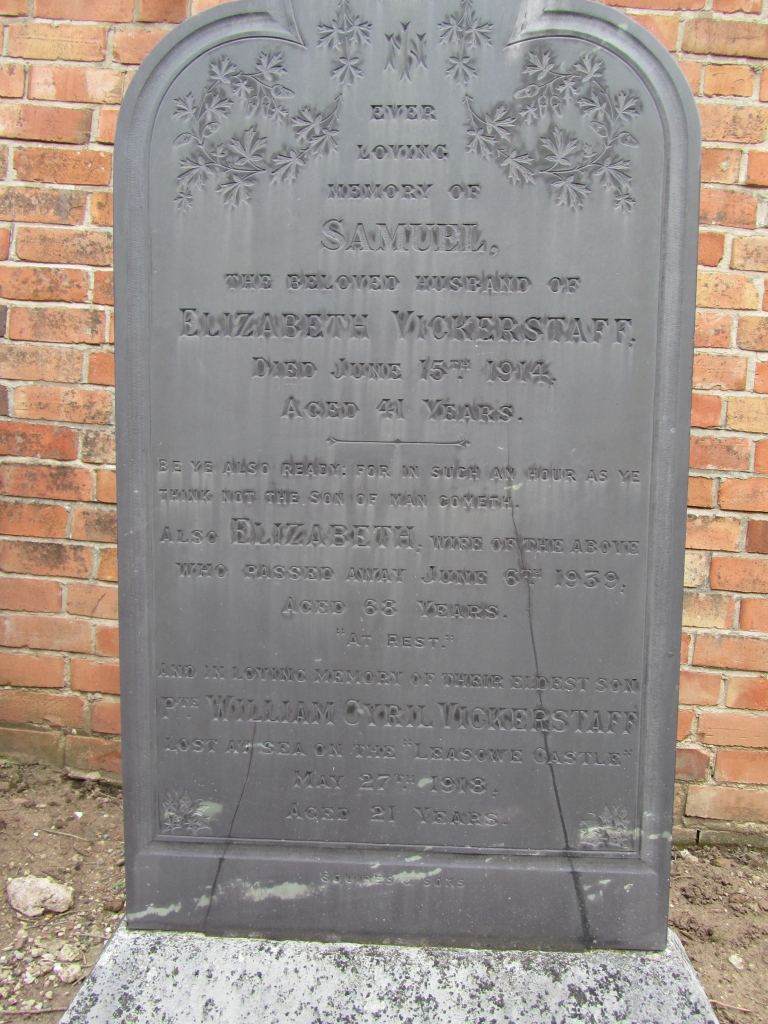 The family grave, commemorating William Cyril Vickerstaff at Radcliffe on Trent Cemetery. Courtesy of Peter Gillings