HENRY (HARRY) VOCE 1885–1914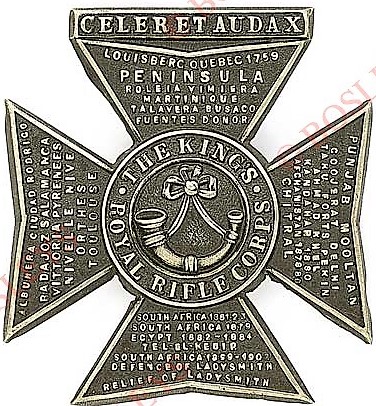 Born 15th March 1885 Wilford, Nottingham, son of Arthur Voce and Mary Isabella Farrell
Baptised 28th July 1890 St Ann's Church, Nottingham.
Killed in action, September 10th 1914, at the Battle of the Marne. Age 29
Commemorated on La Ferte-Sous-Jouarre Memorial, Radcliffe on Trent War Memorial, Notts County Asylum (Saxondale) Memorial and Broad Street Wesleyan Chapel War Memorial, Nottingham (see other information).
1891 Census
Age six living at 11 Bombay Street, St Ann's, Nottingham, with father Arthur, a blacksmith, mother Mary Isabella, who had nine children, brother Arthur, twelve, and sisters Agnes, ten, Maria, eleven, Kate, three, Rebecca, one. The household included  Isabella Farrell, grandmother and Agnes Farrell, wife's sister.
1901 Census
Age sixteen living with his widowed mother Mary, forty-four, in St Ann's at 14 Abbotsford Street, with five siblings: Agnes, Maria, Kate, Rebecca, Ethel, eight, his mother's brother in law Robert, thirty-four, and two cousins: James Farrell, ten and William Farrell, six.
1911 Census
He was serving with the Kings Royal Rifle Corps, stationed in India.
Military Service before 1914
Rank: Rifleman
Service Number: 6246
Military Unit: 4th Battalion, Kings Royal Rifles
Enlisted January 4th 1905 as Harry Voce. Age 18
Occupation: twist hand. Height 5ft 6ins, weight 125 lbs, chest 34¾ ins, brown hair, brown eyes. Two tattoos.
January 1905 – December 1905: Home
December 1905–December 27th 1912: served in India, in Rawalpindi with the 4th Battalion, Kings Royal Rifles
9.3.06: Passed 3rd Class Certificate of Education. Passed Class of Instruction in Mounted Infantry duties at Fategarh
While in India Harry was hospitalised in Jubbulpore (now Jabalpur) in 1907 with dysentery and in 1909 with malaria. Brought home prematurely from India under the authority of the War Office.
Transferred to army reserves on expiration of seven years service on 31.12.12. Character good.
On discharge he gave his intended place of residence as his mother's home address of 11 Grimsby Terrace, Watkin Street, Nottingham.
Worked at some point between December 1912 and August 1914 at Notts. County Asylum with fellow reservists Wilfred Madeley and Sam Haines, also of the Kings Royal Rifles. They were working as attendants at the Asylum when war was declared.
Military Service from August 4th 1914
Rank: Rifleman
Service Number: 6246
Military Unit: 1st Battalion, Kings Royal Rifles, 6th Brigade, 2nd Division
Theatre of War: France and Flanders, date of entry 13.8.14
5.8.14: Mobilised at Winchester, transferred to the 1st Battalion
10.9.14: Killed at the 1st Battle of the Marne. Correspondence with widowed mother Mary from war office re Medals. Brother Arthur also named as next of kin.
Medals Awarded
Coronation, Durban, 1914 Star with clasp, British War and Victory. Medals sent to his mother at 11 Grimsby Terrace, Watkin Street, Nottingham. She received the 1914 Star on July 4th 1919, British War Medal on  January 8th, 1921 and the Victory medal on March 26th 1921.
Go to WWI Timeline to see how this man's death is part of the wider story of the war. 
From the War Diaries of the  King's Royal Rifle Corps,  9th and 10th September 1914
On September 10th, the 1st Battalion left Compru, moving north. The enemy lined the side of the road at Hautesvesnes and opened fire. Heavy fighting for 1½ hours ended when the enemy put up the white flag. Four officers, 10 NCOs and 2 riflemen were killed. 5 riflemen were missing and 60 men were wounded.
View a copy of the original K.R.R.C. War Diary for the day of Harry Voce's death
Other information
His mother Mary was awarded a War Office pension of 9 shillings (45p) per week from 30.5.17.  This was increased to 12 shillings 6d (62p) per week from 14.12.18, then to 15 shillings per week from 5.12.21.  His mother died on 29.4.26.
Name is Henry on birth records, 1891 and 1901 Censuses. Name is Harry on military, death, medal roll index cards, H. on Radcliffe on Trent and Henry on Saxondale War Memorials. He may be distantly related to the famous cricketer, William Voce (born Annesley Woodhouse, 1909).
Broad Street Wesleyan Chapel was closed in 1954 and became the Broadway Cinema in 1989. The memorial was transferred to the Nottingham Central Methodist Mission, Low Pavement, Nottingham where it was re-dedicated in a service attended by  large gathering including the band and members of the Sherwood Foresters, the Boys Brigade, Girl Guides and descendants of the twenty-eight men commemorated.
Harry Voce was the first man from Radcliffe on Trent to be killed in the Great War.
Reasons for inclusion on the Radcliffe on Trent Roll of Honour
Worked in the parish of Radcliffe on Trent at Notts. County Asylum.
La Ferte-Sous-Jouarre Memorial