WILFRID (WILFRED) MAY 1888–1917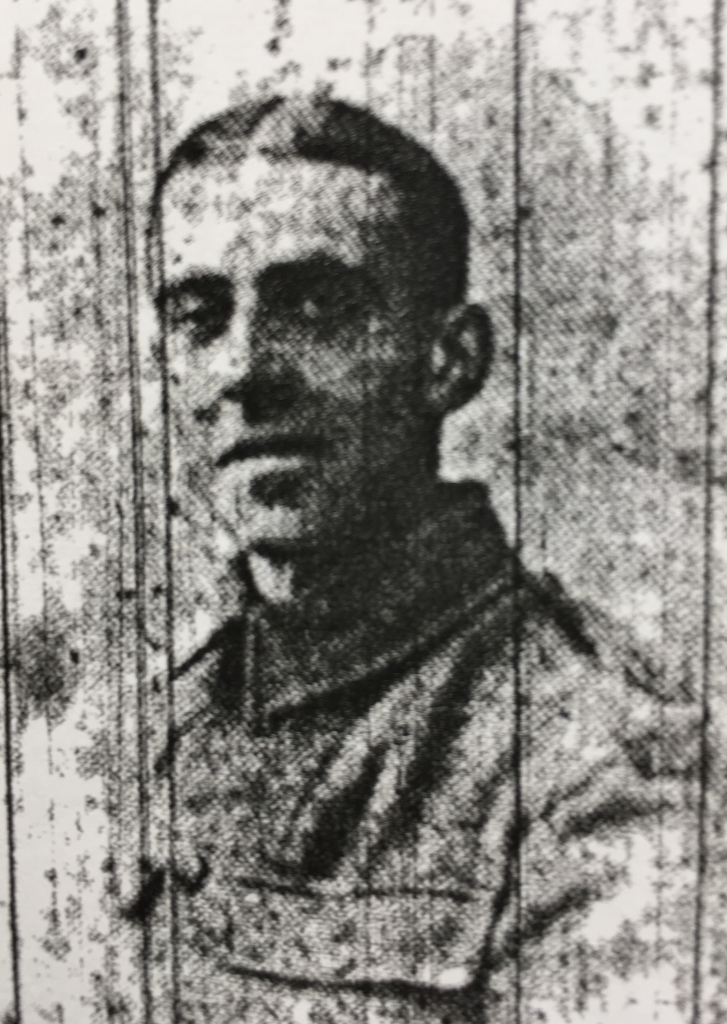 Photograph from Newark Advertiser
Born in Carlton on Trent, Nottinghamshire in Oct–Dec 1888.
Died of wounds: 2nd January 1917 at the Military Hospital Eastbourne, age 28.
Buried in St Mary's Churchyard, Carlton on Trent.
Commemorated on St Mary the Virgin Church Parishioners War Memorial, Carlton on Trent, and Newark Magnus Grammar School War Memorial, St Mary's Church, Newark.
(Name recorded as Wilfrid on the Commonwealth War Graves Commission website and censuses; Wilfred on military records. Age on CWG also incorrect.)
1891 Census
Age 2, living at Carlton Lodge, Carlton on Trent, Notts with father Daniel, 51, maltster, mother Sarah Hannah, 40, brothers Dan, 9, Eustace Harry, 7, and servants Annie Moorley and Fanny Priscilla Batty.
1901 Census
Age 12, living at the Lodge, Main Street, Carlton on Trent with parents, brother Eustace, Mary Longmate, housemaid, and Elizabeth Longmate, cook.
1911 census
Age 22, a bank clerk, living at Carlton on Trent with father Daniel, mother Sarah, brother Eustace and servants Mary and Elizabeth Longmate. The house had nine rooms.
Military Service
Rank: Private (Rifleman)
Service Number: A/200168
Military Unit: 17th Battalion, Kings Royal Rifle Corps. Formerly 4320, 1/5th Battalion, London Regiment (London Rifle Brigade).
Theatre of War: France
No military service record found. The following information is from the Newark Advertiser, 10th January 1917:
'FUNERAL AT CARLTON-ON-TRENT'
'With regret is recorded the death from wounds of Rifleman Wilfrid May, which occurred on the 2nd of this month. Deceased, who was a son of the late Mr Dan May of Carlton-on-Trent, resided at The Hollies, Radcliffe-on-Trent, and was well known locally, being at one time on the staff of the Union of London and Smiths' Bank. He joined the London Rifle Brigade in March 1916 and was transferred to the King's Royal Rifle Corps in November 1916. During the battle of the Somme he was wounded by shrapnel in the left arm and brought to the Military Hospital, Eastbourne, where the left arm was amputated after two operations. Death was due to septic poisoning.
The funeral took place at Carlton-on-Trent, when a large number of people congregated in the Church. The Rev. R.C. Smith (Radcliffe-on-Trent) took the first part of the service and the Rev. J. K. Jacques (Carlton-on-Trent) the committal'.
Address at date of death: the Hollies, Radcliffe on Trent. The Hollies was on Cropwell Road, between Victoria Street and Albert Street.
UK Registers of Soldier's effects: £9:11:7 plus £3 War gratuity to brother Dan.
Medals Awarded: British War and Victory
Other information
Wilfrid was a former pupil of Newark Magnus Grammar School. He was later employed as a bank clerk by the Union of London and Smith's Bank.
Note: The only bank in Radcliffe on Trent in Wright's Directory for 1915 is Union of London and Smiths Bank Ltd. It was open four mornings in the week. It is very likely that Wilfred was employed there.
Reason for inclusion on the Radcliffe on Trent Roll of Honour
Lived in Radcliffe on Trent during the war.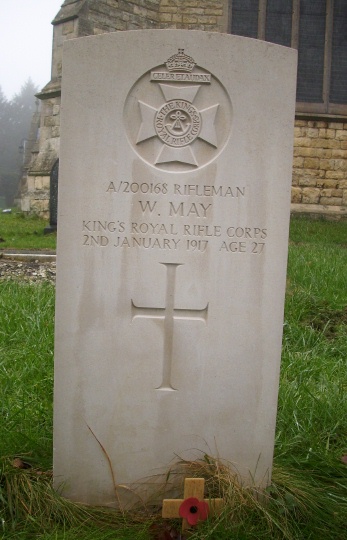 St Mary's Churchyard, Carlton on Trent
Inscription on family headstone:
'Pte Wilfrid, son of the late Daniel and Sarah Hannah May, The Lodge, Carlton on Trent, died Jan 2nd 1917 aged 27 years. May he rest in peace.'