THOMAS WILLIAM BARTRAM 1881–1955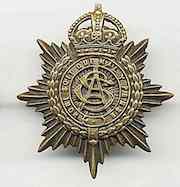 Also known as Joseph William Bartram on his military service records
Born 23rd September 1881 at Tamworth, Staffordshire
Baptised 13th October 1881 St Edith's Church, Tamworth, Staffs. Home address 17 Hall's Row, Tamworth
Married on Christmas Day 1916 to Evelyn May Buxton of the Cliffe Inn, Radcliffe on Trent
Died: 21st July 1955, buried Radcliffe cemetery (S267, headstone)
1891 Census
Age 9, living at Tamworth with his father, Thomas, a miner and a widower, sisters Florence 13 and Ann 11 and a younger brother Albert 7.
1901 Census
Age 19,a stable lad lodging with the Shorter family at Letcombe Regis in Berkshire.
1911 Census
Age 29,  moved to the Marshall's farm at Adbolton where he is described as a stud groom.
Military Service
Rank: Private then Farrier Sergeant, then Sergeant
Service Number: R/4/095122
Military Unit: Army Service Corps 35th Remount Squadron (responsible for the provisioning of horses and mules)
Theatre of War: France and Flanders, date of entry 23.12.17
Attestation 22.4.1915 at Romsey, Kent, age 33 years 6 months.
Name given as Joseph William Bartram.
Occupation: stud groom. Height 5ft 8¼ins, chest 37ins, expansion 2½ins. Religion C. of E.
Home address Tamworth at attestation, later amended to Cliffe Inn, Radcliffe on Trent.
Next of kin Evelyn May Bartram, Cliffe Inn, Radcliffe on Trent
21.4.15: Letter from Major C.E. Fenwick to the Recruiting Sergeant, Remount Depot, Romsey:
'I am sending my servant to you to be enlisted.  His name is J.W. Bartram & he has been my stud groom till now.'
Home 22.4.15 to 21.12.17; Expeditionary force France 24.12.17 to 9.3.19; home 10.3.19 to 20.7.19
13.9.15: Appointed Acting Farrier Sgt at Romsey Remount
27.3.16: Promoted Farrier Sgt
21.4.17: Romsey.  Severely reprimanded and forfeited 1 day's pay for being absent from stables from 6.30 a.m. till 7.30 a.m. when on active service
22.12.17: Embarked Southampton
23.12.17: Disembarked Havre ex S.S. 'Huntscraft'
24.12.17: Expeditionary force France; 35 Remount Squadron, No.3 Base, Remount Depot
France: Elected to draw ordinary ASC rates of pay and the benefits of A.O.1 of 1918.
Granted pay of Sgt and 5th rate Corps pay with effect from 22.12.17
9.2.18: Relinquished duties of Farrier Sgt; further service Sgt
7.12.18: 14 days leave to 21.12.18
20.3.19: Admitted influenza
30.3.19: To England per A.T. (Ambulance Transport) 'Formosa' (Influenza) N.B.'Formosa' was a hospital ship
10.3.19 to 10.6.19: 92 days in hospital with Influenza:
Weak and debilitated. Pain in R. ear. R. nasal discharge & cacosimia (disorder of the sense of smell).  Poly….hypt. ….curbinal removed.
Transferred to Military Hospital, Clipstone, Notts.
20.6.19: Discharged to Dispersal centre
20.7.19: Demobilised.  Military character V. Good
Medals Awarded: British War and Victory
Other information
Described in marriage register, 25.12.1916 as being on active service.  Witnesses to marriage, H. Parr and Hilda Parr.
Military Personnel Address on 1918 Electoral Register
Bailey Lane, Radcliffe on Trent
1939 Register
Address: 1 Highfield, Ware, Hertfordshire
Occupation: Stud groom
Household: living with wife Evelyn
1955
Address at date of death 36 Bailey Lane, Radcliffe on Trent (on Probate)
Reasons for inclusion on Radcliffe on Trent Roll of Honour
Living in Radcliffe on Trent in 1918 and when he died in 1955.