JOHN DENNIS BATES 1878–1950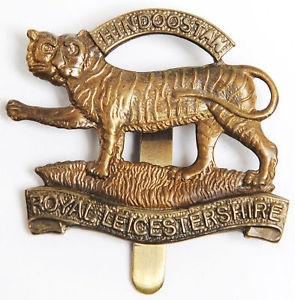 Born 22nd July 1878 in Radcliffe on Trent
Baptised 25th September 1878 at the Wesleyan Methodist Church, Radcliffe on Trent
Married Sarah Jarvis, 1910 at Cannock
Daughter Elsie May born 31st May 1911, son Harold was born 17th July 1920, baptised 8th August 1920
Died March quarter 1950, age 71, Bingham district, buried Radcliffe cemetery (D131, headstone)
1881 Census
Age 2, described as Dennis on census, living with family at 3 Bolton Terrace, Radcliffe on Trent. Parents John and Sarah, siblings Elizabeth born 1865, Read born 1869, Jane born 1871, Sam born 1874, Ezra born 1876. Father John was a shoemaker.
1891 Census
Age 12  at school living on Bolton Terrace with family. Father a cordwainer.  Dennis on census.
1901 Census
Family living at Bolton Terrace. Father a shoemaker and journeyman. John Dennis was in regular army, stationed in Egypt.
1911 Census
Age 32, a grocer, married to Sarah, living on Bingham Road, Radcliffe on Trent. Census "John Dennis".
Military Service before 1914
Rank: Private
Service Number: 4750
Military Unit: Leicester Regiment
Enlisted 11.8.1896
Age at enlistment: 18.
Occupation given as baker. Height 5ft 6ins, brown eyes, brown hair. Religion: Wesleyan
11.8.1896 – 6.2.1900: Home
7.2.1900 – 14.12.1903: Egypt
15.12.1903 – 10.8.1908: Home
10.8.1908: Discharged, termination of 12 years of service
Military Service from 1914
Rank: Private
Service No: 5/126871
Military Unit: 7th Recruits Distribution Battalion, The Training Reserve.
11.12.1915: Re-enlisted, Trinity Square, Nottingham for duration of war. Occupation: press hand, munitions
Age:  37
20.3.1918: Mobilised
25.3.1918: Joined army
31.3.1918: Admitted to Ripon military hospital
21.8.1918: Still in hospital
10.9.1918: Discharged no longer fit, 'useless for military service' after having an operation for intractable folliculitis involving lower part of face and chin. He 'contracted disease while working in a munitions factory last year. Has been under treatment ever since'.
Pension given 6 shillings 10d for 13 weeks (34p)
Medals Awarded: ineligible for campaign medals as served in the U.K. Silver War Badge B290955
Military Personnel Address on 1918 Electoral Register
Bingham Road, Radcliffe on Trent
Other information
John Bates stated that he was undergoing medical treatment from May 1917 onwards for disease contracted in munitions factory.
1910-1911, 1913-14, 1915 and 1920 Wrights Directories – Confectioner and tobacconist, Bingham Rd
1921 Census
Address: Bingham Road, Radcliffe
Employment: Steel Grinder, Cammel Lairds Engineers, Kings Meadow Road, Nottm.
Household: Wife Sarah, daughter Elsie, son Harold
1922 Electoral Register
Address: Bingham Road, Radcliffe on Trent
Household: John and his wife Sarah
1939 Register
Address: living at The Harlequin, Radcliffe on Trent
Occupation: Advertising distributor
Household:  living with wife Sarah.
Reasons for inclusion on Radcliffe on Trent Roll of Honour
Born, lived and worked in Radcliffe on Trent