THOMAS HULL SIMPSON 1889–1955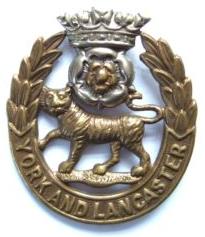 Born 1889 in Cotgrave, Nottinghamshire
Married 7th August 1916 to Mabel Footitt, son Peter born 1921, son Allan born 1924 and daughter Vera born 1927
Died in 22nd April 1955, age 65
1891 Census
Age 1 living at No. 2 Wilds Farm in Colston Bassett with father George, mother Catherine, brothers William 9, Samuel 7 and sister Alice 4.
1901 Census
Age 12 living at James's buildings in Cotgrave with parents, brothers George, 8, Herbert, 5 and sisters Sarah 9 and Mary A 15 months.
1911 Census
Age 21 living in Chapel Yard, Cotgrave with father George and mother Catherine, brothers, George 18 and Herbert 15 and sisters Emily 13 and Mary Ann 11. He is employed as a farm labourer.
1914: Member of National Union of Railwaymen
Military Service
Rank: Private
Service Number: 31510 (York and Lancaster), formerly 6331 (North Staffs)
Military Unit: 13th Battalion, York and Lancaster Regiment, formerly 14th Battalion, York and Lancs Regiment, initially 3/5th Battalion North Staffs Regiment
Theatre of War: France and Flanders
11.12.15: Enlisted at Radcliffe on Trent, age 26 years 183 days
12.12.15: To Army Reserve
15.6.16: Mobilised and joined for duty at Newark on Trent
16.6.16: Attestation and medical history approved at Derby; age 27 years 1 month; occupation casual labourer; height 5ft. 5½ ins; weight 121 lbs; chest 35 ins; religion Wesleyan; physical development good
20.6.16: Posted 3/5th N. Staffs, Private 6331
26.9.16: Embarked Folkestone and disembarked Boulogne
13.10.16: Transferred to 5th Reserve Bn Yorks & Lancs and posted to 14th Bn Yorks and Lancs who fought at the battle of Ancre 13.11.16, Private 31510
16.10.16: Joined Battalion in the Field
18.2.17: Admitted 94 Field Ambulance: sprained thigh
22.2.17: Admitted 29 Casualty Clearing station: sprained thigh, left
5.3.17: Rejoined Unit
7.5.17: Admitted 51 Field Ambulance: Myalgia (muscle pain)
10.5.17: Admitted 42 Casualty Clearing Station: Myalgia
10.5.17: Admitted XI General Hospital, Camiers: Myalgia
21.5.17: Admitted 6 Con. Dep. (Convalescent Depot), Etaples: Myalgia
28.5.17: Admitted 5 Con. Dep, Cayeux: Myalgia
9.7.17: Joined 34 IBD (Infantry Base Depot), Etaples
Wounded
16.10.17: Wounded in action. Admitted 93 Field Ambulance: G.S.W. (gunshot wound) back
16.10.17: Admitted 42 Casualty Clearing Station: G.S.W. back
20.10.17: Admitted 1 Australian General Hospital, Rouen
22.10.17: To England per Australian ambulance ship Warlida: G.S.W. back
24.10.17: Admitted to Queen Mary's Military Hospital, Whalley, Lancashire
Medical report: Wounded 16.10.17 (shell). Small F.B. (foreign body) removed from back; entrance wound and track excised. B.I.P-ped (?) and stitched up. Condition good
7.12.17: Discharged after 45 days in hospital and granted a furlough of 10 days
23.1.18: Posted Ripon
15.3.18: Posted 3rd Reserve Battalion, Sunderland
26.3.18: Deprived 10 days pay (no reason given)
2.4.18: Posted to British Expeditionary Force, France
2.4.18: Joined Infantry Base Depot, Etaples and posted 13th Battalion
6.4.18: Joined Battalion in the Field
28.7.18: Att 31 Div Agricultural Offices
2.10.18: Rejoined Battalion
10.10.18: Appointed unpaid Corporal
14.12.18: Appointed paid acting Corporal
6.2.19: To England from Boulogne. Trade: Farmer. Dispersal area 6b
20.2.19: Medical category A1
9.3.19: Demobilised. Rank Corporal on demobilisation papers, but Private on medal rolls cards
Specialist military qualification: Rifleman, Lewis Gunner
Medals Awarded: British War and Victory
Military Personnel Address on 1918 Electoral Register
'The Chestnuts', Main Road, Radcliffe on Trent. Address also given on his demobilisation papers.
1921 Census
Address: Church Street, Cotgrave
Employment: Grantham Canal labourer for Great Northern Railway
Household: wife Mabel and son Peter
1939 Register
Address: 2 Smith's Yard, Cotgrave, Notts.
Occupation: casual labourer, Railway Engineer railway repair staff
Household: living with wife Mabel, born 20.8.1889, son Peter, gardener at a private house, son Allan, grocer's assistant and daughter Vera who was at school
Other Information
Will – died 22 April 1955 at 8 Church Lane, Cotgrave.
Reasons for inclusion on Radcliffe on Trent Roll of Honour
Radcliffe on Trent address in 1918.