GEORGE NEWTON NEWHAM 1885–1952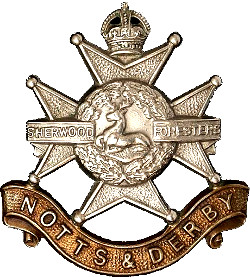 Born 29th November 1885 in Carlton, Nottingham
Baptised 5th May 1886 St Paul's Church, Carlton in the Willows. Home address, Worth's Yard
Married  23rd October 1917 to Florence Lily King, Basford. 
Children Eileen, born 1919, George Ernest born 1913, Richard born 1922, Ronald born 1929
Date of death 23 April 1952
1891 Census
Age 5, living at Wheeldon Mill, Brimington, Chesterfield, Derby with father Samuel (railway labourer), mother Ellen, brothers Fred 9, Henry 7 months and sisters Emily 8, Mary Ann 4 and Ada 3. All the family were born in Carlton, Notts.
1901 Census
Age 15, living in Carlton, Nottingham, with father Sam (bricklayer), mother Ellen, brothers Fred 19 and Richard 9, sisters Emily 17, Mary A 14 and Ada 12. He is employed as a bricklayer's labourer.
1911 Census
Age 25, boarding with Samuel Newton and family at 17 Bloomsgrove Road, Ilkeston. He is employed as a coal miner loader. States incorrectly that he was born in Chesterfield
Military Service prior to WW1
His name is on the list of members of The Sherwood Foresters from Radcliffe-on-Trent who served in WWI.
From Pension Records:
Attested 11.2.04 at Carlton (12.2.04 at Derby), Pte, 9161, Notts. and Derby Regt.
Born in Chesterfield, Derby. Occupation: labourer. Age at enlistment 18 years 2 months. Height 5ft 5½ins, chest 33½ins, weight 126lbs. Enlisted for 3 years in the Army and 9 years with the Reserve. Signed Attestation paper with his mark X
13.2.04: Posted Depot
26.5.04: Posted 2nd Battalion
9.9.04: Recorded as stationed at Parkhurst, Isle of Wight
11.12.04: Granted Housing (?) Allowance
10.2.07: Transferred to Section (B?), Army Reserve
Military Service WWI
Rank: Private
Service Number: 9161.
Military Unit: 2nd Battalion, The Sherwood Foresters, 18th Brigade, 6th Division
Theatre of War: France and Flanders, date of entry 24.9.14
Mobilized at Derby 15.8.1914
Military History sheet:
11.2.04 – 23.9.14: Home (service 10 years and 225 days)
24.9.14 – 29.12.15: British Expeditionary Force France (1 year 97 days)
2.2.15: Awarded 8 days Field Punishment by Commanding Officer for 1) Absence 2) Drunkenness
27.3.15: Awarded 28 days Field Punishment No.1 by CO for Drunkenness
Note: Field Punishment Number One, often abbreviated to "F.P. No. 1″ or even just "No. 1″, consisted of the convicted man being placed in fetters and handcuffs or similar restraints and attached to a fixed object, such as a gun wheel or a fence post, for up to two hours per day. During the early part of World War I, the punishment was often applied with the arms stretched out and the legs tied together, giving rise to the nickname "crucifixion". This was applied for up to three days out of four, up to 21 days total. It was usually applied in field punishment camps set up for this purpose a few miles behind the front line, but when the unit was on the move it would be carried out by the unit itself.
In Field Punishment Number Two, the prisoner was placed in fetters and handcuffs but was not attached to a fixed object and was still able to march with his unit. This was a relatively tolerable punishment.
In both forms of field punishment, the soldier was also subjected to hard labour and loss of pay. (Wikipedia)
17.12.15: Shell wound left foot
30.12.15 – 31.5.16: Home (153 days)
15.2.16: Joined 3rd Bn, D Company
21.4.16 – 2.5.16: Forfeits 12 days' pay Royal Warrant.
1.6.16 – 20.3.18: B.E.F. (1 year 293 days)
16.11.16: 14 days Field Punishment No 1
21.3.18 – 28.12.18: Bullet wound right thigh, Prisoner of War (283 days)
1.10.18: Red Cross Enquiry Lists report as missing
19.10.18: Still at P.O.W. camp, Soltau. His prisoner record states his right leg and hip were broken and that he was previously held at Aachen (possibly while travelling from Mons to Soltau)
  ?.11.18: Held at Hameln P.O.W. camp, previous location Munster Lazerett (the military hospitals serving Soltau camp).
20.01.19: Released P.O.W. from Germany, arrived in England. Next of kin address: Ilkeston (from Forces War Records)
16.4.19: Discharged being no longer physically fit for War Service. Character Fair. Address 21, Mount Pleasant, Carlton, Nottingham
Total years of service: 15 years, 65 days
'Will be Awarded a pension of 45% for life. In receipt of a pension of 20% or over from 17.4.19'.
Bounty allowance under Army Order 209 of 1916 £20.00. Already allowed £6.10.4. Balance to be…? subsequently as laid down in A.O. £13.6.8
Assessed 50% disability 21.9.22
20 shillings (£1) with an additional 11 shillings 9d (59p) for his wife and 2 children.
Medals Awarded: 1914 Star, British War and Victory, Silver War Badge No. B182704
Military Personnel Address on 1918 Electoral Roll:
No reference
Address on The Sherwood Foresters Roll
6 Main Street, Radcliffe on Trent
1921 Census
Address: Mount Pleasant, Carlton
Employment: miner, top worker
Household: wife Florence, daughter Eileen, son George
1939 Register
Address: 37 Vale Road, Carlton, Nottingham
Occupation: unemployed
Household: living with wife Florence born 23.5.1884, Ronald Newham, age 10 at school and one other person
Reasons for inclusion on Radcliffe on Trent Roll of Honour
His name is on the list of members of The Sherwood Foresters from Radcliffe on Trent who served in WWI.