SAMUEL BERNAL OSBORNE (OSBOURNE)
1899–1918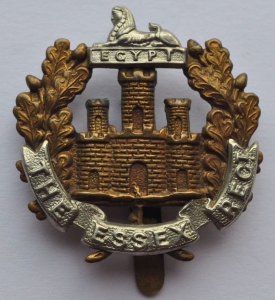 Born 1899 in Radcliffe on Trent.
Baptised 14th May 1899 St Mary's Church, Radcliffe on Trent
Killed in action 2nd September 1918
Commemorated as Bernard Osborne, Vis-en-Artois Memorial, panel 7, France
Commemorated on Radcliffe on Trent War Memorial as Bernal Osborne
(His name is given as Samuel Bernal Osborne on the birth register)
Brother of Francis Percy Osborne 
1901 Census
Age 2 living at The Harlequin, Radcliffe on Trent, with father Richard 32, labourer, and mother Mary 34.
1911 Census
Age 12, at school living on Bingham Road, Radcliffe on Trent, with father Richard, general labourer, mother Mary and brother Percy 8.
Military Service
Rank: Private
Service Number: 46908
Military Unit: 2nd Battalion Essex Regiment, 12th Brigade, 4th Division. Formerly 31841 Sherwood Foresters
Medals Awarded: British War and Victory
Go to WWI Timeline to see how this man's death is part of the wider story of the war.
Samuel Osborne was killed in France on 2nd September, 1918
His mother, Mary Ann Osborne of Bertram Street, Nottingham, received a pension of 6/6d (32p) per week for life
From the War Diaries of the 2nd Battalion Essex Regiment, August 1918
 August 31st 1918
British Front Line East of Arras, Eterpigny
The Battalion relieved the 1st Hampshire Regiment in Eterpigny. Very bad relief and only 'A' Company succeeded in getting into position along S.E. edge of village. Remainder of Companies disposed around trenches in O.17.b. Minor enterprise carried out by 'A' Company against Machine Gun position at P.13.d. in Sunken Road was not successful. Casualties:- 2nd Lieut. G.A. Wroe joined Battalion for duty, 4 ORs wounded.
September 1st 1918
B, C and D Coys moved up to assembly positions at night. Casualties:- a/Capt: G. Parker and 2/Lieut E.A. Lane killed 31.1.18. Lieut A. Sloan wounded. 8 ORs killed. 14 ORs wounded. 16 ORs to F.A. (N.Y.D.N. Gas) 4 ORs to F.A.. 4 ORs reinforcements.
September 2nd 1918
Battalion assembled in depth by 4 a.m. in P.13.2 and attacked enemy trenches in P14, P 15 and P16 at 5 am. Attack successful but some confusion caused by other troops occupying same trenches.
Note: OR = Other Ranks; FA = Field Ambulance; NYDN = Medical term for suspected shell shock
Reasons for inclusion on the Radcliffe on Trent Roll of Honour
Born and lived in Radcliffe on Trent.
Vis-en-Artois Memorial, France