ROBERT HUGH BLATHERWICK 1894–1916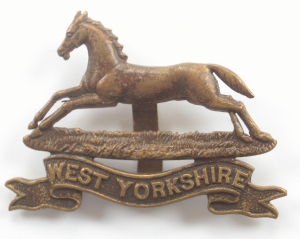 Brother of George Harry Blatherwick
Born 1894 in Radcliffe on Trent, June quarter
Killed in action July 1st 1916, age 22
Buried in Fricourt New Military Cemetery, Dept. de la Somme, Picardie, Plot C5
Commemorated on Radcliffe on Trent War Memorial and University College Nottingham Officer Training Corps War Memorial
1901 Census
Age 7, living with father George, a land surveyor, mother Mary Ellen (née Doncaster), sisters Annie May 10 and Mary 3 weeks, brother George 8 and nurse domestic Eliza Chamberlain 53. They lived on Cropwell Road, Radcliffe on Trent.
1906-1908: Education
He attended Mundella Preparatory School, Nottingham from January 1906 to August 1908.
1911 Census
Age 16 a pupil in his father's office living with father George Harry and mother Mary Ellen, sisters Annie May age 20 assisting at home with housework and Mary Alexandra 10 at school and cousin Herbert Edward, 17, a clerk in a tannery.
Military Service
Rank: 2nd Lt
Military Unit: 10th Battalion, Prince of Wales Own (West Yorkshire Regiment), 62nd Brigade, 21st Division
Theatre of War: France and Flanders, date of entry 21.5.16. Total war service abroad 6 weeks.
15.7.15: References sent from H.S.Barker, Head of Mundella School, recommending him for a commission in the Special Reserves.
6.8.1915: Commissioned as 2nd Lieutenant in the 4th (Reserves) Battalion, West Yorkshire Regiment
Killed six weeks after disembarking in France near Fricourt village, 5km east of Albert on the first day of the Battle of the Somme. The 10th Yorks lost almost all their men and had the highest casualty rate of any battalion on July 1st 1916.
From the War diary of the 10th Battalion, Prince of Wales Own (West Yorkshire Regiment), 20th June – 2nd July 1916
June 20: Bn marched to Mericourt
June  21: Bn general cleaning up  
June 22: Bn marched to Heilly
June 23: General Fatigues & cleaning up
June 24: General cleaning up
June  25: Inspection by G O C 17th Divn General officer Commanding
June  26: Bn marched to Ville
June  27: Moved to trenches Bn Hdqtrs at Happy Valley Trenches
June 28: Two companies withdrawn to Berondel (?) 
June 30: Bn moved to Battle Positions
July 1st: At 7.30 AM the Battn took part in the grand assault. The objective being as in the attached orders. (no attachment is available). On the right were the 7th Divn and on the left were the 21st Divn.  The Battn assaulted in 4 lines.  2 lines got through the German position to the 4th line, & were cut off, the attack on our left having failed. Casualties were very heavy, chiefly caused by machine guns which enfladed our left flanks & were so deadly that the third & 4th lines failed to get across "no man's" land. 22 officer casualties including Lt Col Dixon commanding & Major J Knott 2nd in command. Both killed and approximately 750 O.R. (other ranks). The Battn was then withdrawn to VILLE.
2nd: The Battn marched to HEILLY.  Lt Col H A ROSS was appointed to command & assumed duty this day.
View a copy of the above extract from the original War Diary
Go to WWI Timeline to see how this man's death is part of the wider story of the war.
7.7.16: Robert Blatherwick's death in the field reported by Battalion.
1.8.16: Official report of his death prepared, noting he was killed in action and that he was buried at Fricourt Cemetery, Square F 3,4,5, Row B, Grave 4. The War Office received notification of his death on 7.8.16.
Medals Awarded: British War and Victory
Reason for inclusion on Radcliffe on Trent Roll of Honour
Lived in Radcliffe on Trent with parents and siblings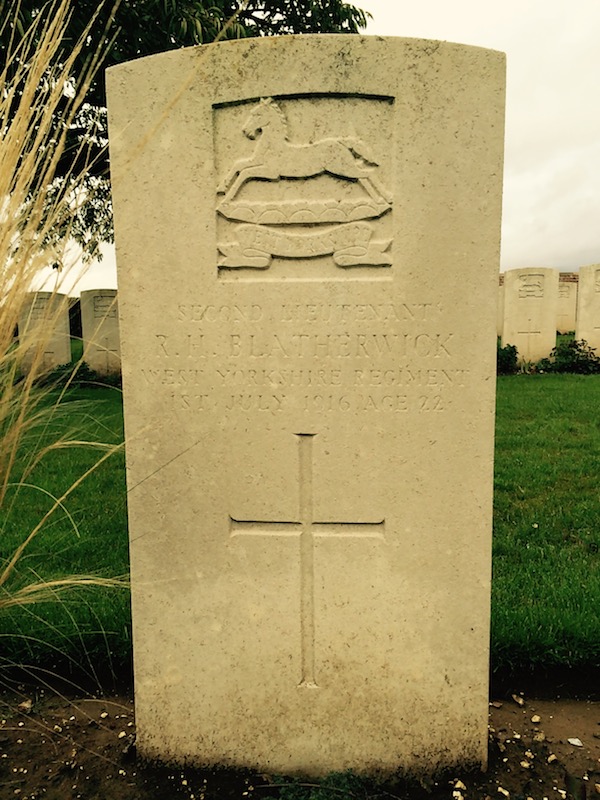 Fricourt New Military Cemetery, France. Photo taken in the early morning, September 2015 by Radcliffe WWI team member.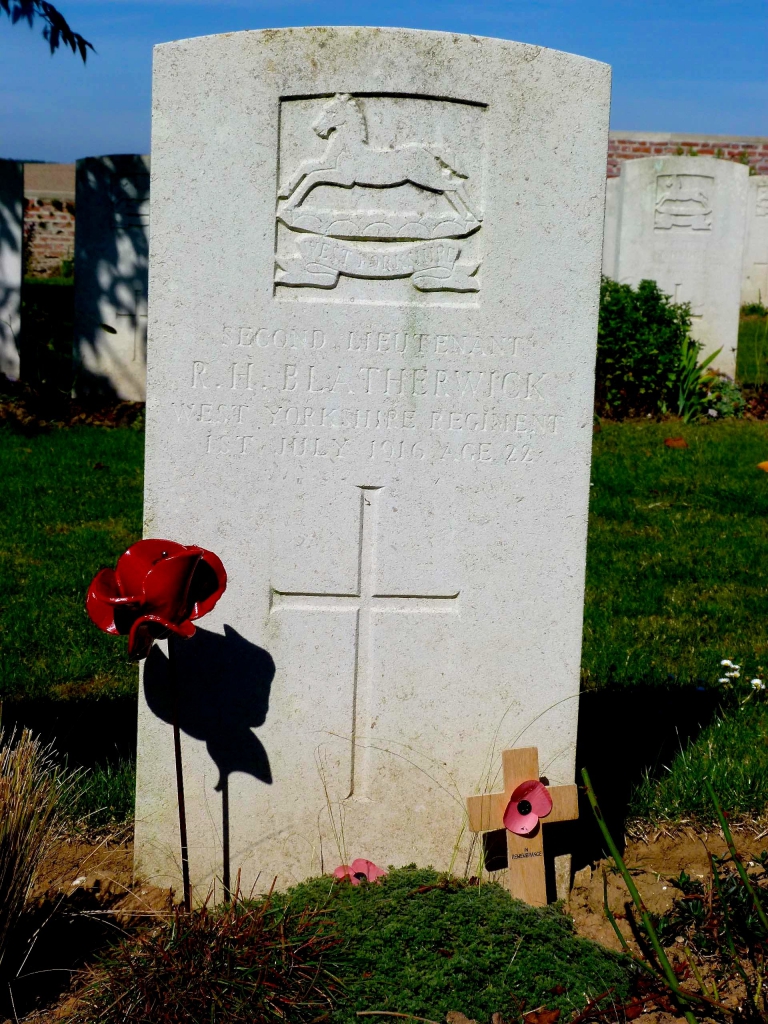 This photo was taken by a Radcliffe on Trent resident in August 2016 during a family commemorative trip to the Somme. After paying respects to her relatives, she visited two of the graves of men from Radcliffe on Trent. The poppy, from the Tower of London installation, was placed at graves and memorials of all the places the family visited before they took photographs.