GEORGE HARRY BLATHERWICK 1892–1915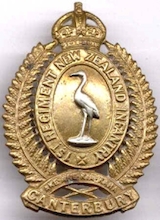 Brother of Robert Hugh Blatherwick, Cousin of Herbert
Born 1892 in Radcliffe on Trent
Missing in action 8th May 1915 at Gallipoli, age 23
Commemorated on Twelve Tree Copse (New Zealand) Memorial, panel 16.1.3, Gallipoli peninsula, Turkey
Commemorated on Radcliffe on Trent War Memorial, Queen's Walk School Old Boys 1914-16 War Memorial, Nottingham
1901 Census
Age 8 living with father George, a land surveyor, mother Mary Ellen (nee Doncaster), sisters Annie May, age 10 and Mary, 3 weeks, and brother Robert 6. They lived on Cropwell Road, Radcliffe on Trent at Ye Nook.
Emigration to New Zealand, 1909
He is listed as a farmer when he left London headed for Wellington, New Zealand on board the ship SS Athenic, 15 October 1909, travelling 3rd class.
Military Service
Rank: Private on enlistment. Promoted Lance Corporal in the field, listed as private on Twelve Tree Copse Memorial
Service Number: 6/1468
Military Unit: 3rd Reinforcements Canterbury Infantry Battalion, The Canterbury Regiment, New Zealand Expeditionary Force
Theatre of War: Balkans
20.12.14: Enlisted at Trentham, New Zealand. Service reckoned from 20.12.14
Height 5ft 7ins. Weight 156lbs, distinguishing marks – mole on left shoulder, complexion fair with blue eyes. He had weak eyesight with vision of 6/20 in both eyes
Occupation: porter, working in the Despatch Department, W. Strange & Co.
13.2.15: Embarked from Wellington New Zealand on vessel Maunganui, Tahiti or Aparima
15.3.15: Promoted Lance Corporal in the field
27.3.15: Disembarked Egypt
1.5.15: Joined battalion
8.5.15: Wounded and missing, Dardanelles. His unit was fighting at Krithia on this day. The military authorities appear not to have known what happened to him. The report of him wounded on 8.5.15. was amended by the Officer in Command of the Canterbury Battalion on 23.7.15 to 'wounded and missing'.
14.6.15: Listed as wounded in the New Zealand WWI Casualty Lists
10.8.15: Listed as wounded and missing in action in the New Zealand WWI Casualty Lists
13.8.15: Obituary in the Wellington Evening Post
7.2.16: A board of enquiry met, convened by order of the Officer commanding the Canterbury Battalion. The board concluded nothing further was known about George Blatherwick's whereabouts.
29.3.16: Cablegram received confirming all enquiries had been made in England and Egypt and that there was no trace of him. Believed to have died 8.5.15. Note in his military record reads 'all death certificates to be made out for May 8th 1915'.
1.4.16: Listed as 'dead, cause unknown' in the New Zealand WWI Casualty Lists
14.7.21: Scroll despatched to his father, George Blatherwick, Cropwell Road, Radcliffe on Trent
His occupation is given as 'despatch clerk' in the New Zealand Notices of Deceased Estates, 1880-1950
Medals Awarded: 1914-1915 Star (sent to his father 4.9.1922), British War and Victory (sent 27.9.1924)
Go to WWI Timeline to see how this man's death is part of the wider story of the war.
Over 100,000 men from New Zealand served in WWI. Around 18,000 lost their lives.
Reasons for inclusion on Radcliffe on Trent Roll of Honour
Born and lived in Radcliffe on Trent.
Obituary from New Zealand newspaper entitled 'Killed in Action'

Evening Post, Wellington  NZ 13 Aug 1915