MATTHEW BAGGLEY 1894–1916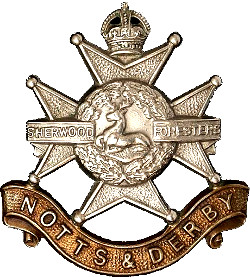 Born February 1894, Radcliffe on Trent.
Baptised 2 April 1894 at St Mary's Church, Radcliffe on Trent.
Died 20 February 1916 of pneumonia, West Harton, Sunderland
Buried Radcliffe on Trent cemetery 23.2.1916
Epitaph on family grave: 'Not gone from memory nor from love, but to his heavenly home above'.
Commemorated on Radcliffe on Trent War Memorial
Radcliffe on Trent School Register
Admitted 22.2.1896
1901 Census
Age 7, living on Victoria Street. Matthew's parents were Annie and Thomas Baggley, 35, a railway platelayer. Annie died shortly after Matthew was born in 1894. Thomas remarried later that year (Rhoda Russell) and they had a son, Bernard.  His children Florence 10, Alfred 9, Matthew 7 and Bernard 5 were at school.
1911 Census
Age 17,  living on Albert Street, Radcliffe on Trent. Matthew was working as an apprentice bookbinder for Edmund Wright, printer, in Bailey Lane. His father Thomas was still working as a railway platelayer. His sister Florence, age twenty, was now boarding in the same street with the Smalley family and working as a dressmaker. Alfred, age 19, was a lace warehouseman and Bernard, 15, was an office boy in an iron foundry.
Military Service
Rank: Private
Service Number: 33634
Military Unit: 3rd (Reserve) Battalion, The Sherwood Foresters
Theatre of War: Training in U.K. at time of death so did not enter a theatre of war
Enlisted 11.12.15 age 21 years 10 months. Served with M Company and joined 3rd Bn. on 27.1.1916
Medals Awarded: Ineligible for campaign medals as he did not serve abroad.
Date of death and cause
20.02.1916 West Harton, South Shields, died of pneumonia (source: Nottingham Evening Post). Location was the military hospital for the Sherwood Foresters. Age 21.
Obituaries
"BAGGLEY. – In loving memory of Pte. Matthew Baggley, Sherwood Foresters, late of Swiss Cottage, Radcliffe-on-Trent, died of pneumonia at West Harton Military Hospital, South Shields. February 20th, 1916. A day of remembrance sad to recall. – Father, mother, and two brothers."
"BAGGLEY. – In loving memory of Pte. M. Baggley, passed away at South Shields, February 20th, 1916. A day of remembrance sad to recall. – His fiancée, Nance."
"BAGGLEY. – In loving memory of our dear brother, Private Matthew Bagley, died February 20th, 1916. A day of remembrance sad to recall. – Florrie and Will."
From The Nottingham Evening Post, 20th February 1917
Other information
Matthew did not serve abroad; he died only two months after enlisting. The 3rd (Reserve) battalion of the Sherwood Foresters was stationed in the U.K. during the war. It is likely that he was undergoing training at the Sunderland military base at the time of his death.
Matthew's brothers Alfred and Bernard both served in the war and survived. Nine of the twelve men working for Edmund Wright in 1911 are known to have served. Six of them were killed in action, died of wounds or died of war related illnesses.
Thomas (father) died 11.11.1945, age 90. His name is inscribed on Matthew's tombstone in Radcliffe on Trent cemetery, together with Alfred's stepmother's name, Rhoda, who died 30.1.1952.
Pension record card
No details of pension allowance although his mother's name and address are recorded as claimant.
Reasons for inclusion on Radcliffe on Trent Roll of Honour
Born, lived and worked in Radcliffe on Trent.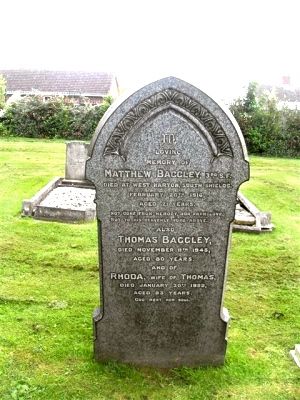 Radcliffe on Trent Cemetery