LUCY ELIZABETH SHARP 1879–1964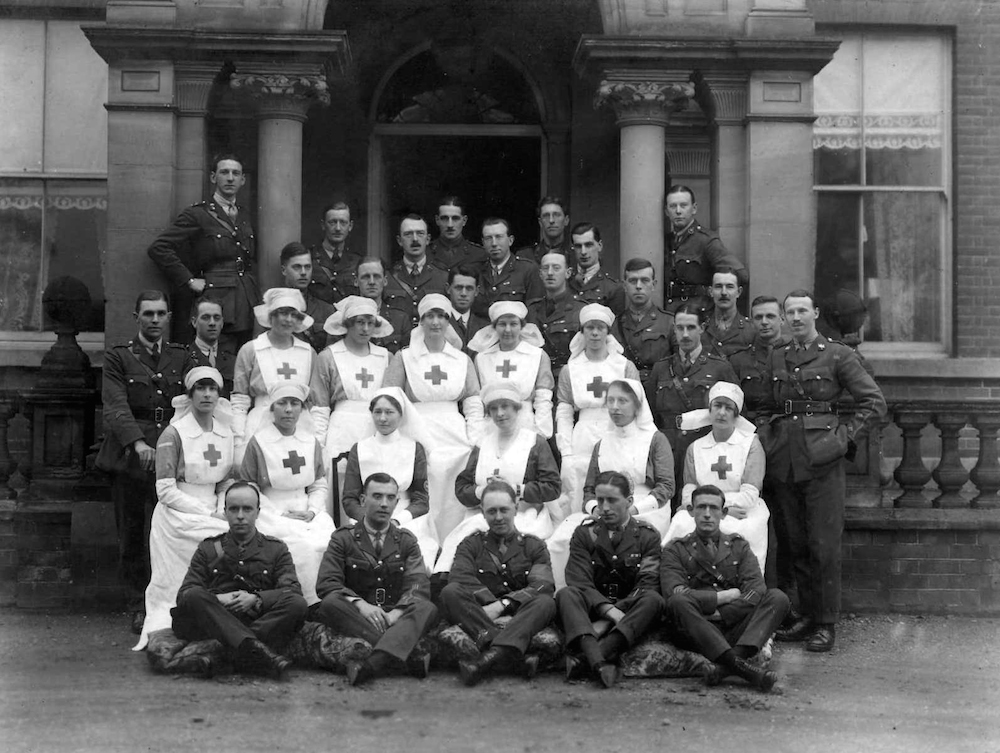 Lamcote House Hospital, staff and patients. Lucy is on this photograph but not yet identified.
Born: 11th July 1879 in Nottingham
Marriage: Remained unmarried
Died: 23rd March 1964 at the Coppice Hospital, Nottingham, age 84
Before the First World War
In 1881 Lucy, age 1, was living at 2, Gill Street, Nottingham with father Francis, mother Caroline, sister Daisy, 6 months, and two servants: Rose White, cook and Emily Clarke, general servant. Lucy's father Francis' occupation is given as 'veterinary surgeon, not practising, now gentleman's outfitter employing 1 cutter, 4 women and 1 boy'.
By 1891 the family had moved to Radcliffe on Trent and Lucy, 11, was living on Shelford Road, with grandfather Thomas, tailor and woollen draper, grandmother Eleanor, father Francis, manager of Thomas' business, mother Caroline, sister Daisy, 10, and domestic servants Frances M. Taylor, cook and Sarah A. Widnall, housemaid. In 1901 Lucy, 21, lived on Shelford Road, Radcliffe with grandfather Thomas, retired tailor and woollen draper, father Francis, tailor and woollen draper, mother Caroline and sister Daisy, 20. Also living there were Thomas' sister-in-law Priscilla Winter, retired private school mistress, and two domestic servants: cook Mary Jane Walker and housemaid Esther M. Taylor. By 1911, the family were still living on Shelford Road, but Thomas and Francis had died and Caroline was head of the household, living on private means. Both Lucy, 31, and Daisy, 30, were still at home. Caroline's sister Priscilla was still there, together with cook Florence Stokes and housemaid Rose Tagg. The house had nine rooms.
During the war
The following information about Lucy Elizabeth Sharp has been extracted from transcribed Red Cross V.A.D. records, available at www.redcross.org.uk .
In September 1914, when she was thirty-five, Lucy began her war service as a Red Cross V.A.D. member. She was a member of the 94th Voluntary Aid Detachment, the Radcliffe on Trent branch of the Red Cross which was organised by Claire Birkin. Lucy's sister Daisy also began her war service with the Red Cross in September 1914. At this time the Sharp family were living on Chestnut Grove, Radcliffe. Lucy served throughout the war, completing her service in January 1919. Her Red Cross V.A.D. record card shows that she worked at Lamcote Auxiliary Hospital for officers, Radcliffe, on ward and pantry work. However, Lamcote Hospital did not open until April 1918 and Lucy served from September 1914, working for a total of 3602 hours unpaid. She gained a proficiency badge and bar in home nursing and a proficiency badge in first aid, so it is probable that prior to working at Lamcote Hospital she nursed patients at home.
1921 Census
Address: Shelford Road, Radcliffe
Employment: none
Household: mother Caroline and sister Daisy
After the war
Lucy remained unmarried. In 1939 she was living on private means with her sister Daisy and retired school teacher Elizabeth Winter at 52 Parkside, Nottingham. She died on 23rd March 1964 at the Coppice Hospital Nottingham. Probate to Thomas Winter, retired bank official. Effects £15,134. Her address at date of death was 52 Parkside, Derby Road, Beeston, Nottingham, where she had lived with her sister Daisy until Daisy's death in 1949.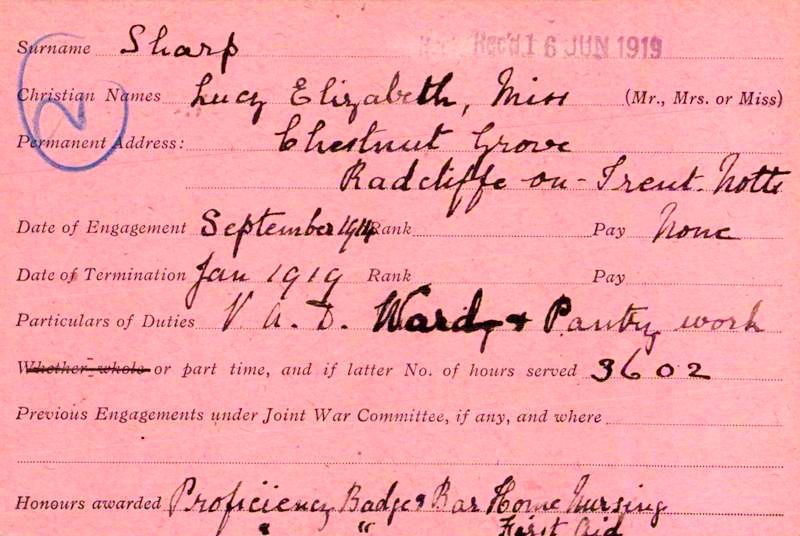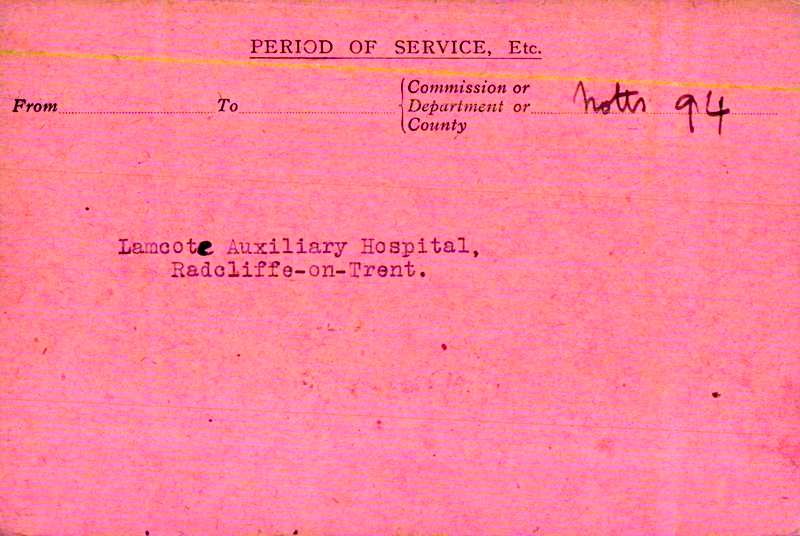 Lamcote Auxiliary Hospital opened in April 1918 under the auspices of the Red Cross. Mrs Claire Birkin offered her home, Lamcote House, for this purpose. Twenty beds were provided for officers and the hospital remained open until April 1919.
For more information about Lamcote Auxiliary Hospital and Claire Birkin see her biography in the section on Radcliffe Women. 
Author: Pauline Woodhouse