JOHN WILLIAM YOUNG 1887–1916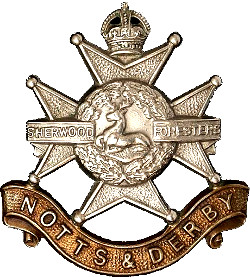 Born 1887 in Radcliffe on Trent
Died of wounds 12th July 1916 in France age 29
Brother of Arthur Young killed in action 14.8.1917 serving with 2nd Battalion Lincolnshire Regiment.
Buried: Mont Huon Military Cemetery I.E.2, Le Treport, France.
Commemorated on St George's Church Memorial, Netherfield (brass tablet). He is referred to as William Young in military records and on the Commonwealth War Graves data base.
1891 Census
Age 4, living on Back Lane, Radcliffe on Trent with father William, 42, a painter, mother Rebekah (Rebecca) née Morley 25, sisters Fanny M 7, Annie M 2 and brother Edward B, under 1 month.
1901 Census
Age 13, a newsboy, living on Mount Pleasant, Radcliffe on Trent, with father William, a house painter, mother Rebecca, sisters Fanny M 16, Annie M 11, brother Edward B 10, sister Bertha 8, brother Arthur 4 and brother Samuel T 1.
1911 Census
Age 23 employed as set weighter in a cotton doubling mill and boarding with Mary Sumner and family, including his future fiancée Annie Sumner 19 at 42, Forester Street, Netherfield, Notts.
Military Service
Rank: Lance Corporal
Service Number: 2084
Military Unit: 1st/8th Battalion, The Sherwood Foresters, 139th Brigade, 46th (North Midland) Division
Theatre of War: France and Flanders, date of entry 2.3.15. Total war service abroad 1 year 4 months.
Attested: 6th August 1914 at Carlton, Nottingham.
Enlisted: 7th August 1914 in Newark, age 28 years 1 month (probably incorrect, should read 27 years, 1 month).
Name recorded as William Young.
Height 5ft 6ins, chest 36 ins; occupation labourer: S Bourne & Co.
Home address: 42 Forester St, Netherfield, Notts.
Next of kin: Mother, Mrs Rebecca Whitaker, 70 Manvers St, Netherfield. Brothers Edward and Samuel; sisters Fanny, Annie, Hilda and Bertha; half-brother George Whitaker, half-sisters Florrie and Eliza. Address of siblings: 70, Manvers St, Netherfield.
6.8.14 – 1.3.15: Home
2.3.15 – 12.7.16: France
13.4.15: Admitted to hospital (illness not specified)
17.4.15: Discharged from hospital
27.5.15: Neurasthenia – shell-shock
5.6.15: Discharged to duty
28.6.16: Wounded
John William Young died of wounds on 12.7.16. His battalion was involved in heavy bombardment of enemy positions on the Somme prior to the commencement of battle on July 1st 1916. They were in assembly positions in front of Fonquevillers on the night of June 30th and attacked Gommecourt on the 1st. He would have been transported to one of the hospitals at Le Treport, near Dieppe, after being wounded on June 28th, where he was to die nine days later.
From the War Diaries of the 1/8th Battalion, The Sherwood Foresters, June 19th to June 29th (diary held by the Worcestershire and Sherwood Foresters Regimental Museum, Nottingham):

Fonquevillers
Continued to occupy above trenches. The latter part of the time was very wet and the trenches got into very bad condition, in most cases being 2 ft or more deep in mud and water … much work in keeping them clean. In the last four days our artillery constantly bombarded enemy positions doing considerable damage. Our casualties during the period were 13 killed and 50 wounded.
Medals Awarded: 1914–1915 Star, British War and Victory
Go to WWI Timeline to see how this man's death is part of the wider story of the war.
Other information
Effects to Legatee Miss Annie Sumner, fiancée, 42 Forester St, Netherfield: Annie Sumner never married and was still living at this address in 1939.
Reason for inclusion on the Radcliffe on Trent Roll of Honour
Born and lived in Radcliffe on Trent.
Mont Huon Military Cemetery, Le Treport