HELEN PACKWOOD 1882–1967

Helen Packwood
All Photographs courtesy of family
Born: 22nd January 1882 in Holme Pierrepont
Marriage: remained single
Died: 3 January 1967, age 83
Before the War
Helen was born 22 January 1882 and baptised at St Edmunds church in Holme Pierrepont. Her father Thomas was born in Swineshead, Huntingdon and her mother Mary Ann (nee Parsons) was born in Worksop, Nottinghamshire. They were married in 1879.
In the 1881 census Helen's father Thomas, aged 29, was a groom. Her mother Mary Ann was aged 30 and living with them at Holme Pierrepont is Thomas's mother Eliza aged 58, James Cable, a groom and two further servants. Her father was possibly working for Earl Manvers at this time.
Helen and her sister Annie, born 13th December 1884, were at St Paul's School, Westminster, from 7.5.88 to 1.7.88 and at the time were living at 8 Kinnerton Street in Belgravia/Knightsbridge. Their brother Thomas was born in August 1888.
Thomas died on 11 July 1888 at Holme Pierrepont aged 35. In his will he was recorded as a coachman. He left personal estate to his widow Mary Ann Packwood of £271.0s.3d.
In the 1891 census Mary Ann now a widow had taken the family to live with her brother Robert Parsons a colliery bandsman and his family at 20 Curtis Street, Hucknall. Helen had a sister Annie Elizabeth (born 1884) and two brothers Henry John (born 1887) and Thomas (born 1888). Helen was aged 9.
In the 1901 census she was aged 19 and recorded as a school teacher living with her mother, her two brothers and sister at 3 Victoria Street, Radcliffe on Trent. Helen also taught at the Sunday school.
Her sister Annie Elizabeth died in 1910 and in the 1911 census Helen was aged 29 and recorded as an assistant school teacher employed by the county council. Her brother Henry John was a clerk at an estate agency and Thomas was a bricklayer. They were still at 3 Victoria Street.
During the war
Helen continued to work at the village school teaching the infants.
Her brother Thomas enlisted with the Sherwood Foresters during the first world war and was unfortunately killed in 1918. The school log book records that Miss Packwood was absent from school owing to the shock of hearing that her brother had died. Her other brother Henry John had enlisted with the RGA and returned home safely. Henry had married Maud Mary Whomsley from Colwick in 1916 and they moved into 40 Bingham Road in Radcliffe on Trent. Maud died on 24 December 1931 at The General Hospital in Nottingham and in her will she left effects of £114.13s.0d to her husband Henry John, a newsagent.
1921 Census
Address: Victoria Street, Nottm
Employment: School teacher, Radcliffe Council School
Household: mother Mary, an invalid, aunt Elizabeth Packwood
After the war
Helen's mother died in December 1924 aged 73. Helen continued teaching until 1936 when she started helping her brother Henry John at his newsagents and sweet shop on Bingham Road. Henry died on 6 December 1953 and in his will he left effects of £669.12s.5d to Margaret Mary Brown, his daughter.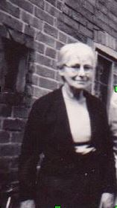 Helen Packwood in later years
Living with Helen on Victoria Street in the 1920s was her aunt Elizabeth who had been working as a servant/housekeeper in various establishments over a number of years. Elizabeth died aged 81 in 1938 and in her will she left effects of £173.11s.5d to Helen. Helen continued to live at the Victoria Street house with her niece Margaret and her husband Charles and their two children Michael and Susan. She died on 3 January 1967 aged 83. She is remembered kindly by many of the children of Radcliffe, not only from their schooldays but also being able to spend their pocket money at the sweet shop on Radcliffe Hill (Bingham Road).
Author: Marion Caunt