GEORGE WAKEFIELD CODDINGTON
1897–1970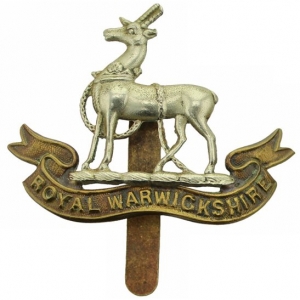 Brother of Ernest
Born 10th January 1897 in Greatford, Lincs.
Married Oct-Dec 1920 to Lydia Flint in Melton Mowbray district
Daughter Vera born 1923
Died 17 December 1970 in Melton Mowbray district
1901 Census
Age 4 living with father Charles, a cattleman on farm, mother Sarah and his siblings including brother Ernest 6, in Greatford, Lincs.
1911 Census
Age 14, living at Muston Gorse, Bottesford He was employed as a servant doing general work on a farm.
Military Service
Rank: Sergeant at completion of service
Service Number: 242160(RW) previously 7/15934(Leics),
Military Unit: 1st/5th Battalion (Territorial Force), Royal Warwickshire Regiment, 143rd Brigade, 48th (South Midland) Division. Previously 7th (Service) Battalion Leicestershire Regiment
Theatres of War: France and Flanders, date of entry 29.7.15; also served in Italy
Enlisted: 9 Nov 1914, Melton Mowbray
Home address; Lees Barn, Radcliffe on Trent; age 19 years 10 months, height 5ft. 7ins, weight 143 lbs, occupation wagoner, employer Mr R Doubleday, Millfield House, Colsterworth, nr Grantham, Lincs., next of kin Charles Coddington, father, The Field, Branston, Grantham.
9.11.14-21.11.14: Home (Leicester)
22.11.14: Aldershot
29.7.15-3.7.16: Expeditionary Force, France
14.7.16: Invalided to England from Etretat per Hospital Ship Asturius with piles.
11.8.16: Rugeley Camp: Absenting himself without leave from 9.30 pm 11.8.1916 until 9.15 pm on 15.8.1916 (3 days, 23 hours, 45 mins) – 10 days CB (Confined to Barracks), deprived 5 days pay.
31.8.16-19.1.17: Embarked Folkstone for France
24.9.16: Transferred to 1/6th Royal Warwickshire Regiment, Private 242160
19.1.17: Transferred to England ex Rouen. PUO (Pyrexia of unknown origin – medical term for Trench Fever).
20.1.17: Admitted to Fairfield Court Hospital, Eastbourne with PUO. 'Recovered under soda salicylate. No relapse'. Discharged 19.2.1917 to E Division Convalescent hospital Eastbourne.
24.3.17: Fit, sent on furlough.
19.5.17: Catterick Camp: Absent without leave from Tattoo from 19.5.1917 until reporting at 9 a.m. on 21.5.17. Overstaying pass: 14 days CB (Confined to Barracks), deprived 28 days pay.
11.6.17-16.2.19: France
29.6.17: Posted to 1/5th Battalion Royal Warwicks Regiment, Rouen
6.10.17: Appointed paid Lance Corporal
24.11.17: Promoted to Corporal
Note: his records do not state when he served in Italy but it can be deduced that his 14 months service there took place from November 1917 when the 1/5th Royal Warwickshire Regiment moved to Italy, and February 1919.
18.12–27.12.18: Leave to Rome
17.1.19: Promoted Sergeant
8.2.19: Medical examination in the field at Valdagno (north-west of Padua, Italy)  for 'inside' (stomach) trouble. States that it is through drinking 'bad water'. Trench Fever 1916-17. In bed 6 weeks. States that he served in France 13 months, Belgium 5 months, Italy 14 months. No disability found.
16.2.19: To England for demobilisation. Home address Lees Barn, Radcliffe on Trent
31.3.20: Discharged.
Acting Sgt. 242160 1/5 Battalion Royal Warwickshire Regiment at date of discharge.
Military character described as 'good' on discharge papers.
Medals Awarded: 1914-1915 Star, British War and Victory
Military Personnel Address on 1918 Electoral Register
Nottingham Road, Leys (Lees) Barn, Radcliffe on Trent
1921 Census
Address: Branston, Near Melton Mowbray
Employment:  Out of Work previously Ironstone Quarry worker, Holwell Iron Co.
Household: wife Lydia, father in law James Flint, out of work ironstone quarryman, mother in law Elizabeth
1939 Register
Address: Waltham Road, Branston, Melton Mowbray
Occupation: Ironstone quarry man
Household: living with wife Lydia born 28.1.1898 and Lydia's parents James and Elizabeth Flint
Reasons for inclusion on the Radcliffe on Trent Roll of Honour
Radcliffe address when on active service.