ERNEST CHARLES CODDINGTON
1895–1972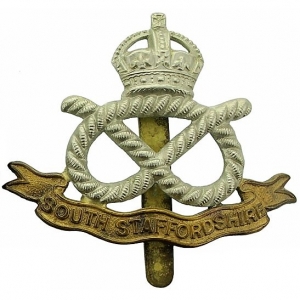 Brother of George
Born 12th February 1895 in Greatford near Stamford, Lincolnshire
Married 1 August 1921 to Edith Kirkham, St Peter's Church, East Bridgford.
Children: Mary born 1922, Daisy born 1923, both in Bingham District, Gladys born 1925 in Newark District and John W. L. born 1929 in Bingham District
Died 1972, Grantham District
1901 Census
Age six  living with his father Charles, a cattleman on a farm, mother Sarah, brothers John 12, George 4 and sisters Ellen M 8 and Fanny 2 on Stowe Road in Greatford, Lincs.
1911 Census
Age 16 living with George Marriott at Castle Bytham. He was employed as a farm boy.
Military Service
Rank: Private
Service number: 50003, previously 15935
Military unit: 1st Battalion, The South Staffordshire Regiment, 22nd Brigade, 7th Division. Formerly 7th Battalion, Leicestershire Regiment, 138th Brigade, 46th Division
Theatres of War: France and Flanders, date of entry 29.7.15, Italy from November 1917
Attested: 9.11.1914 at Melton Mowbray
Occupation: Wagoner, age 19 years 268 days, height 5ft 5ins, chest 36½ins, weight 142lbs, eyes brown, hair brown. Single, next of kin, father Charles Coddington of The Field, Branston, Grantham.
9.11.14 – 28.7.15: UK
9.11 – 21.11.14: Joined Depot, Leicester
22.11.14: Posted to 7th Leics., Aldershot
29.7.15–16.7.16: British Expeditionary Force, France
Ernest Coddington would have been in action during the first few days of the Battle of the Somme with the 1st South Staffs.. At midnight on June 30th "A and D Company in dug out and cellars Fonquevillers, remainder in assembly posiitons Midland Trench. Attack on Gommencourt (1/7) – ordered to dig communication trench across No Man's Land parallel to Fonquevillers – Gommencourt Road (1/7). Work soon stopped due to heavy shelling and then assisted in 137th Brigade's assault. Remained in front line clearing dead and wounded. Relieved and to Bienvillers (3/7). (From Westlake, Ray (2009) Tracing British Battalions on the Somme (Barnsley: Pen & Sword)).
17.7.16: Home, Depot
Wounded
Wounded list 22.8.16: assumed wounded 16.7.16. Gunshot wound right leg.
Entitled to wear wound stripe.
For more information, description of the Wound Stripe click here.
6.2.17: 3rd (Reserve) Leics. Regiment
2.3.17: Posted 1st
1.11.17: Posted 6th
6.3.18: Posted Depot
Wounded
22.4–29.4.18: Manor War Hospital Epsom: Shell wound right shoulder
15.5.18: Posted Command Depot
20.7.18: Posted 3rd (reserve) Leics.
26.8.18: Transferred and posted to 1st South Staffs Regiment, Reg. no.50003
18.11.18: The 1st South Staffordshires moved to Italy where they remained until the Armistice.
Wounded
12.12.18: Admitted to No. 81 General Hospital Marseilles with gun shot wound left shoulder
25.12.18 – 24.3.19: 79 days in 5th Southern General Hospital with shrapnel in left shoulder: Extensive entrance wound area which had been 'stitched in Italy'.
6.4.19: Transferred to Army Reserve for demobilisation.
Home address: Radcliffe on Trent
29.4–9.5.19: Furlough granted. Address on leave: Lees Lodge,  Radcliffe on Trent
17.4.19: Awarded pension of 8 shillings 3d (41p) per week to be reviewed after 26 weeks. Degree of disablement 30%
1919-1920: A medical report in his pension records states that 'Wound scar across back of left scapula healed, loss of muscle inhibits movement of shoulder. Small scar back of right shoulder, no disability. Scars on his right leg have healed and his fractured tibia has united in a good position'.
20.10.20 Awarded 30% disability pension of 12 shillings (60p) per week for one year
6.9.21 Condition deemed to be final and stationary. Degree of disablement: 15-19%. Awarded 7 shillings 6d for 156 weeks plus terminal payment of £40
Medals Awarded: 1914-1915 Star, British War and Victory
Military Personnel Address on 1918 Electoral Register
Nottingham Road, Leys (Lees) Barn, Radcliffe on Trent
Other Information
His home address was Radcliffe in 1918. He later gave his address as 28 Church Street, Whatton in the Vale, Notts. in January 1924 when he applied for his medals.
1921 Census
Address: Whatton, Notts
Employment: Farm Labourer, William Lamin, Whatton
Household: father Charles, farm labourer, William Lamin, mother Sarah, sister Fanny, adopted sister Doris Kathleen Baker
1939 Register
Address: Kneeton, Nottinghamshire
Occupation: farm stockman
Air Raid Precautions warden at Bingham
Household: he was widowed and living with daughter Gladys (later married name Gale) who was a paid housekeeper
Reasons for inclusion on the Radcliffe on Trent Roll of Honour
Radcliffe on Trent address when on active service.